30A is a region of Florida that buttresses Scenic Highway 30A where it cuts across the Panhandle's Gulf Coastline. This is a place known best for its warm year-round weather and gorgeous landscapes in which swaying sea oats border sandy white beaches and the tempting waters of the Gulf of Mexico. Landscapes like these are ideal for many things, including a solid round of golf.
You'll find over a dozen golf courses and golf clubs in the 30A area, each offering its own unique cut of Florida sun and land. Some have been designed by golfing architect legends and others feature premier pro shops stocked with all of the apparel and equipment you forgot to bring. You'd be hard-pressed to have a bad experience at any of these excellent golfing locations, but still, you probably won't have enough time during your stay in the area to experience them all.
The following is a look at three of what are largely considered as offering the best of amenities, course conditions, and general golfing experience:
1. Camp Creek Course at Watersound Club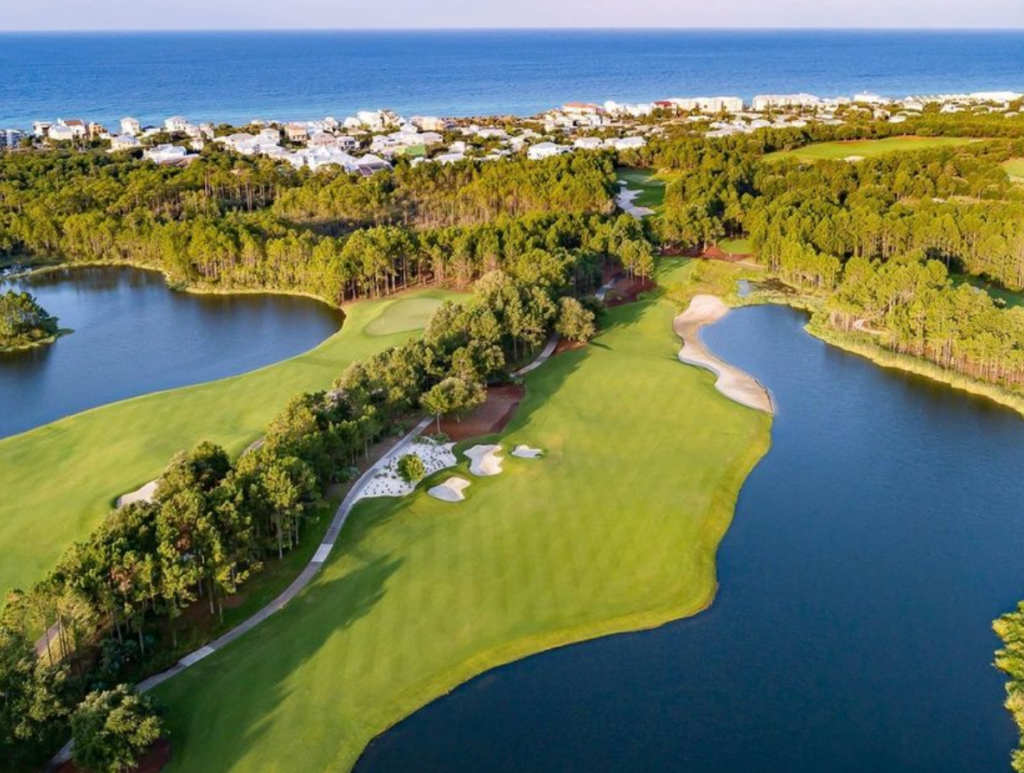 The Camp Creek Course at Watersound Club was designed by esteemed golf course architect Tom Fazio whose reputation is built on combining strategic design with an exceptional appearance. This course is a stunning example of that with its meticulous greens and beautiful water features all bordered by groves of trees that give the place a real sense of privacy.
The course itself offers a challenging yet enjoyable experience for just about every level of golfer. This is an 18-hole, par 72 course with a design that offers various shot options, many of which will require a strategic approach. In other words, you can't go here just to hit and hope. This is a course that will make you think, offering an exciting and rewarding experience.
Camp Creek Course at Watersound Club also has some nice extras that put it ahead of the crowd. For example, at hole 5, you'll find a well-outfitted Snack Station complete with bathrooms, while, on busy weekends, there's often a full lunch provided by a barbecue team at hole 12. They also have a very comfortable clubhouse with its own dining options, a fully-stocked pro shop, and practice facilities. These practice facilities include gorgeous driving ranges and putting greens so that even if you stay close to the clubhouse, you'll still enjoy the picturesque environment this golf course is so well known for.
2. Santa Rosa Golf & Beach Club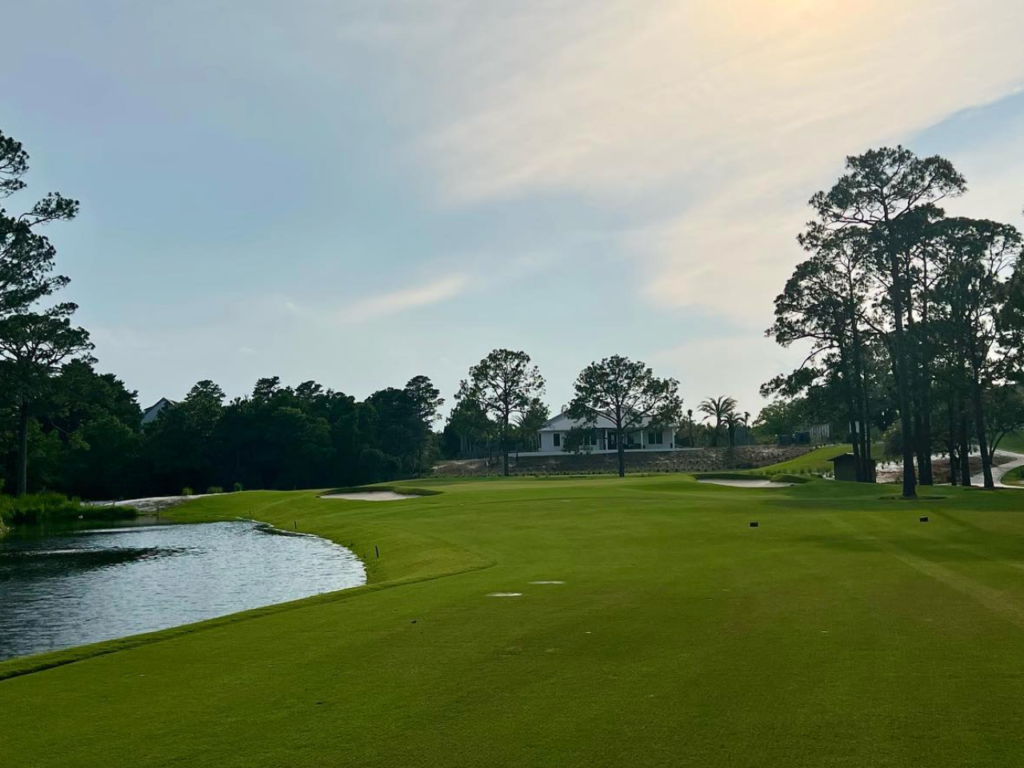 The Santa Rosa Golf & Beach Club is located, no surprise here, one block from the beach. This is primarily a golf course and golf club, but members do have access to a quieter part of the beach as well as beach chair packages.
This 30A golf course was designed by course architect Jerry Pate to offer a nice variety of holes offering beauty and challenge. In 2021, the leadership team of this golf course shut the location down and completed a pretty massive transformation on what was already considered one of the area's best courses. Santa Rosa Golf & Beach Club celebrated a ribbon-cutting grand re-opening in October of that year to great acclaim. Work was done to improve the tees, fairways, greens, and drainage, as well as better open up the natural areas of the course so as to help bring in more breezes and strike up the beauty of the Gulf Coast. The improvements also worked to appeal more to the average golfer, while still offering challenging shots for those more experienced at the game. Finally, the ownership team added a new short game area called, "The Loop". The Loop features a six-hole, par 3 short courses for when you want something quick but something that will also enable you to showcase your skills. This was a pretty unique concept for the day and continues to draw golfers in.
After you've enjoyed a round of golf, take a relaxing break at the clubhouse. Here, you'll find a well-equipped pro shop with friendly staff, a comfortable lounge area, and light dining fare.
3. Raven Golf Club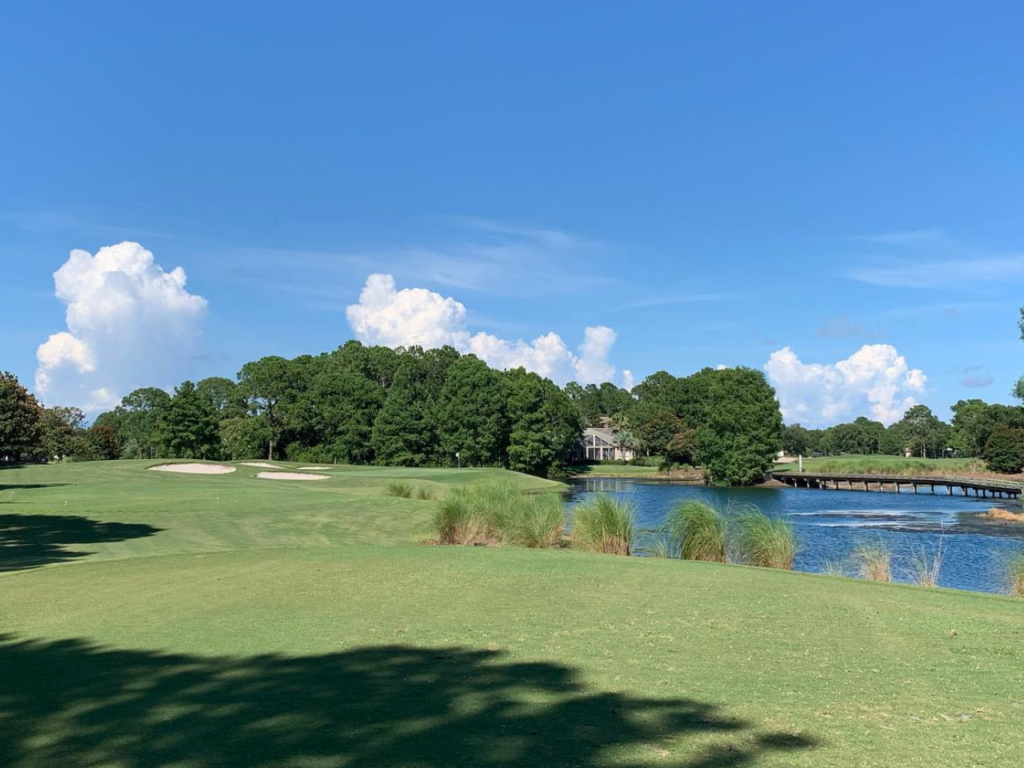 The Raven Golf Club is located in Sandestin, just one block north of 30A. This is a stunning course that is part of the larger complex of Sandestin Golf and Beach Resort, although anyone can book a round of golf here. Avid golf fans are apt to even recognize parts of this course, as it has been a stop on multiple PGA Champions Tours as well as playing host to a myriad of local and regional tournaments.
This 30A golf course was designed by Robert Trent Jones Jr. to really showcase the natural beauty of this part of Florida. As you play its 18 holes, you'll undoubtedly appreciate the breathtaking beauty of the course's tree-lined fairways, azure lakes, and otherwise well-preserved natural areas. Each hole offers its own unique challenges, including staying wary of the many water features dotting the landscapes.
As with the other 30A golf courses on our list, this location does have its own pro shop as well as practice ranges. Because it is part of a larger resort, however, they offer some pretty amiable golf and lodging packages that golf-loving vacationers might consider. For example, the Sandestin Golf and Beach Resort has a Classic Stay and Play Package that includes unlimited use of that aforementioned practice facility as well as a golf cart, one full round per booked adult, and discounts on golf-associated rentals and purchases as well as other resort benefits.
What to Do After Your Round of Golf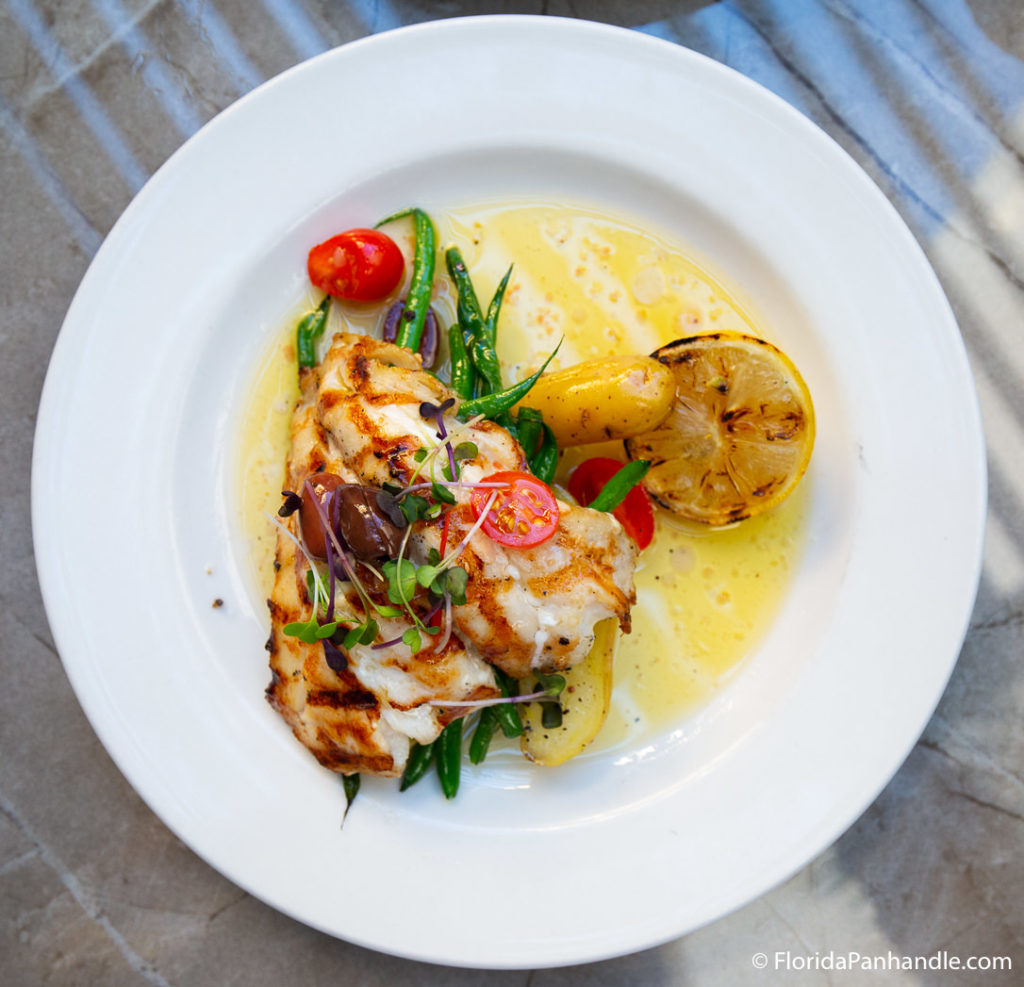 Whether you choose to play a round at the Raven Golf Club, Santa Rosa Golf & Beach Club, or somewhere else entirely, the 30A area offers plenty of places to enjoy a leisurely time afterward. You might relax at the beach, tuck in at a five-star seafood restaurant, or explore one of the community's historic downtown areas. The choice is yours! But maybe you need some ideas? Make sure to check our other pages to learn more about 30A and all of the unique attractions this beautiful part of Florida has to offer.