What should you do when you're struck with one of those hardcore hankerings for pizza while enjoying the beaches and other Emerald Coast attractions in and around Pensacola?
Well, steer your way to one of the following topnotch local pizzerias, that's what! Here are our picks for the best pizza joints in town: We recommend hitting them all up (though not in the same day, mind you)! These are presented in no particular order, by the way.
Sky's Pizza Pie
Big, thin-crust New York-style pizza's the star attraction at Sky's Pizza Pie, evolved in 2013 out of a locally owned bakery and bagel shop. The pies cover a lot of territory while staying true to the Northeastern spirit. If you're a fan of New York style, you can't go wrong with Sky's simple, straight-shooting thin-crust cheese pizza. The House Specialty comes loaded up with pepperoni, salami, and mozzarella, while the Hot Hawaiian riffs on a popular pie with capicola and fresh jalapeños alongside pineapple. If you want to step outside the box a little and explore a unique upstate New York pizza variety, try the "upside-down" C.O.B., which puts the cheese on the bottom and the red sauce on top.
Also on offer here are calzones, strombolis, sub sandwiches, wings, and garlic knots of various kinds, plus salads and a variety of desserts.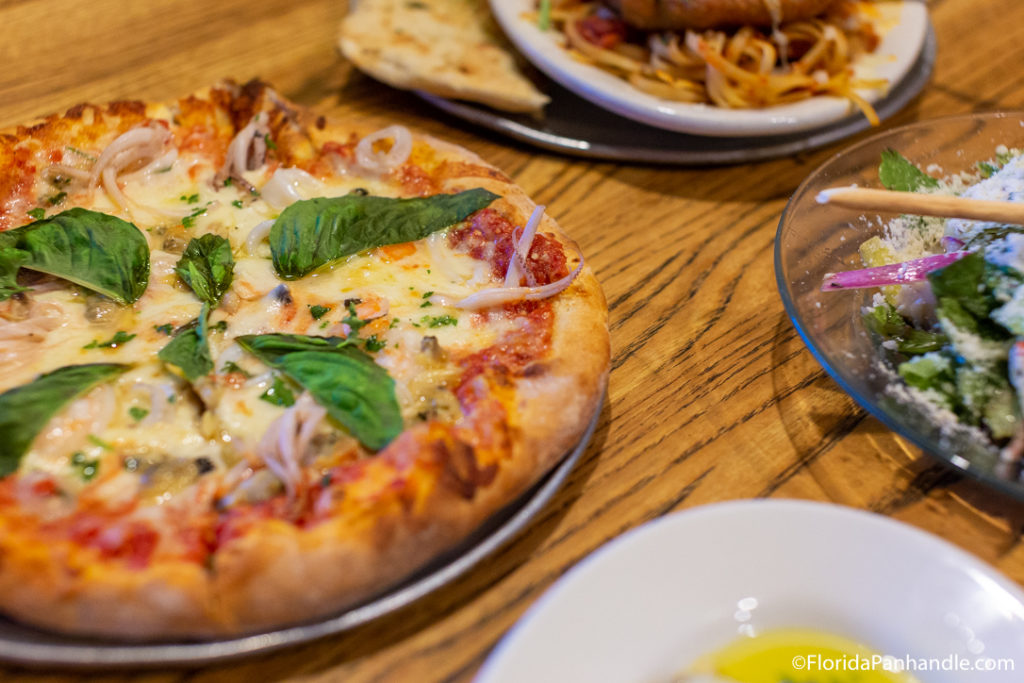 The Tuscan Oven has celebrated venerable Italian pizza-making tradition in Pensacola since 2004. Before hitting your table, its delicious pies do some time within the 500-degree embrace of a hardwood-fired Valloriani Oven direct from the Old Country and constructed of brick, pumice, and clay. It's hard to step wrong at the Tuscan Oven: You'll easily be converted by "Mama's Favorite," the Sal Fiorentina Pizza, topped with spinach and ricotta. Meat-lovers will zero in on the Abbondanza, packed with sausage, capicola ham, pepperoni, and bacon—woof! We particularly like the white-sauce Bianca with its fontina, mozzarella, and garlic goodness as well as the Seafood Pizza, which dresses up the Tuscan Oven's Margherita pie with clams, shrimp, and calamari.
You're reading this because you're after pizza, we understand, but it's worth noting the Tuscan Oven's also got some other tasty items on the menu, including some nourishing pastas and a can't-miss stuffed portabello mushroom appetizer.
East Hill Pizza
Ranked the "Best Pizza in Pensacola" in 2020 by VIP Magazine, East HIll Pizza is a veteran-owned pizzeria whipping out some mean 12- and 18-inch pies. Some favorites include the magnificently laden 12th Ave Pizza with its pepperoni, ground beef, sausage, bacon, black olives, mushrooms, bell peppers, onions, and mozzarella; the Lloyd, a Korean BBQ pizza finished off with a spicy mayo drizzle; and East Hill's celebrated Cuban pizza, the Mallory, which puts pork loin, ham, pickles, and mozzarella atop a mustard base.
Another unique creation at East Hill Pizza is the Pizza Bowl, which is essentially a slice of pizza sans dough. You can diversify your pizza feast with calzones, wings, garlic cheese bread, and other indulgences.
O'Zone Pizza Pub
Roman-style dough and zesty, creative flavors help distinguish the pies at O'Zone Pizza Pub. Consider the Ponderosa Stomp, which features bacon, roasted chicken, green peppers, and red onions in a cheddar-cheese blend with house barbecue sauce and a honey drizzle on atop—and better yet when you ask for cream cheese and jalapeño as part of the proceedings. Another fine O'Zone pizza is the Pesto Vecchio, starring the joint's delicious basil pesto sauce as well as mushrooms, Roma tomatoes, artichoke hearts, and fresh spinach. The La Bianco impresses with its roasted garlic and herb-infused olive oil sauce. O'Zone serves gluten-free options as well as vegan cheese on request.
Along with garlic cheese bread, house-made meatballs, and hummus-and-flatbread appetizers, this place puts together some tasty salads—not least the beet- and carrot-anchored Root Down.
Lost Pizza Company
The Emerald Coast outpost of a franchise with more than a dozen locations across the central and southern U.S., Lost Pizza Company presents a smorgasbord of edgy pies and a hip ambience. Consider two ends of the Lost Pizza spectrum: the veggie-fied Happy Hippie with its baby spinach, tomatoes, artichoke hearts, green peppers, and black olives, and then over on the other side the carnivore-oriented Otis, piled with bacon, pepperoni, Italian sausage, pork sausage, hickory ham, grilled chicken breast, and ground beef. The Pit Boss features puled pork and bacon with a drizzle of BBQ sauce, while Hector's Taco Pie boasts a salsa base and toppings of seasoned ground beef, onions, fresh tomatoes, lettuce, and cheddar cheese. We're only scratching the surface here.
You can also order a "dessert pizza" to round out your meal—Pineapple Express or Cheddar Cheesecake, for instance. Other menu items at Lost Pizza Company include sandwiches, pastas, and salads, plus quite the spread of starters, among them Fried Ravioli and Mississippi Delta Hot Tamales.
Mellow Mushroom
Chow down amid a funky atmosphere complete with steampunk-themed artwork and half a VW bus at Mellow Mushroom, which takes a playful approach to everything but hits exactly the right mark in the pizza department. Its stone-baked pies include the Holy Shiitake, featuring a triple-header of roasted shiitake, button, and portabello 'shrooms on an olive oil and garlic base, plus the pepperoni-, sausage-, ground beef-, honey ham-, and applewood-smoked bacon-outfitted Mighty Meaty. Other options include the Great White with its mozzarella, provolone, and seasoned ricotta cheese treatment and the Buffalo Chicken pizza topped off with Buffalo sauce and either chunky bleu cheese or ranch dressing.
There's plenty else on the Mellow Mushroom menu, including (of course) a Magic Mushroom Soup, plus hoagies and other sandwiches, burgers, calzones, and more. (And listen up, suds lovers: Mellow Mushroom pours more than 70 beers on draft.)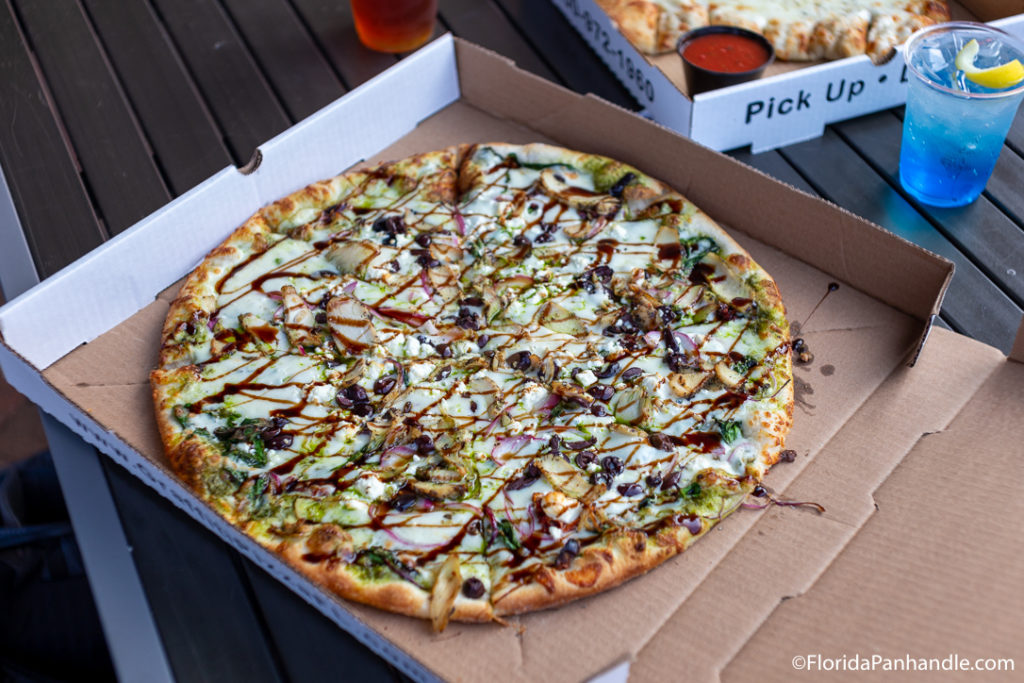 Graffiti Pizza would be worth hitting up for its downtown Pensacola outdoor bar and patio alone: awesome ambience. But the pizza's pretty darn good, too, and made in the thin-crust, New York style. You can stick to the basics and go with something like the very fine Graffiti version of Pizza Margherita, or venture a bit farther afield: trying, say, the excellent Buffalo Chicken Pizza, or digging the pesto base, sun-dried tomatoes, spinach, and balsamic glaze of the Greek Pie. Another excellent choice is Graffiti's Secret Spot Pizza, which puts house sliced meatballs in the starring role.
Besides the pies, you've got sandwiches, cheesy bread and garlic bread, salads, and other eats on offer. Another highlight of the Graffiti Pizza experience is all the local art on display—for sale, by the way, with 100% of the profits going to the Pensacola-area artists who created the works.
Perfect Pensacola Pizza
Just working up this list has us hungry! To sum up, you're in good shape if you find yourself hit with a pizza craving on a Pensacola getaway: You've got more than one great option for satisfying it head-on.