Instead of binging your favorite shows or lounging on the beach for your next vacation, why not spend your time helping others?
A volunteer vacation could be a great way to give back while you're taking time away from your everyday responsibilities.
Volunteer vacations are trips focused on serving others. They're a great alternative to traditional vacations since you can immerse yourself in the local community and participate in projects that greatly benefit others. These trips have gotten popular over the years. A Travelocity survey found that one in four travelers planned to volunteer on a trip in 2019.
However, a global pandemic may not be the best time to take an international trip! Instead, you can help your local neighborhood or take a road trip to a nearby area with fun, safe, and ethical volunteering opportunities. However, not all volunteer trips are created equal.
The World Health Organization (WHO) said in a bulletin that "volunteerism is not a sustainable practice in low-income settings," especially since they typically lack consistent volunteers and their high turnover wastes resources on recruitment and training. This doesn't mean all volunteer opportunities are harmful. It just means that you'll need to take the time to find a safe and ethical program.
That's why we created this quick and simple volunteer vacation guide to help you plan your ideal trip! Below, we'll highlight a few volunteer vacations you can consider, actionable tips to take them, and printable reflection pages to help you make the most of your experience.
Table of Contents
7 Volunteer Vacation Ideas to Consider
There are many ways you can volunteer on your next vacation. Teaching English, building houses, and providing disaster relief are just a few examples. Take a look at some of these ideas below to learn about the type of volunteer vacation you can take.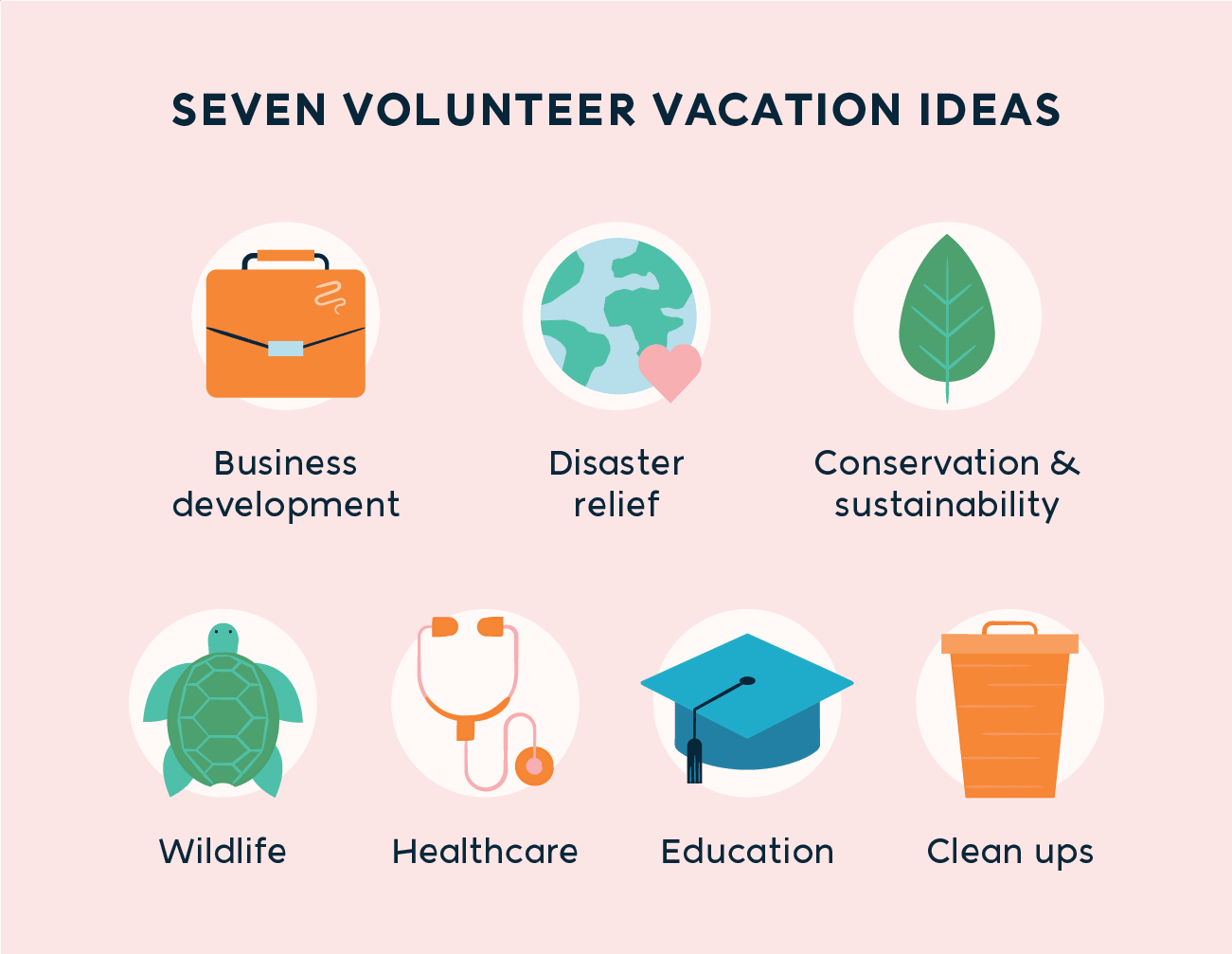 This is a small list of volunteer vacation ideas you can pursue. Do your research to see what type of programs are out there and how you can use your skills and knowledge to help out.
How to Safely and Ethically Take a Volunteer Vacation
Volunteer vacations are still possible in today's climate. It just depends on what you're comfortable with from a financial, time, and travel standpoint.
You can do a volunteer staycation if you'd like to stay close to your local area or want to volunteer somewhere that's within road-trip distance. This is a great option for those who can't travel long distances due to health or other reasons.
We'll go through each step you need to take to pick a safe and ethical trip that you can enjoy.
Step 1: Determine What Kind of Experience You Want
It's easy to get overwhelmed by the number of programs out there. The best one for you depends on what you want to do, where you want to go, and how you want to make an impact. These are a few things to ask yourself when narrowing down your preferences.
Who are you going with? Are you going by yourself, friends, or family?
What type of experience do you want? Do you want to work with animals or with people? Are you okay with doing multiple tasks in a day?
What are your goals? What do you want to accomplish? What do you want to learn? Who do you want to meet?
Where do you want to go? Do you want to travel close to home or go far away?
When is the best time to travel? Can you travel for a long period of time?
Why do you want to go on a volunteer trip? Are you going for the right reasons? Are you going to learn about the local community? To develop new skills? To donate your time?
How can you help? Do you have any special skills or training that could be helpful?
How much structure do you want? Do you want an organization to plan the entire trip or do you prefer to plan parts of yourself?
Step 2: Set a Budget
Volunteering abroad has lots of costs to consider. Your program may require a volunteer fee to cover your accommodations. If your program doesn't cover things like meals or sleeping arrangements, you'll also need to budget for that as well.
You may also need to do some fundraising if you have a specific project in mind or you'd like to raise funds for your volunteer program. Big fundraisers need enough lead time so you're not scrambling at the last minute for funds.
We'll go into more detail about some of these items later, but we've listed a few potential expenses below.
Travel to and from the destination
Program fee
Visa
Vaccinations
Travel insurance
In-country travel
Spending money
Accommodations
Food
Use this list to get an idea of what a typical program might cost and what you can realistically afford.
Can I Volunteer Abroad for Free?
You can volunteer abroad for free if you find a program with no costs. However, you may still need to cover your own expenses like travel and food. Always check what accommodations a program provides so you know how to financially prepare.
Step 3: Research Volunteer Opportunities
There are many programs out there. Narrowing down your wants and needs in step one cuts down a lot of research time. In addition to checking programs against your volunteer vacation wishlist, you should also keep your own list of questions and deal breakers to help you further nail down your top programs. Here are a few questions to guide your service trip search.
What does the program provide? Are accommodations, transportation, and meals included?
How much is it? What do the fees cover? How much of it goes back to their cause?
How involved is the local community? Is this a program they actually want or need?
Are there breaks during the day and during the trip? Are you allowed to spend time sightseeing or exploring the community?
Can they accommodate groups? Is it possible to keep your family or group together?
How long is the program? Does this time frame fit everyone's schedule? Is this a long enough time frame for the impact you want to make?
Is the program child or older adult-friendly? Are there any strenuous or difficult activities that can exclude a person in your group?
You can find this information through the program itself, reading reviews and testimonials, and by asking former volunteers about their experience.
Ethical Considerations for Volunteer Vacations
Some volunteer vacation programs aren't as helpful for the local community as advertised. A study published in the International Journal of Health and Economic Development surveyed 60 individuals who have either organized or participated in short-term mission trips.
They found that 82 percent of money raised or spent on mission trips covered travel costs and around 18 percent of the total money raised. The authors explain their study's goal isn't to deter people from participating in "voluntourism," but rather to highlight the importance of effectively allocating funds to better impact the communities they serve.
Another study published in Medical Sciences found that structure and framing is needed to address volunteer prep and evaluation practices. This will help organizations determine how they can reduce the risk of harm, maximize learning and accountability, and maximize the benefits of volunteering.
Here are a few things to ask yourself when you're researching volunteer vacation opportunities.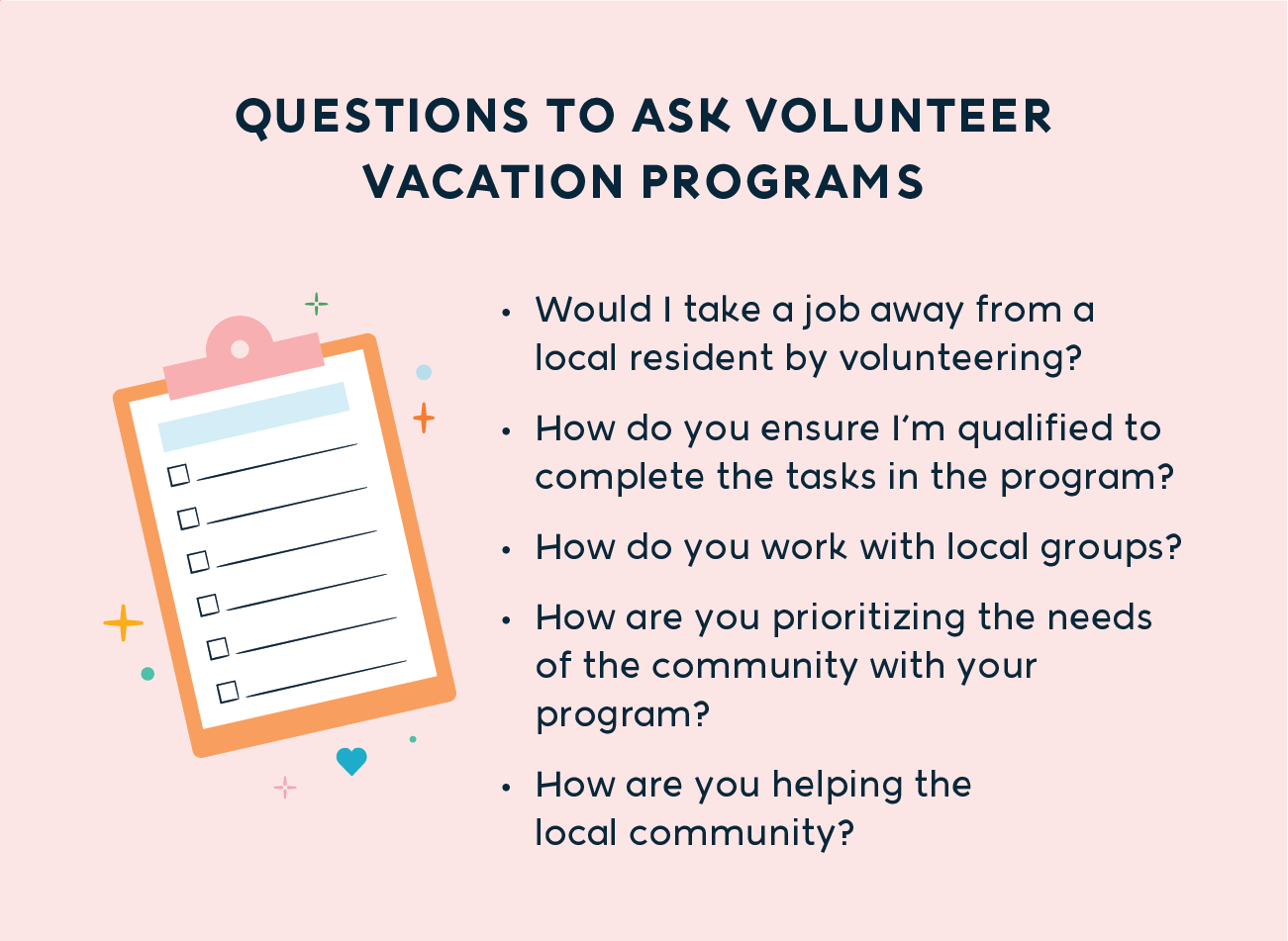 Am I taking a job away from a local resident? Some organizations unfortunately use volunteers as cheap labor for projects. It's also sometimes more sustainable for a community to have local residents do the work that volunteers are doing rather than having an endless cycle of volunteers do the work. In Pippa Biddle's commonly referenced post, "The Problem with Little White Girls (and Boys): Why I Stopped Being a Voluntourist," she talks about how others had to take rebuild projects her and her inexperienced friends worked on because they were so bad at basic construction work. She says that she and her classmates weren't and that it would've been more helpful to use the money they spent on the trip to hire locals for the job.
Am I qualified to do this task? Working on projects outside of your own skillset can do more harm than good. For example, medical students or less-experienced practitioners may be asked to do work they wouldn't legally be allowed to do in their home country. The Association of American Medical Colleges (AAMC) discourages this since it's harmful for all involved. You can avoid this by only signing up for programs you're actually qualified to do.
Is the local community actually helped? Dig into the organization's history and milestones to see what they've actually accomplished. Some organizations may be doing great work on the surface, but an organization's goal may not be the right solution for the local area.
Does this organization prioritize the needs of the local area or do they put profit or other incentives first? Unfortunately, some organizations may not put their cause first and may be focused on selling you what you will benefit from the experience. This doesn't necessarily mean that they're an unethical program, but it's a red flag to dig into their work history. Another warning sign is if organizations don't do background checks or review your experience before assigning you to complex projects.
Does this organization work with local groups? This also doesn't automatically make a volunteer group an unethical one. However, not working with local groups can make it difficult to understand the needs and priorities of that community.
Ultimately, the goal of any volunteer or charitable organization is to solve the issue to the point where the organization isn't needed in the future. A paper published in Globalization and Health outlines several ways short term volunteer experiences can be more beneficial to local communities like rigorous volunteer selection and certification requirements by host countries.
Step 4: Make Your Preparations
After you've chosen your program, you need to start preparing for your trip. Volunteering comes with many other requirements, especially if you're going abroad. You can get guidance from your volunteer program and from official government websites. To help you get started, we've rounded up a few categories of things you can expect to put together before you leave for your trip.
Paperwork: There's lots of paperwork that you'll need to fill out before you leave. Some paperwork is mandated while others depend on other location's requirements. Double-check what you need and give yourself plenty of time to get this done.
Transit and lodging: Arranging how you'll get to your destination, where you'll sleep, and how you'll get around are other major things to do way before your trip.
Healthcare: Access to healthcare is different in all parts of the world. Since anything can happen while you're away from home, you should also get your insurance and prescriptions squared away. Traveling to another country sometimes requires you to get vaccinations.
Packing: Your packing list is crucial when you're traveling far away from home, especially if you'll be gone for an extended period of time. You may also need to strategically pack if you won't have much space for your belongings. There may also be some necessities that are easy to get here, but tough to find in other areas.
Communication: Internet and cell phones are a couple of luxuries that you may not be able to use much in other places. This can pose a problem if you're in an emergency or just want to contact your loved ones.
Community: Lastly, you should prepare for interactions with the local community before you leave. This way, you ensure you'll get the most out of your experience while also positively impacting the people you meet. You may even consider taking a formal class on culture.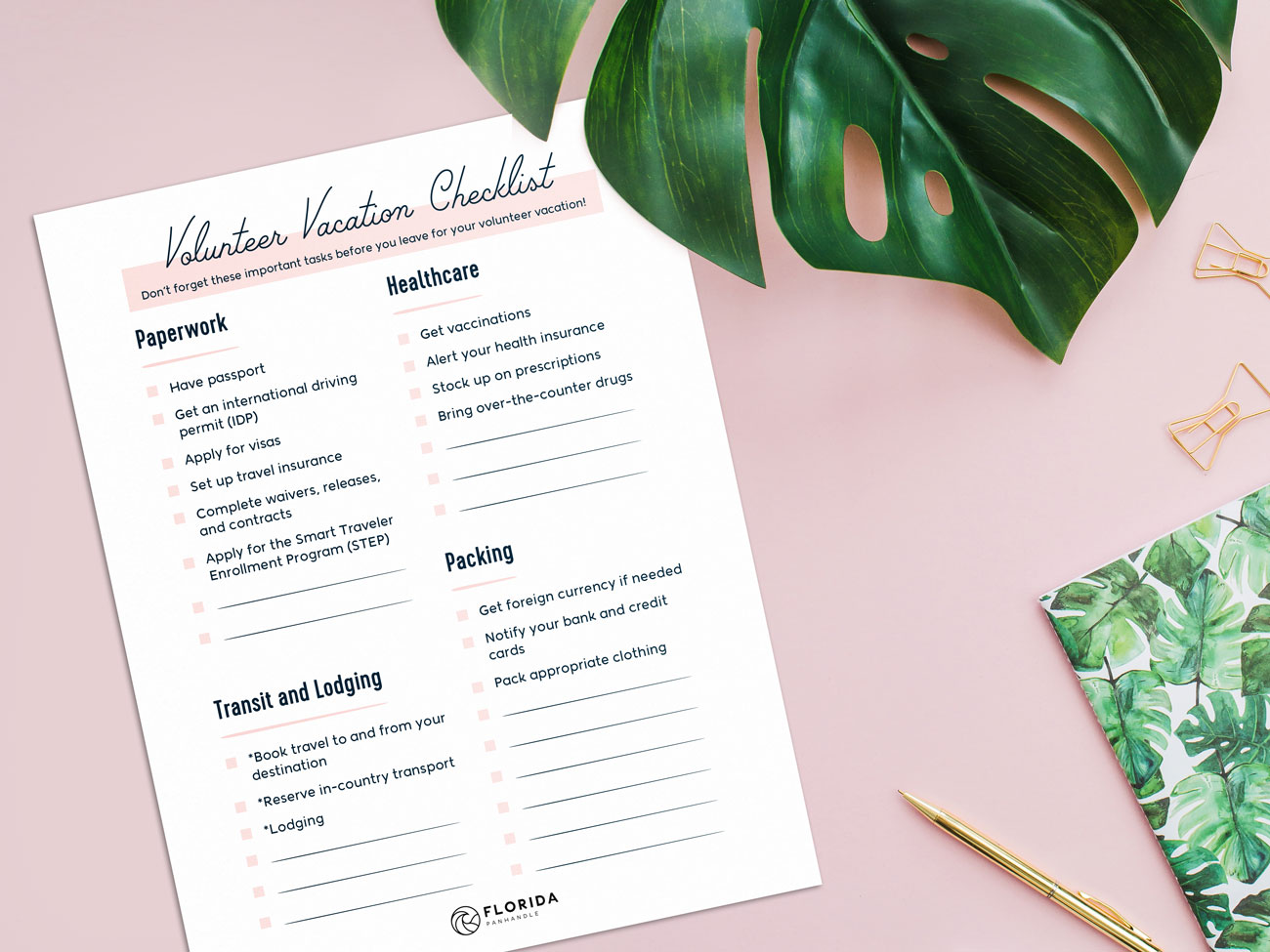 You can print out this checklist to see what things you need to do and items to prepare before your service trip. You can even use our blank page to list down other things you need to do or pack.
Step 5: Reflect On Your Volunteer Vacation Experience
After you've taken your service trip, you should spend time reflecting on your experience, the people you've met, and the things you've learned. This is helpful for both your personal growth and to identify practical skills you gained that can apply for future jobs or volunteer work. An easy way to reflect is to write your thoughts down in a journal.
Journaling is a great practice A Lakehead University thesis found that time spent journaling was associated with improvement in higher self-regulation and psychological well-being over time.
It's also a great way to deepen your understanding and improve your learnings from your experience. A paper published in the Journal of Workplace Learning found that reflective journaling and self-directed inquiry helped the author develop practical and work-related knowledge.
We put together a few printable volunteer reflection pages to help you think about your experience and how it's impacted you. We have printables for individuals, kids, and groups.
If you went on a solo trip or just want to reflect on your own, you can use this journal printable. Take as much time as you need to reminisce on your memories, what you've learned, and how you want to grow.
Solo Reflection Page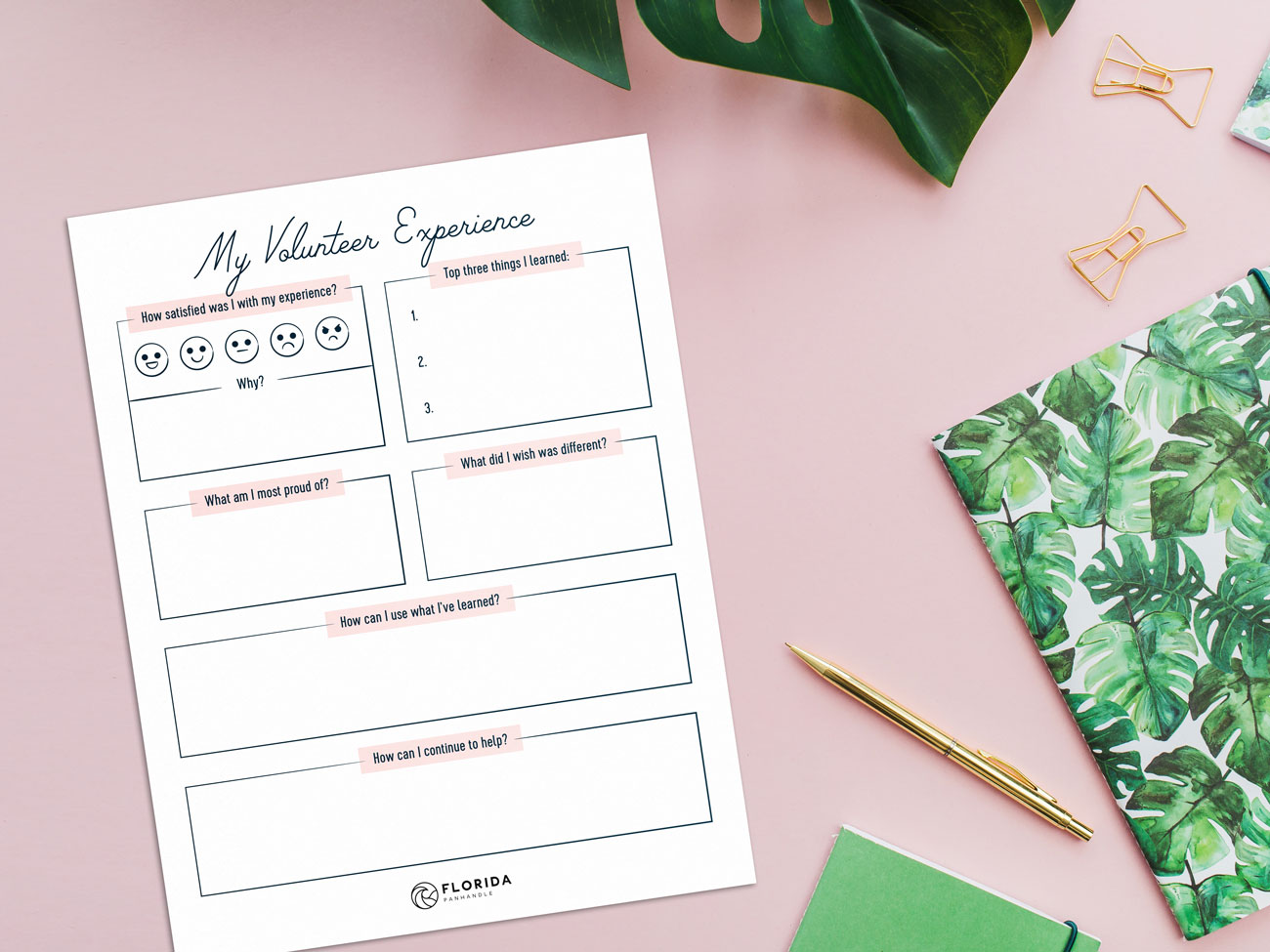 Kid's Reflection Page
The kiddos can have fun reflecting on their experiences, too! They can write or draw their thoughts to express what they took away from the experience.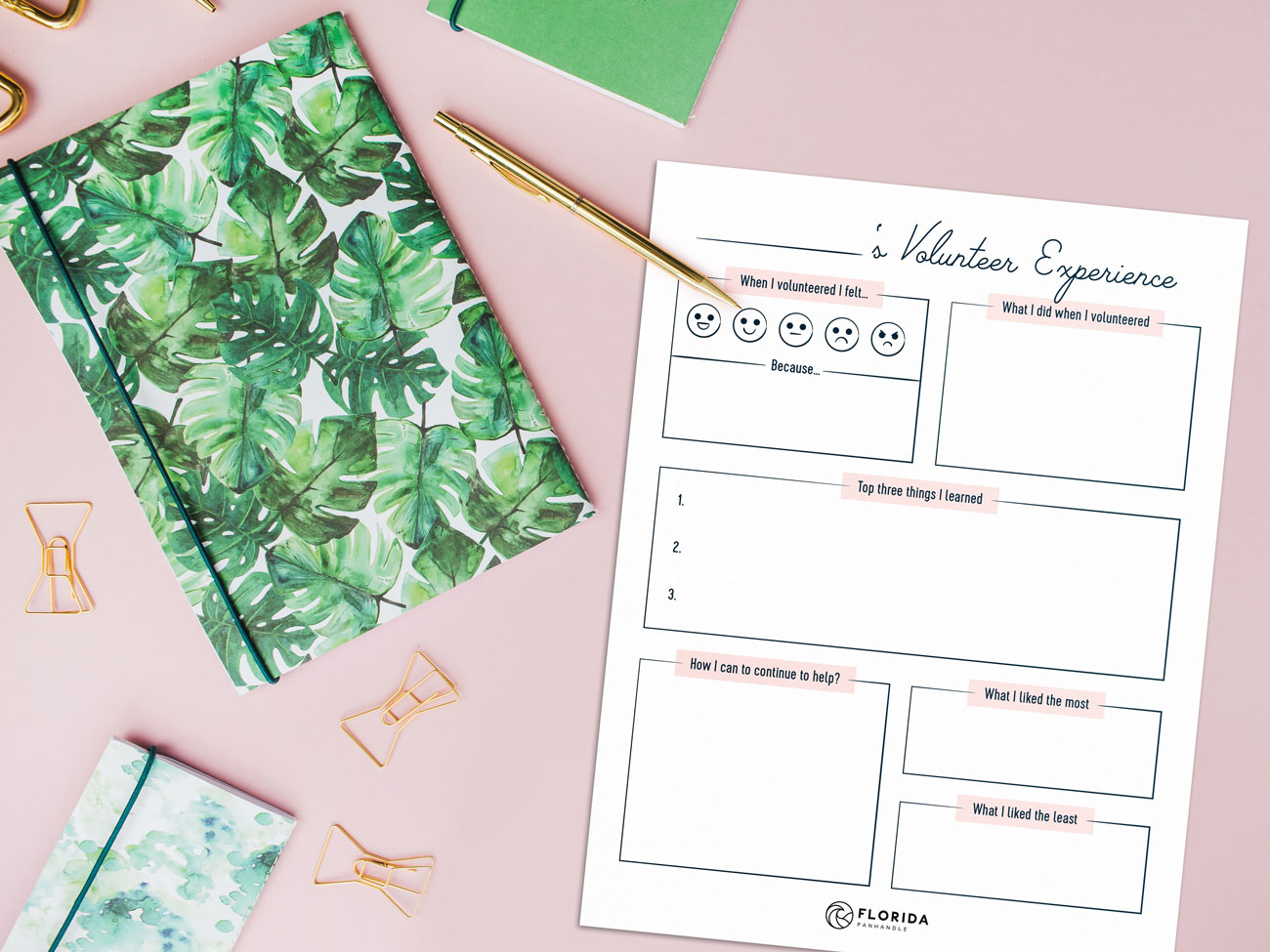 Group Reflection Page
If you went with your family or a group, you can spend some time after the trip chatting and sharing your experiences! A study published in the Journal of Experiential Education found a positive relationship between group journaling and the self-reported perception of learning. You can nominate one person to fill out the page as you talk about it or use it to inspire some talking points.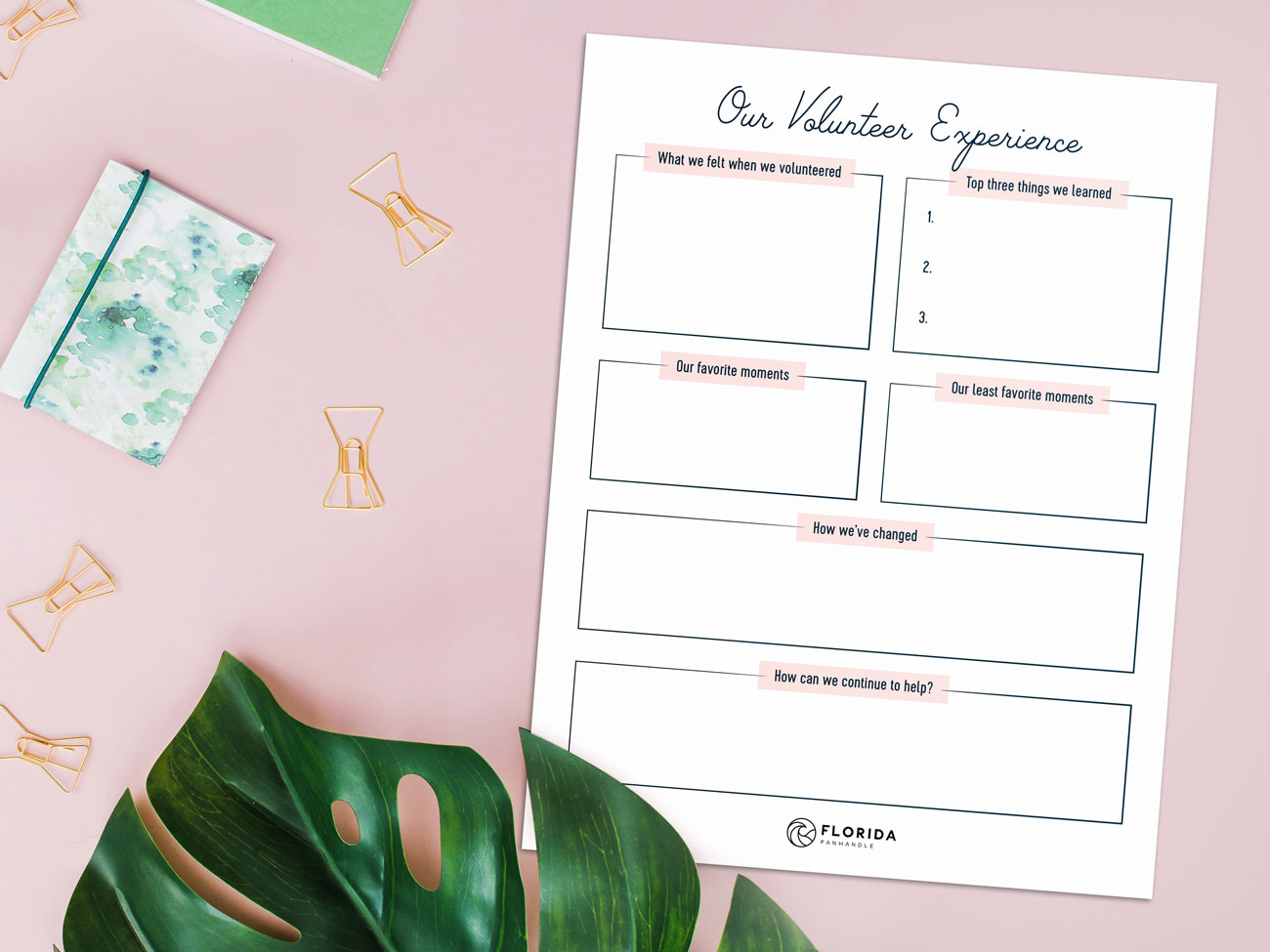 There are many places around the Florida Panhandle that have volunteer opportunities. Pensacola Beach is home to the Navarre Beach Sea Turtle Conservation Center mentioned earlier. Beach clean ups (and being a clean tourist overall!) are other great ways to help out the local area on your next beach vacation.