The United States is home to some of the most bustling cities full of life, tall buildings, and local businesses. It's also home to some more relaxed cities with open air, endless acres, and fewer crowds. When it comes to the fastest-growing cities in the U.S., we have a good little mix of both types of towns.
Having insight into the fastest growing cities not only helps those who want to relocate find a better destination for their needs, but it also helps us understand how it relates to tourism and how we, as tourists, can make a better local economy for the residents that live there.
How Did We Conduct This Study?
We studied official data from the US Census Bureau to gather the population numbers from 2021 and 2022, along with the median household income and median home price. From here, we saw the percentage of growth as well as the cost of living. Alongside the US Census Bureau, we also analyzed the most recent Federal Bureau of Investigation crime rate tables in combination with Neighborhood Scout for an accurate depiction of year-over-year crime numbers.
Key Findings
The fastest-growing city, Georgetown, has 59,488 fewer people than the fastest-shrinking city, Jackson. In Georgetown, the median income is over $40,000 higher; meanwhile, there were 6,681 fewer property crimes in Georgetown vs. Jackson.
The fastest-growing cities have key elements in common: higher median income, lower median home cost, lower cost of living, and lower crime rate.
The highest crime-driven cities are St. Louis and New Orleans, with over 20,000 total crimes on average for each city. These cities also have some of the lowest median household incomes of around $40,000 for each.
This data represents cities with populations over 50K.
1. Georgetown, Texas
Known for the wildflowers scattered throughout the city, Georgetown in Texas has remained at the top of the list of fastest-growing cities in 2023 for the past couple of years by the U.S. Census Bureau.
Georgetown, TX, is around 30 miles from the even more populated Austin, Texas, but offers a less expensive, less populated, and less crime-driven option for those looking to move.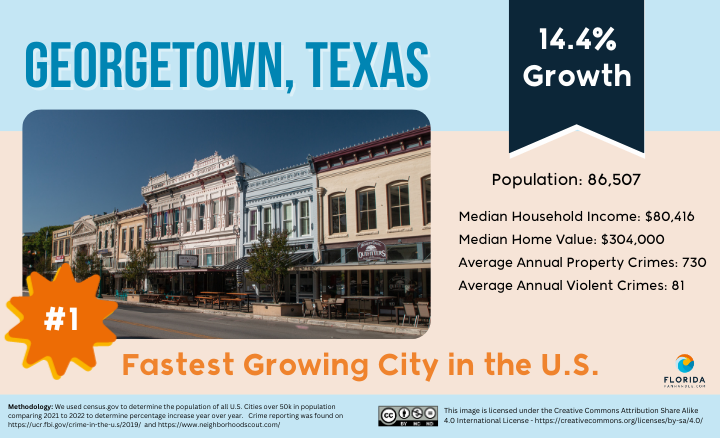 2. Santa Cruz, California
Santa Cruz is well-known as a coastal beach town near Monterey Bay. This city is about an hour away from popular cities like San Francisco, but while staying somewhat off the beaten path. There are several shopping opportunities, nature-based activities, and several incredible attractions like Santa Cruz Beach Boardwalk.
While this artsy town has a higher crime rate, the lower population count and abundance of activities make it a top-growing location.
3. Kyle, Texas
Another Texas town near Austin (and San Antonio), Kyle, is a smaller populated town that is quickly growing due to its affordable housing, low crime rate, and stunning location. This Texas city is full of nature-based activities like hiking, fishing, and boating!
Because of Kyle's fast population growth, the city is working hard to improve its highway systems and utility plans.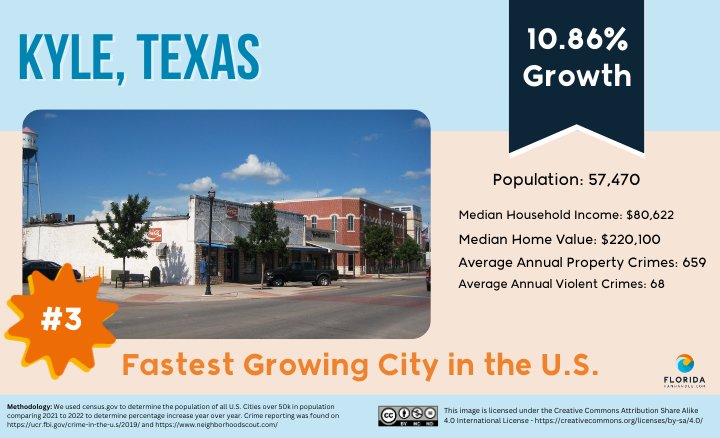 4. Leander, Texas
Texas boasts many fastest-growing cities, and Leander is one of them. Leander is another town close to Austin, with plenty of available land to choose from. Not only does it have ample land, but it also has a low crime rate, a strong sense of community, and a lower population.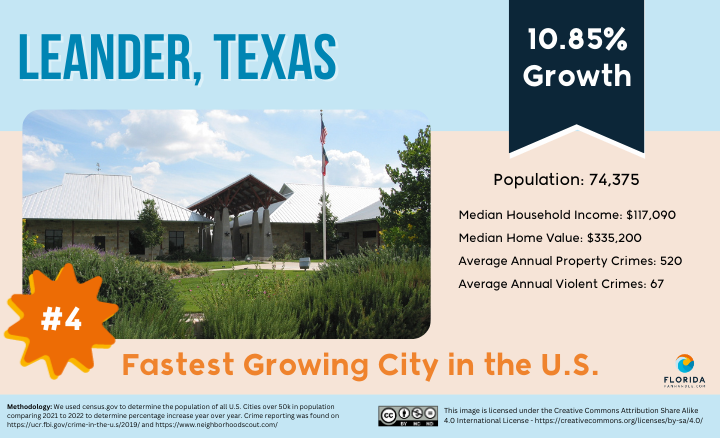 5. Eagle Mountain, Utah
Eagle Mountain, Utah, is home to several landmarks like the Pony Express trail but also offers some mountainous views and petroglyph carvings. When it comes to its growth, this Utah city has plenty of job opportunities as well as an affordable housing market.
When it comes to safety, Eagle Mountain City also falls under the safer side of the fastest-growing cities.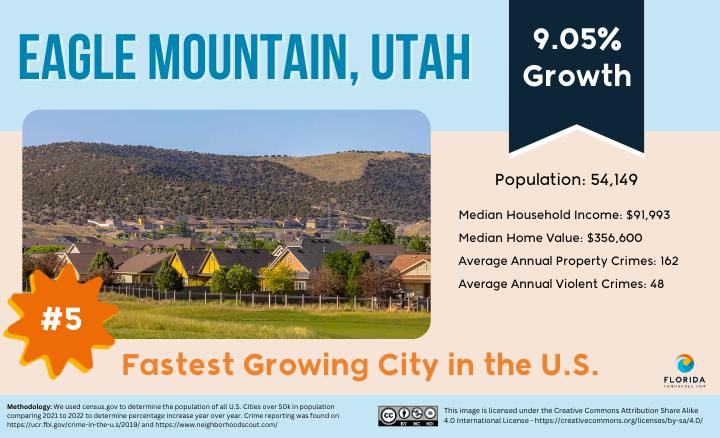 6. Little Elm, Texas
Little Elm is a smaller Texas town with a population of slightly over 55,000. This city is known for the abundance of nature-based and water-based activities like swimming, camping, and boating. Not only that, but Little Elm takes pride in providing for its residents, and the town has often invested in its community centers and parks for all to enjoy.
The crime rate is on the lower end of the spectrum, as well as the median home price.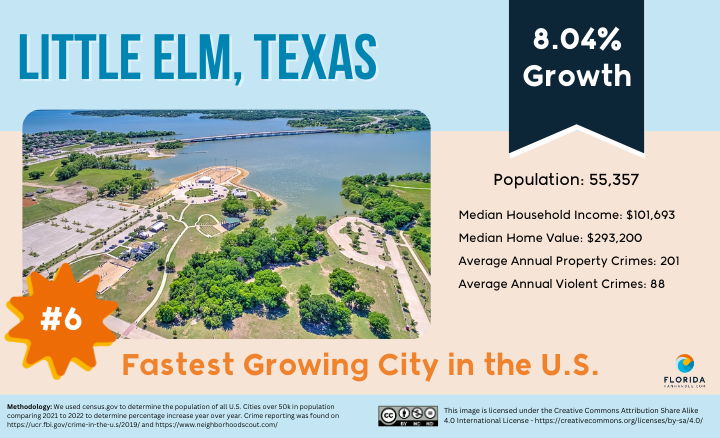 7. Westfield, Indiana
Each year, Westfield, Indiana, hosts the Great Lakes Regional Tournament, but that's not all it's known for. While Westfield is the home of Grand Park, it also offers fun breweries, historical architecture, and well-maintained parks and picnic areas.
Westfield also is family-friendly, has a low crime rate, has affordable housing, and has a medium to high median household income.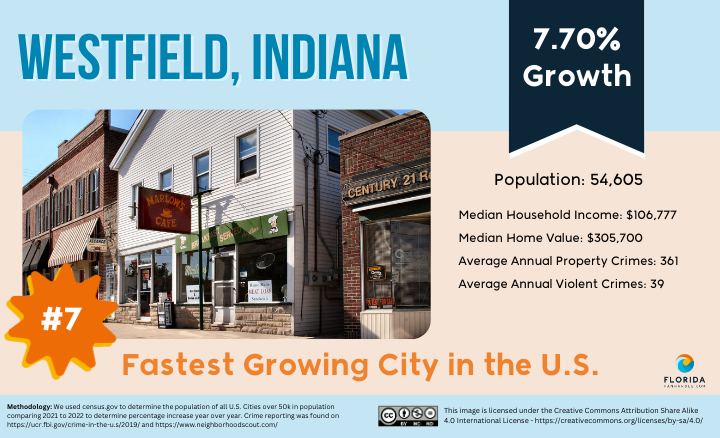 8. Queen Creek, Arizona
A family-friendly location full of agriculture, farms, and gardens, it's not hard to see how Queen Creek in Arizona has risen to be a fast-growing city. Queen Creek is surrounded by stunning mountaintops and provides a great opportunity for outdoor adventures like horseback riding or biking.
Queen Creek does an overall great job in maintaining its small-town feel while also juggling its exponential growth.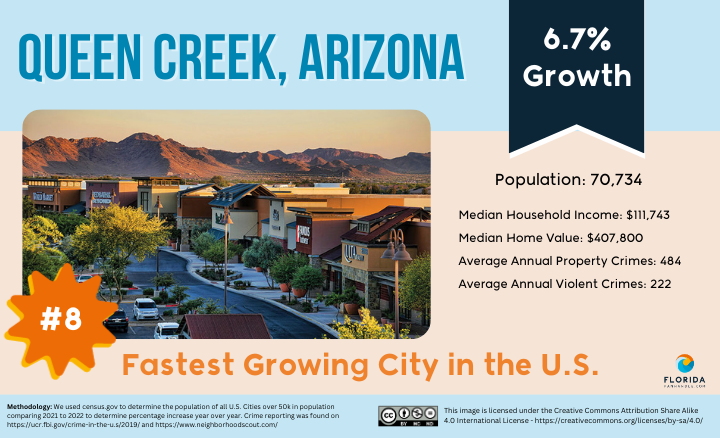 9. North Port, Florida
North Port, Florida, offers the best of history and wildlife with an exceptionally younger residential influence. This Florida town has incredible natural landscapes and beauty while maintaining affordable housing and low crime.
North Port often invests in recreational community centers and parks, as well as the amenities for newer housing options. It's also close to more popular towns like Sarasota.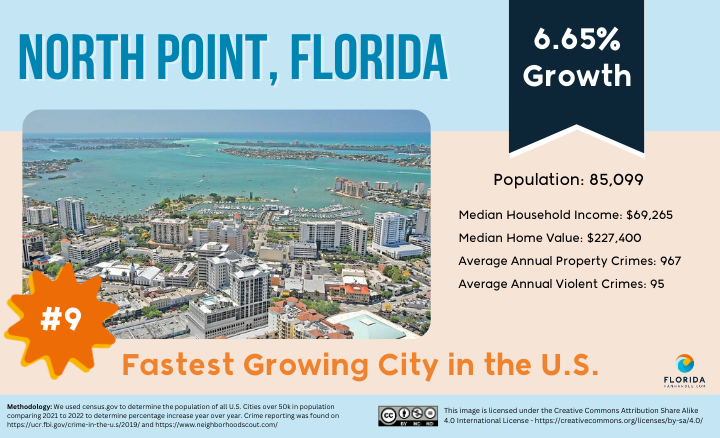 10. Cape Coral, Florida
400 miles of canals await at Cape Coral city, along with some incredible prices. Cape Coral is an extremely affordable location, but that's also due to the lack of high-paying jobs in the area. Nonetheless, Cape Coral is extremely beautiful, ensuring the waterways and city life is well-kept.
Cape Coral is higher on the property crime average, but this could be due to the high volume of population growth as well as the city's high accessibility.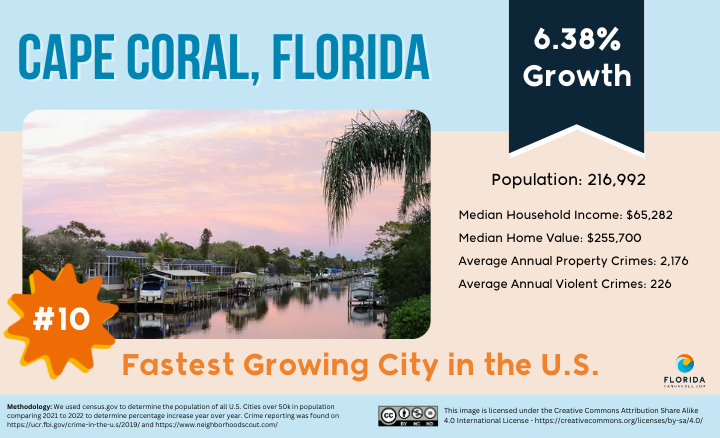 11. Port St. Lucie, Florida
Avid hikers, wildlife enthusiasts, and golfers all love Port St. Lucie, FL. While this Florida town has plenty to do between favorite attractions and activities as well as favored restaurants, it also offers an extremely high quality of living. Not only is the housing affordable compared to other Florida towns, but it also continues to see an increase in job opportunities.
Port St. Lucie does have a high property crime average, but this could be due to population density or higher poverty rates.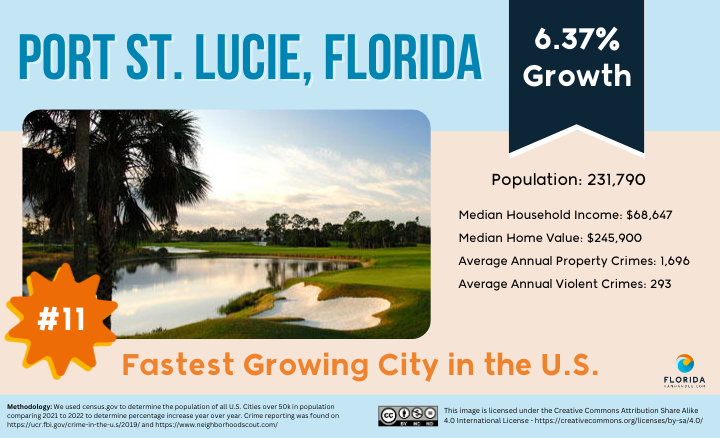 12. Conroe, Texas
Conroe, TX, has grown over 6% from 2021 to 2022, and it might be due to the affordable housing alongside the ample outdoor recreational activities. It's family- and business-friendly, and it has definitely experienced substantial development in the economic market. In Conroe, several events are held, like music festivals and cultural attractions but still manage to maintain a less-crowded feel.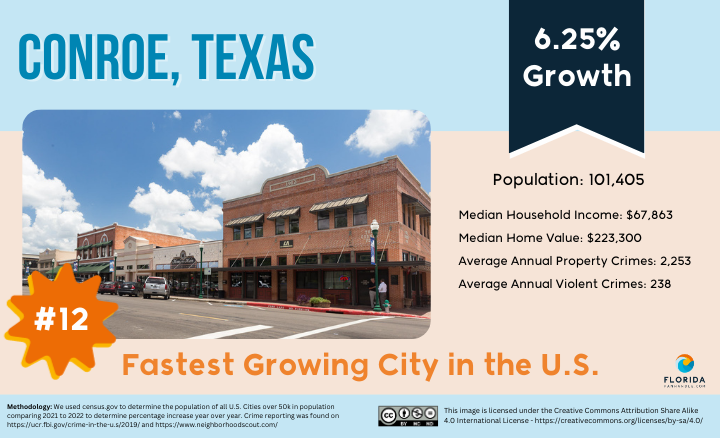 13. Maricopa, Arizona
One of the most historic areas of Arizona, Maricopa, has also seen a 6% increase from 2021 to 2022 in terms of population. This Arizona town is close to the capital, Phoenix, but also offers its own high-quality traits like affordable housing and job opportunities.
Maricopa has been steadily growing for several years and has just started to slow down to a pace that it can manage. With this comes a small property crime and violent crime average.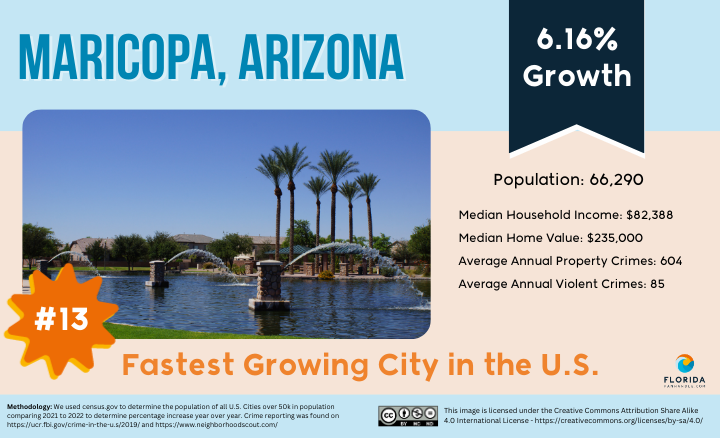 14. New Braunfels, Texas
It's no surprise that New Braunfels, TX, has made the list of fastest-growing U.S. cities. New Braunfels is home to stunning rivers, high-end attractions, live music, delicious eateries, and history. Not only that, but it's close to both San Antonio and Austin, making it a prime location for convenience.
New Braunfels also offers affordable housing options, economic growth opportunities, and has invested in their city's growth year after year.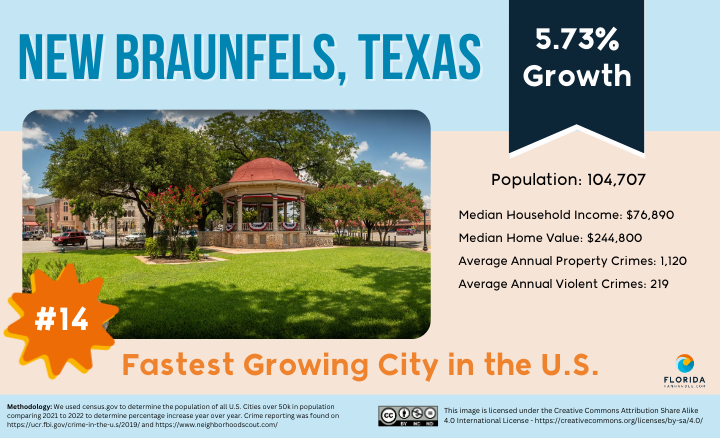 15. Lehi, Utah
South of Salt Lake City, Lehi has a thriving tech industry, scenic landscapes, and low crime rates. While the housing here isn't as affordable as some of the other locations, the median household income is higher, and Lehi invests a great deal into its roadways and economic development.
Lehi, Utah is also rich in history and religion, which dates back as far as the 1800s.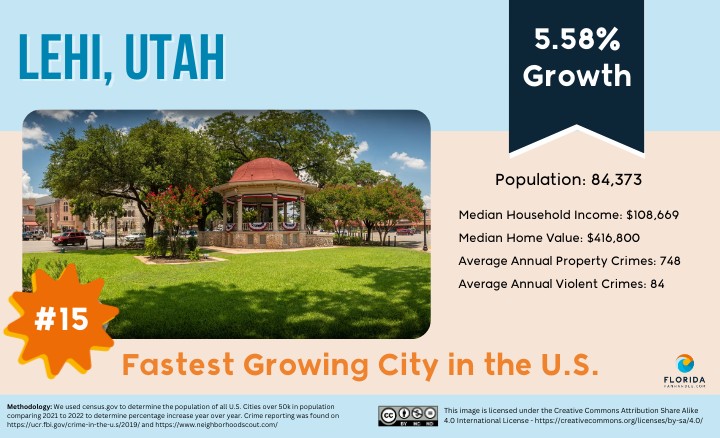 16. Medford, Massachusetts
Just north of Boston, Medford not only offers educational opportunities but it also provides the convenient location of being so close to a larger city with plenty of history. Medford is known for its history, museums, and diverse community. It offers a little bit of everything from shopping centers and restaurants to community events and festivals.
Medford, MA, has seen over a 5% increase in population from 2021 to 2022, and offers a higher median household income (although this means a correlative increase in median home price.)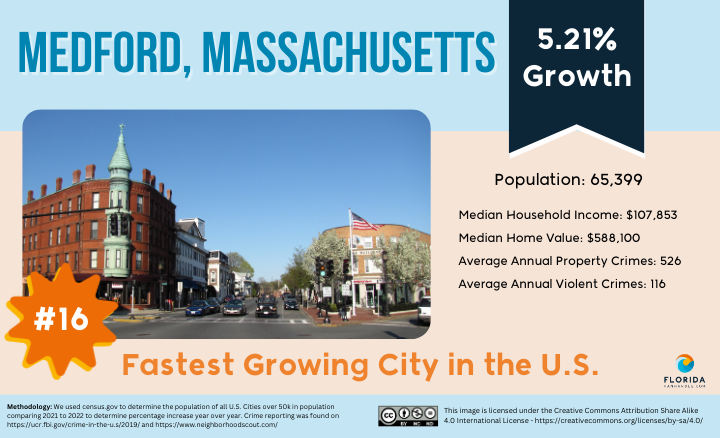 17. Palm Bay, Florida
A Florida town with one of the most affordable housing opportunities, Palm Bay, is attractive to those who care about affordability, high-tech, natural landscapes, and quality infrastructure. Palm Bay is an area full of community-related activities like playing in sports fields or participating in sports-related activities at a recreational center.
Since the homes are more affordable, the median house income is lower at $55,963, but that hasn't prevented it from seeing lower than a 5% increase year over year.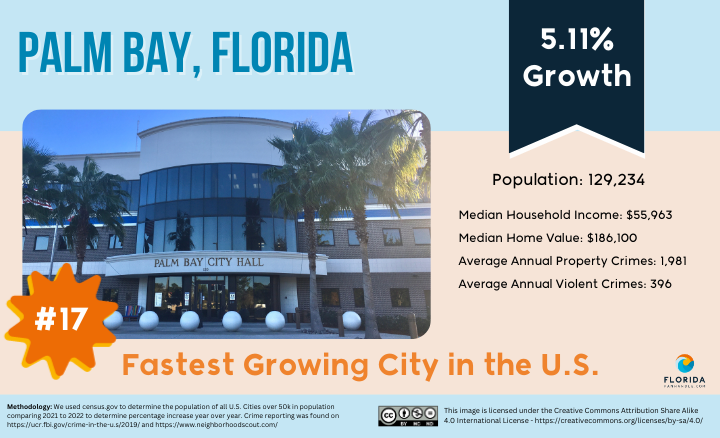 18. Palm Coast, Florida
Palm Coast is a popular golf resort destination with an array of pristine beaches, delicious eateries, and miles of nature preserves. This Florida town has a smaller population than most – sitting at 98,411 as of 2022. This Palm Coast city, however, has affordable housing, steady economic growth year over year, a thriving community, and several educational opportunities.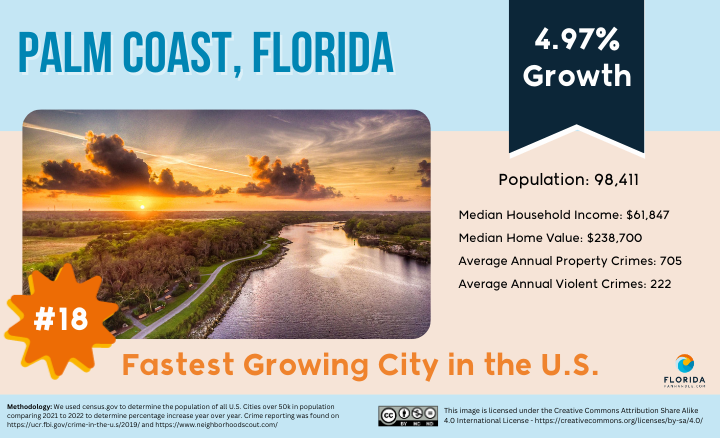 19. Castle Rock, Colorado
Colorado is known for its expansive list of outdoor activities to enjoy, and Castle Rock falls into that category with its lengthy list of trails and park opportunities. Castle Rock is not only connected to major transportation routes, but it also gives the small-town charm appeal.
While it remains connected to the convenience of visiting a bigger city, the crime rates still remain low while also offering a higher median household income.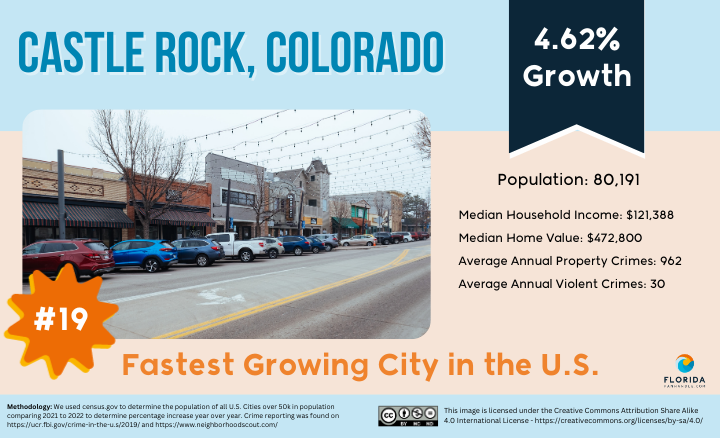 20. Casa Grande, Arizona
Labeled as Arizona's "second largest city," Casa Grande offers a glimpse into the Ancestral Sonoran Desert People's farming community that is still preserved at Casa Grande Ruins. Casa Grande is full of history, while the current industrial demand has driven the need for economic growth and development within the city.
From 2021 to 2022, there was a 4.59% increase in population alongside an affordable median home price of $177,700. This, combined with the history and stunning scenery, are just some reasons why Casa Grande has continued developing into a growing city.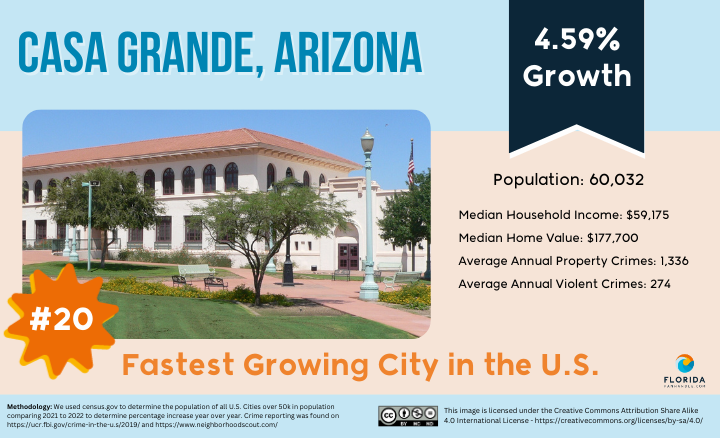 21. Temple, Texas
Another TX town close to Austin, Temple offers both a family-friendly community full of community events and parades, as well as a highly accessible destination along the interstate. Temple is also known as a major healthcare hub, along with several academic and educational opportunities alongside medical and research initiatives.
Temple, TX, also has a strong military presence, as well as highly affordable housing and a lower cost of living.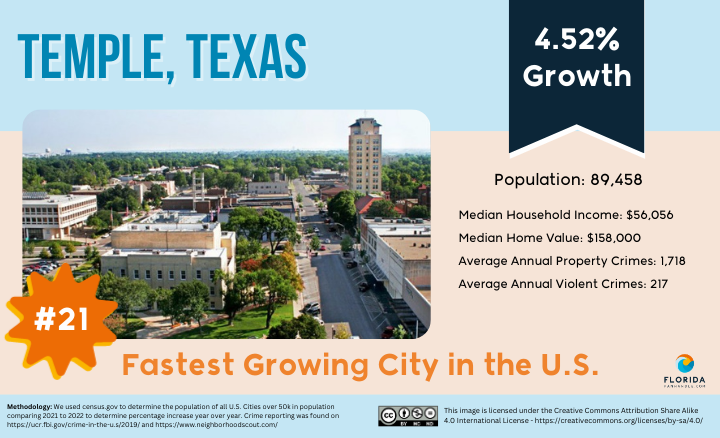 22. Winter Haven, Florida
Known for its Chain of Lakes, Winter Haven offers many opportunities for water-based activities like boating and fishing. Not only that, but it's also home to popular attractions like Legoland and Bok Tower Gardens. Winter Haven is a haven for tourists and locals alike, with the added benefit of close proximity to Orlando, FL.
This area also provides affordable housing with a median home price of $182,700 and offers a generally lower cost of living than most Florida towns.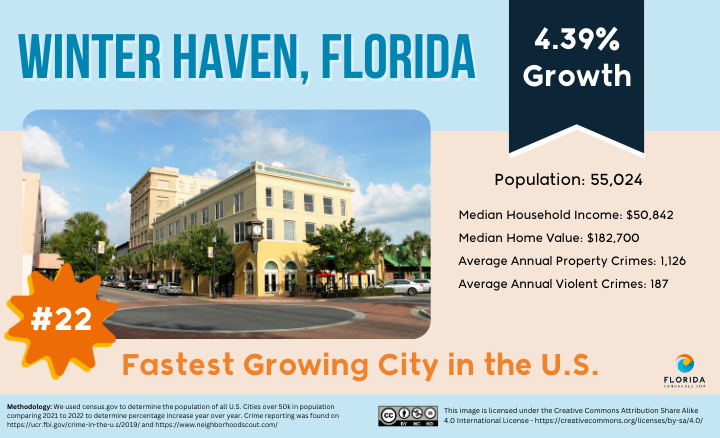 23. South Jordan, Utah
South Jordan is another Utah city that is within driving distance of the ever-so-popular Salt Lake City. This city is home to history and culture centers and temples, as well as the Jordan River and Wasatch Mountains. While this city has much to do in terms of activities, it has a low average of violent crime. It also has a high median household income.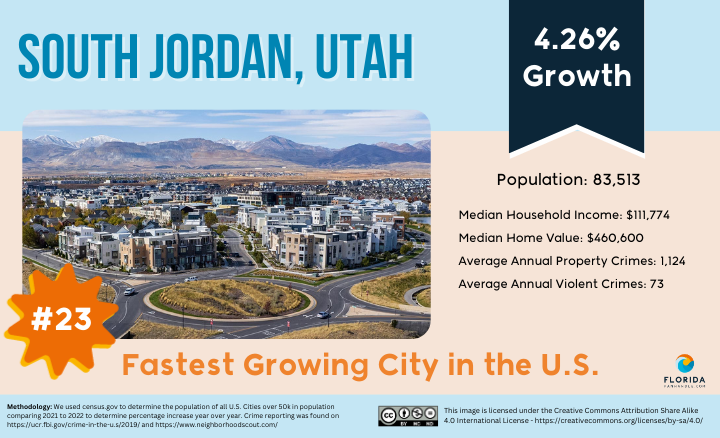 24. Allen, Texas
Texas has several locations that are considered to be the fastest growing, and Allen is one of them. Allen is known for the Old Stone Dam, built in 1874, but it's also known for its convenient proximity to Dallas, TX, and the airport. While Allen is home to popular shopping centers and dining options, it also offers a little something more for the residents — a high education.
Allen is big on community engagement, sports, recreational activities, and high academic achievement. Regarding median household income, Allen has one of the highest at 119,254, while the median home price is lower, around $344,100, and the violent crime average is a low 88.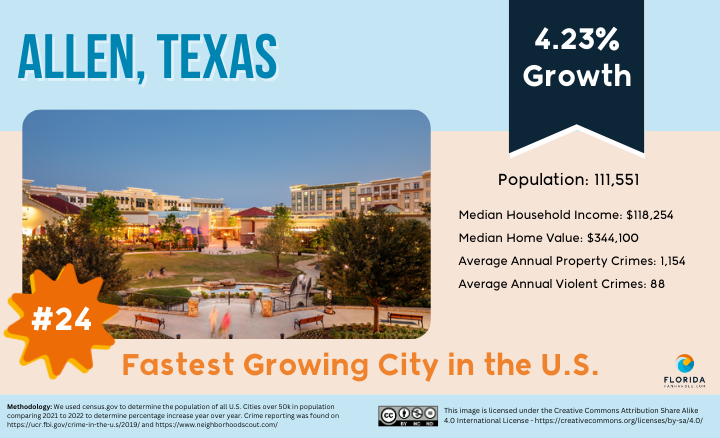 25. Bellingham, Washington
Bellingham, WA, is surrounded by stunning views of mountains and nearby San Juan Islands while offering close proximity to the Canadian borders. This Washington city is filled with educational opportunities and a thriving arts and cultural scene.
Not only is it full of attractions, activities, and a vibrant local scene, but Bellingham also has a strong commitment to sustainability initiatives.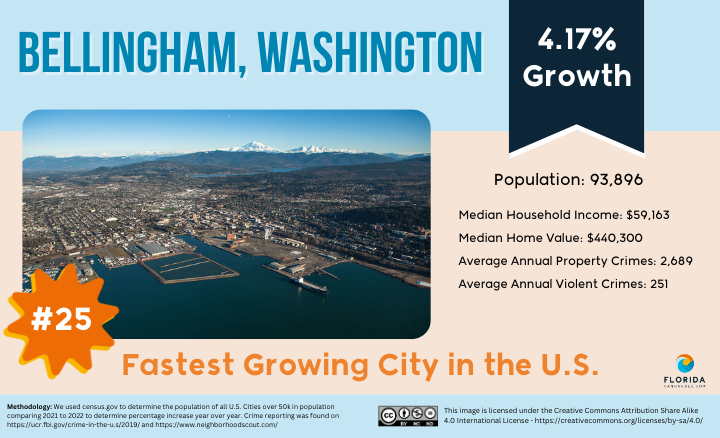 Migration Waves: A Closer Look at Population Changes
Population change is a fascinating occurrence that shapes the dynamics of our world. From mushrooming growth in smaller cities to declining numbers in bustling cities, the flow of migration impacts society, economics, and the environment. Take a look at all of the U.S. cities that experienced a noticeable change in population from 2021 to 2022.
Not the Same Can Be Said for Jackson, Mississippi's Demographic Decline
With the top 25 fastest-growing cities, we see a trend of lower property and crime rates while also evaluating a lower median home price. With the top shrinking locations, there is a trend of either higher crime rates, lower median income, or higher median home prices.
Jackson, Mississippi, resides at the top of shrinking cities, with the lowest median household income, as well as the lowest median home price, and the lowest violent crime rate. When looking at the property crime rate, however, it's among some of the highest at over 7,000 property crimes on average per year, according to US Census Bureau.
Following, there are cities such as; St. Louis, Taylorsville, Orem, Sandy, and Kenner. These other top 5 cities all have an extremely high crime rate (in comparison to those growing cities), as well as a low median household income.
Do Politics Play a Role in Where People Choose to Live?
Data source: The New York Times
Politics can have a significant influence on people's decisions about where to live. The political climate of a region can shape its economic opportunities, social policies, infrastructure development, and overall quality of life. Individuals often consider factors such as governance stability, political ideology, and government effectiveness when deciding where to settle down. Some may prioritize living in areas that align with their political values, seeking communities that share their beliefs and support their preferred policies. Others may choose to reside in politically diverse regions, valuing exposure to different perspectives and the potential for engaging in civic activism.
Political considerations can impact decisions about relocation, as individuals seek environments that offer favorable conditions for personal growth, professional opportunities, and the realization of their aspirations. Consequently, politics can play a crucial role in shaping people's choices about where they want to live.
From this data, it's clear that individuals are moving to those cities that feel safer, that offer more opportunity, that have a less expensive cost of living, and that invest in the community. In these fast-growing cities, tourism will also continue to grow in these areas. Tourism flourishes in safe areas, where they have plenty of things to do and where they invest in keeping the city well-maintained.