Seaside, FL is a gorgeous resort community located along historic 30A. Yet, as you walk down its quaint streets for the first time, you might feel like you've been here before. Or at least get a sense of recognition about the place. If so, that's because the entire town once served as a backdrop for the blockbuster 1998 movie, The Truman Show. In fact, we might say that it is this unique Norman Rockwell-esque appearance of the community that really gave the movie just the right tone to become a major success.
Interested in learning more about why Seaside has such a unique neighborhood appearance and about more specific backdrops of The Truman Show? If so, let's get started with this short guide to all the big hits and everything you need to know about the fascinating movie The Truman Show and its film location in Seaside, FL:
Was Seaside Built for The Truman Show?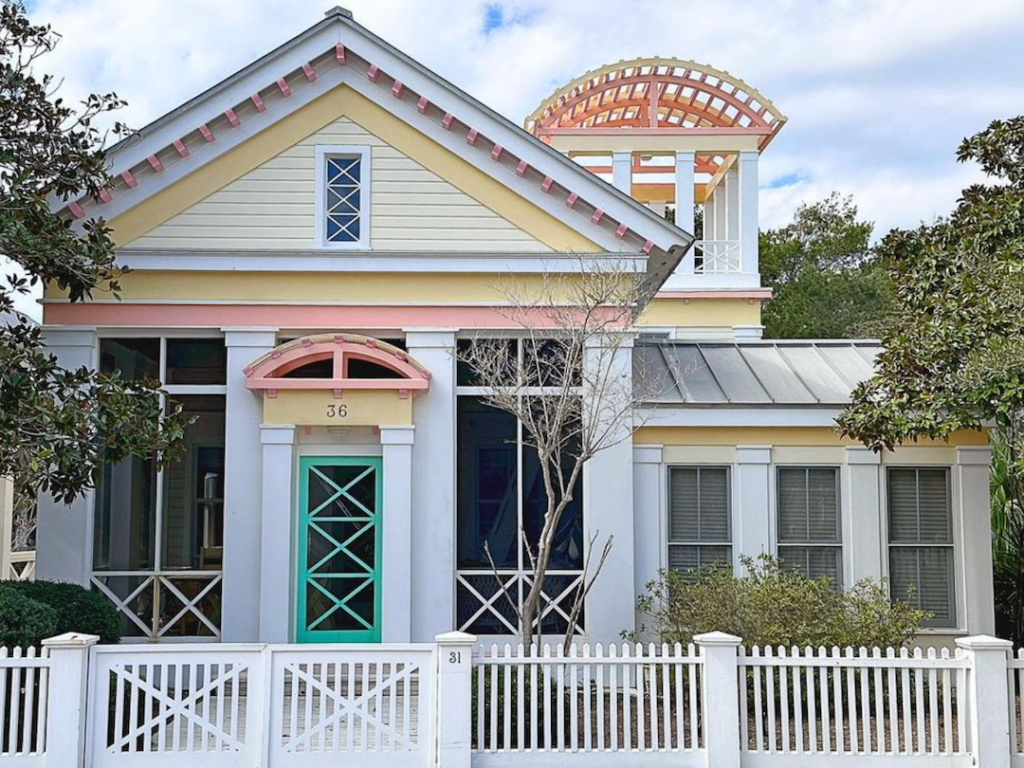 This is a very common question and it's easy to see why! The small picture-perfect homes that harken back to an earlier era certainly feel a bit out of place in Gulf Coast Florida, especially 30A Gulf Coast Florida, which tends to feature more modern and classical beach architecture in which each home has its own look and not the more cohesive design appearance of those homes and businesses in Seaside, FL.
That said, while Seaside was not purposefully built for The Truman Show, it was purposefully built. This coastal town began as a planned 80-acre development in 198. One of the first communities in the country to be designed around the principles of New Urbanism. New Urbanism is a type of urban and architectural design movement. It is aimed to build neighborhoods with greater walkability in mind and design facets. They emphasize things like, incorporating more green publicly-accessible green spaces, instituting tree-lined narrow streets that discourage through-way traffic, and limiting front lawns, allowing only native plants in this area to promote better ecological practices.
Is ____________ a Real Place I Can Visit?: The REAL Places of The The Truman Show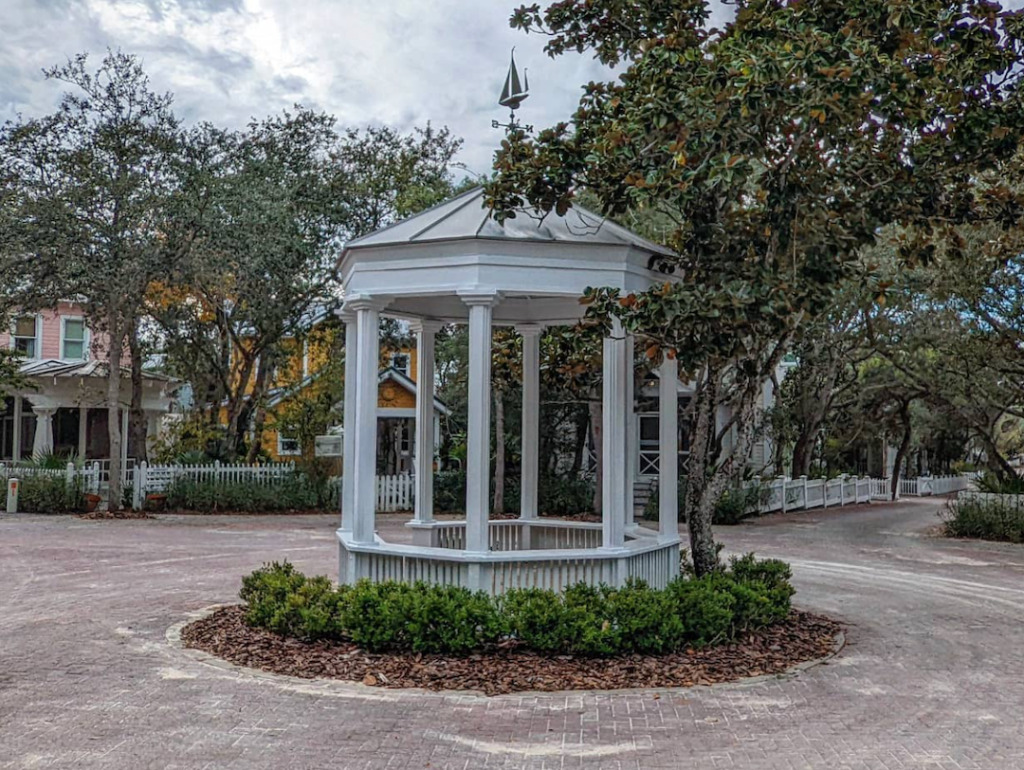 Some people don't get the idea that Seaside, FL is an actual town and community that can be visited. Once they do, they still often want to know which places are still there and can be visited. The short answer is most of them! But let's take a more specific look at some of those exciting real-world spots that can be viewed on your DVD and visited via your own two feet:
Seaside Post Office
The Seaside Post Office both still stands and still operates just like any post office. In fact, a fun activity many visitors to this coastal community do is going to that post office. They send an official Seaside postcard to a loved one back home. Small and one-of-a-kind, the Seaside Post Office was built before the town. It has been moved a couple of times (including now being located on the outer ring of Seaside Plaza and not at the center), though many see it as an important community icon.
Modica Market
In the movie, the town is called Seahaven and the primary grocery store of Seahaven is a cute little boutique market called "Modica Market". Modica Market is the actual name of the store. It was opened by Sarah and Charles Modica in 1988, shortly after the opening of Seaside, FL itself. In fact, their son, Charlie Modica, is featured in the film as the backdrop shop clerk stocking supplies. Charlie now operates Modica Market and is often seen bustling about this gourmet grocery store.
Tupelo Street Gazebo
Over the course of The Truman Show, Jim Carrey's character starts to realize something about his life is not right. There is a point in which this onset of panic and disconcerting feelings leads him to drive around a small white gazebo that lies at the center of a mini-roundabout. He goes around and around and around.
This little gazebo is a real place that was established well before the filming crew stepped foot into Seaside. In fact, the place where the town founders, Robert and Daryl Davis were married and in the early years of the community. It was also where public meetings took place at. The gazebo is called Tupelo Street Gazebo and is considered the first public building in the town. Today, you too can bike or drive around the beautiful building. You can even rent it and cordon off the street for a small wedding.
Coleman Beach Pavilion & Tower
Throughout The Truman Show, the discerning viewer will capture sights of a tall structure that sort of looks like a wooden lighthouse but is not a lighthouse. It is an iconic building and is probably the most recognized structure in Seaside. You will see a lot of postcards and local art featuring it when visiting Seaside. This tower is called the Coleman Tower and is part of a larger deck structure. It is overall named the Coleman Beach Pavilion & Tower. This structure overlooks the local beach and features a wooden walkway and steps that conveniently cuts through the sand dunes to connect the town with the local beach.
The Coleman Tower is purposefully designed to have a dynamic appearance depending on where and when you view it. From a distance, it looks like a strong monostich form. However, when you come close and enter, the bottom arches and gaps between the wooden slats give it a lighter feeling as it offers interior shade. In the dawn and dusk hours, internal lights that softly merge with the natural glow of the sun at the horizon give the structure a truly unique appearance.
Visit All These Locations and More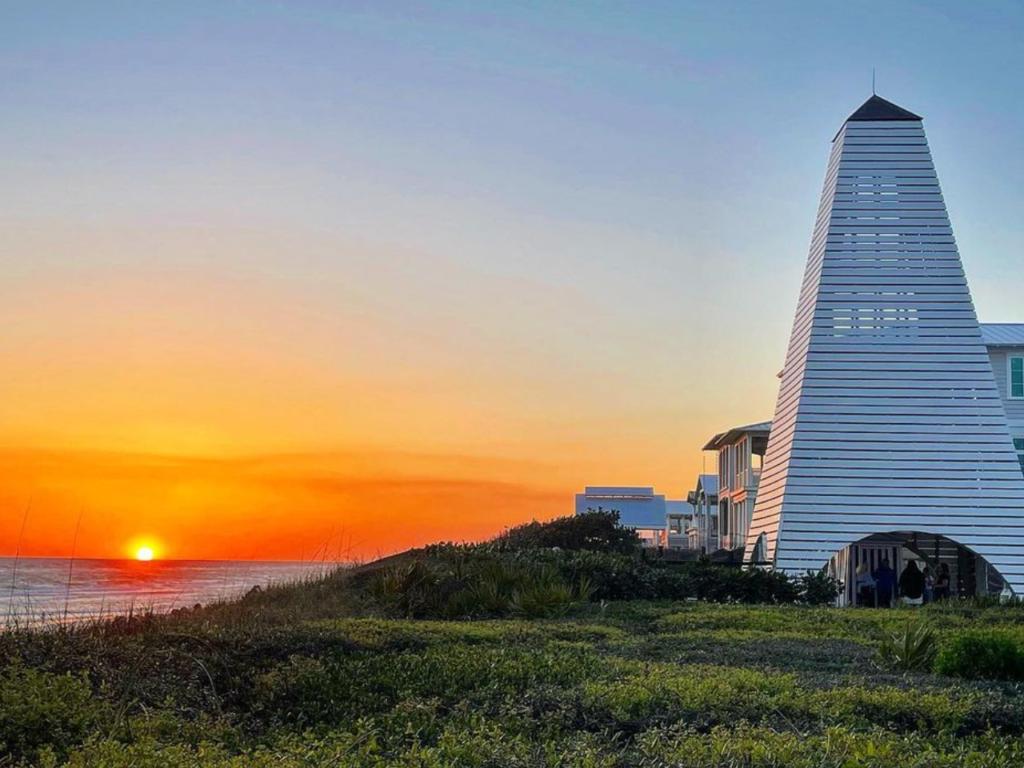 Isn't it time to stop reading about unique and beautiful places and start seeing them for yourself? Check out our other pages to learn more about Seaside and other coastal communities along 30A and start planning your getaway today!