Sure, the inshore waters of Panama City Beach's liquid backyard—the flats and feeder bayous of the vast Saint Andrew Bay system, the fruitful passes, the Gulf surf right off those sugar-sand beaches—are fabulous fishing grounds. But few saltwater anglers can resist the wilderness lure of the offshore deeps: big-game country.
Leave behind the sandy green shallows that give the Emerald Coast its name and the continental shelf starts easing downward. In short order, you're out in the mythic "blue water," realm of big fish and big adventure. In this article, we'll lay out why deep-sea fishing out of Panama City Beach is so fabulous—and suggest some guides that can help you experience it firsthand!
Fish of the Blue Water: Offshore Quarry for Panama City Beach Fishing Expeditions
The pelagic (open-water) fish you can pursue on a day trip—or an offshore overnighter—out of Panama City Beach include some of the most coveted angling quarry in the world.
Take, for example, the swift, vibrantly colored, dome-browed dolphinfish—aka the mahi-mahi or dorado, an utterly gorgeous blue-water runner that can also sometimes be caught closer to shore. Another legendary marine speedster is the wahoo, a slender, long-snouted member of the mackerel family that's sort of like a greyhound model of a barracuda. These hard-fighting fish—which, like the mahi-mahi, make excellent eating—may reach a highly respectable eight feet.
Tuna roam the blue-water Gulf as well, including the comparatively small blackfin and the bigger yellowfin, the most prized of all the world's tunas.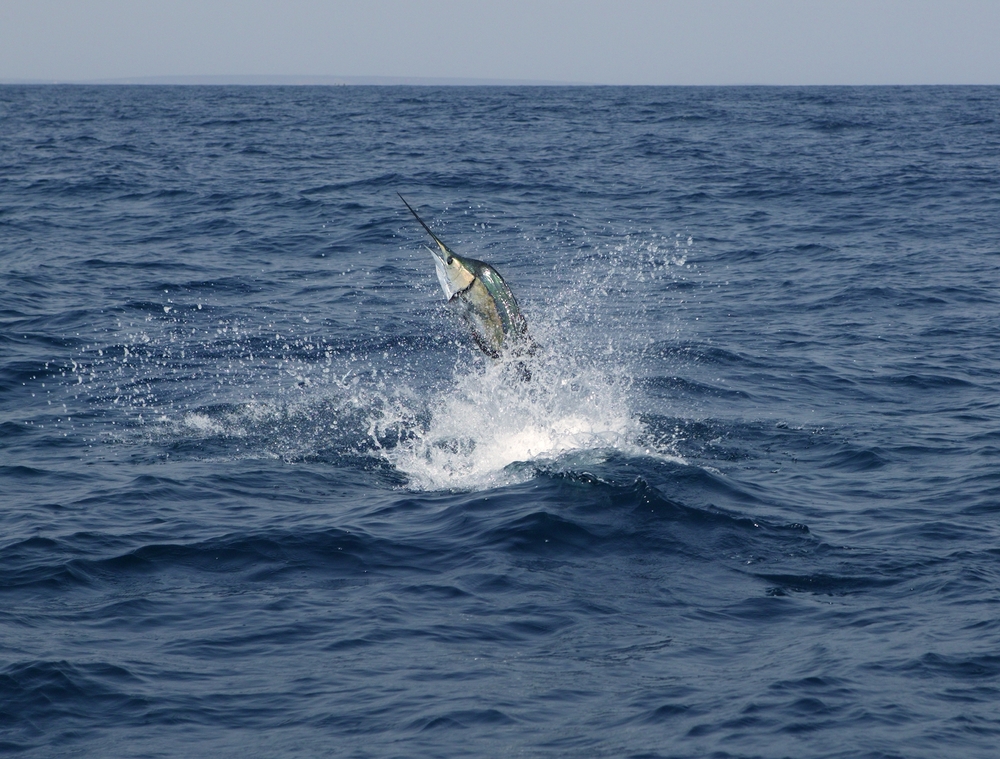 The most coveted recreational big game here in the Gulf of Mexico, though, are the billfish: sailfish, swordfish, and (especially) marlin. All of these large, fleet, spear-nosed beasts rank among the most impressive denizens of the ocean—and, in the case of the Gulf's broadbill swordfish and Atlantic blue marlin, some of the biggest bony fish around. The Sunshine State record blue marlin—a 1,046-pounder—was hauled out of local waters during the 1985 Bay Point International Billfish Tournament. When it comes to combining size, power, and energetic, gravity-defying grit on the line, only a mako shark compares to a big marlin.
Speaking of sharks, they're offshore quarry—the toothiest of all, certainly—along the Emerald Coast too, including some supersize hammerheads, bull sharks, and tigers.
These depths also offer reliable opportunities for bottom-fishing at wrecks and reefs for snapper, triggerfish, grouper, amberjack, and other prized deepwater catches.
The When, Where, and How of Offshore Fishing Out of Panama City Beach
As with inshore fishing, you've got basically year-round options for offshore angling out of Panama City Beach. That said, prime time for pursuing the big, active pelagic fish is late spring through fall—partly because of fish movements, partly because the weather's a bit more amenable.
The fishing grounds are just about endless out there on the blue water, though there are plenty of hotspots: from the sargassum "weed-lines" marking the boundaries of currents to offshore rigs and static submarine features. Among the latter, few are so productive as the fabled DeSoto Canyon: a 3,000-foot trench in the continental shelf off the Alabama-Florida Gulf Coast that funnels in cold, productive waters and thus serves as a magnet for big predatory fish. Other popular regional spots for deep-sea charters include the Spur, the Nipple, and the Elbow.
From classic blue-water trolling to nighttime deep-drop fishing for broadbills, from artificial lures and cut bait to live tuna or dolphinfish drawing in the big guys, you'll have your best chances of success, nine times out of 10, by signing on to a fishing charter: These guides have the vessels, the resources, and the time-tested savvy to take you to the most fertile deep-sea fishing grounds and help you land a real prize. Here are a few of the best choices in Panama City Beach!
Southern Dawn Charters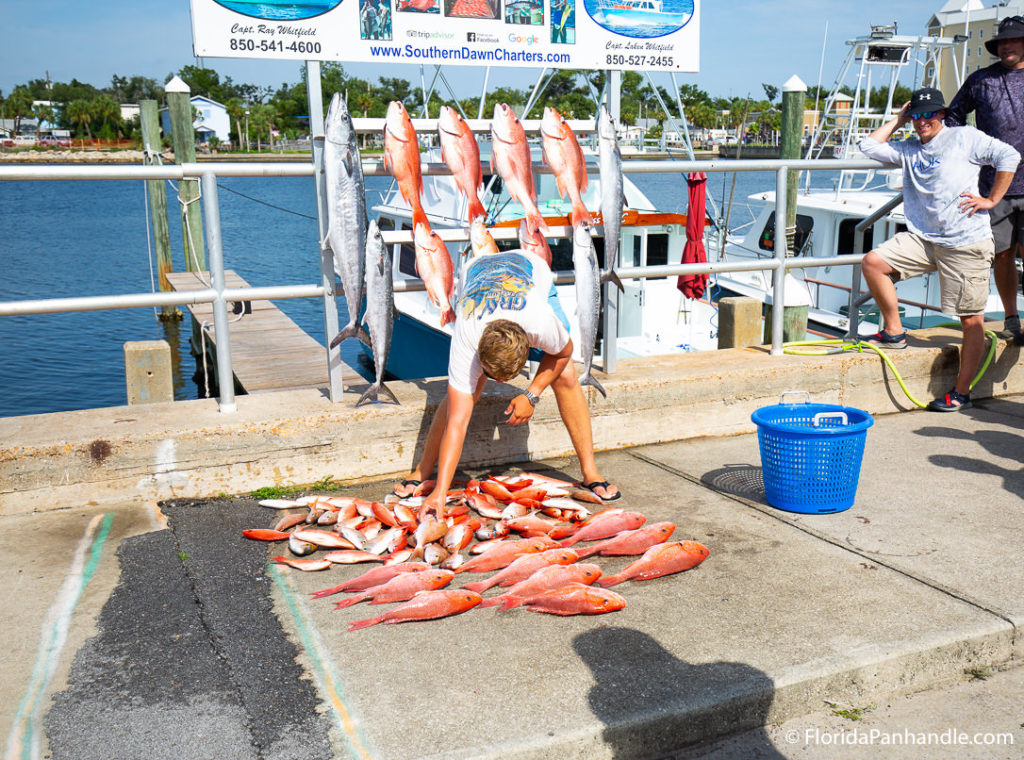 Southern Dawn offers fishing trips—including out on the open Gulf—in its 43-foot Hunter and its 45-foot Miss K-C, which can accommodate as many as 15 passengers. Helmed by Captains Ray and Laken—a father-and-son duo boasting some mighty impressive collective know-how around these waters—you'll be steered (quite literally) to unforgettable saltwater angling with this outfit.
Hook 'Em Up Charters
Deep-sea fishing is one of the main specialties at Hook 'Em Up, which serves up blue-water trolling for wahoo, mahi-mahi, marlin, swordfish, sailfish, and tuna as well as thrills-aplenty shark fishing.
Miss Kelley Fishing Charters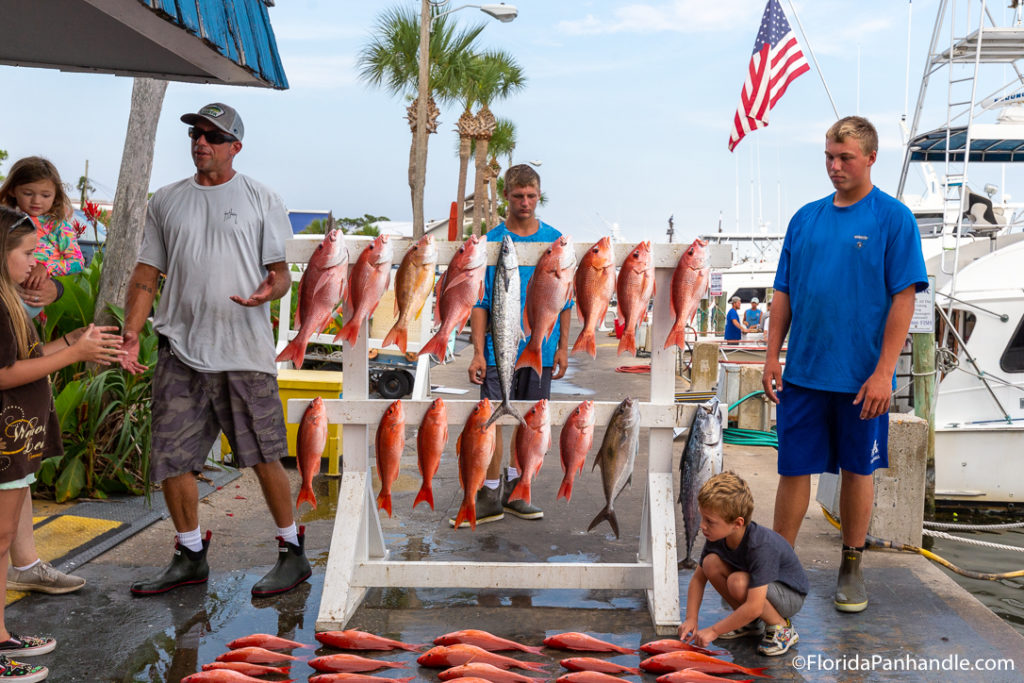 Your portal to blue-water excitement? Look no further than Miss Kelley's 52-foot sport fisherman—built right here in Panama City—which can ferry up to 16 out to prime fishing fields. You'll have options for trolling with artificial lures, dead bait, and live bait with Miss Kelley.
Jubilee Deep Sea Fishing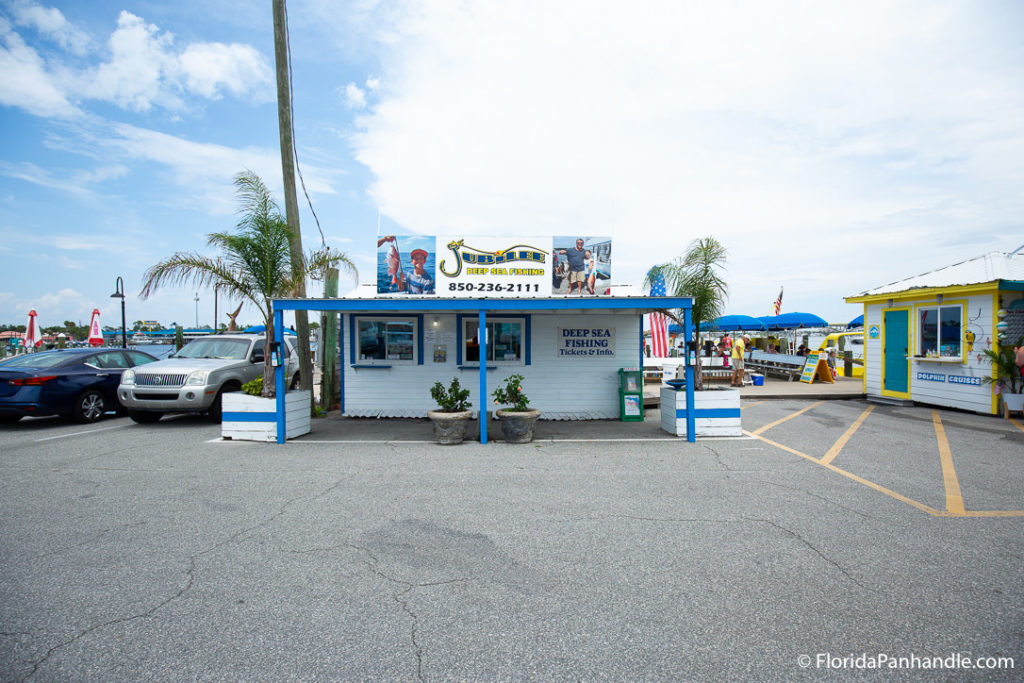 Cast into those wild depths—where just about anything could rocket up for a strike—with Jubilee Deep Sea Fishing, which maintains in its open-water "party boat" fleet both the 60-foot, 40-passenger Treasure Island and its new Jubilee vessel.
Deep-sea Gulf Fishing Out of Panama City Beach
From a fast-slicing wahoo or dolphinfish to the thunderous breach of giant marlin, experience what a fellow with a bit of experience in the big-game fishing department—one Mr. Hemingway—called "the unknown wild suddenness of a great fish" with a charter trip to the Gulf's blue water out of Panama City Beach!