Pensacola is bursting with exciting activities on land and sea. You love the shopping, the dining, and the history, but if you're like many visitors, you want, above all else, to take in the stunning views along the coast. There's no better way to appreciate this iconic scenery than from the unique perspective that parasailing provides. Pensacola boasts numerous opportunities for experiencing local beauty in the air and on the water, so be sure to book your outing with one of these acclaimed companies:
Key Sailing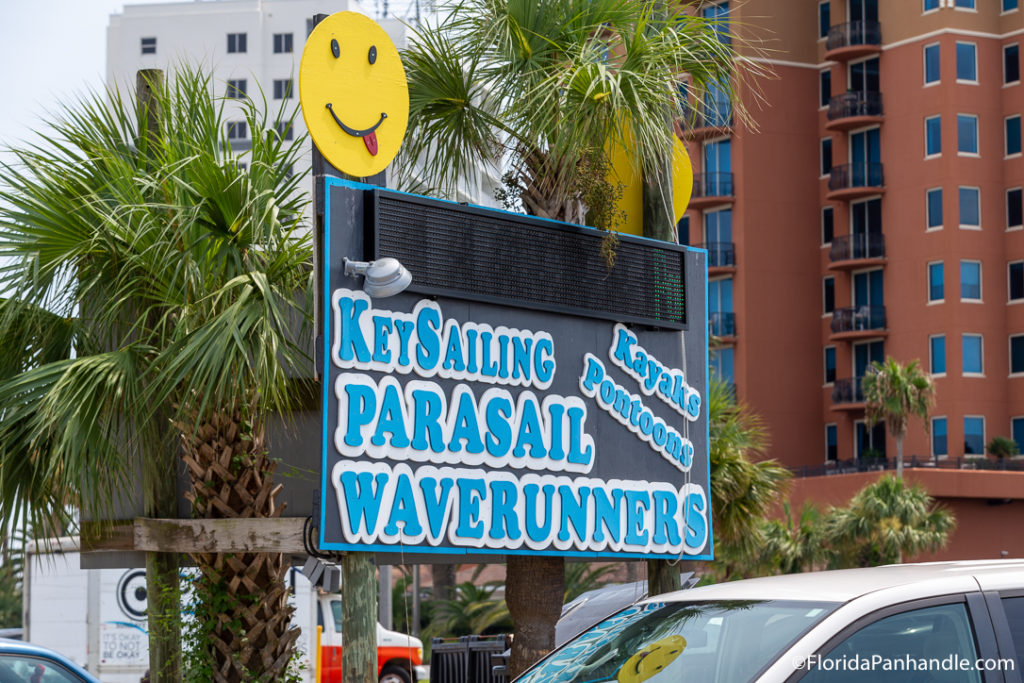 An idyllic location on the Portofino Boardwalk grants Key Sailing easy access to some of the finest parasailing views along the Emerald Coast. As one of the area's top options for boat rentals and tours, the company has a long and proud history of serving locals and vacationers alike. Since 1974, Key Sailing has consistently provided the equipment and instruction required to keep thrill-seekers both entertained and safe.
When you go parasailing with Key Sailing, you have the opportunity to join what the company refers to as the "Smile High Club." The captain for each expedition is United States Coast Guard licensed, so you can take solace in knowing that experts have your back. What's more, the company's boats are specifically designed for parasailing — and they're USCG certified.
When booking a parasailing trip with Key Sailing, pay attention to the specifics of the company's procedures. Booking does not result in a reserved time slot; rather, it grants you a ticket that you can later bring to the front desk.
Once you arrive, you can score a spot on the next available boat that day. As such, it's best to build a little extra time in your itinerary so you're prepared for unexpected delays.
Not in the mood for parasailing? You can still have a blast on the water. Key Sailing also offers rentals for a variety of Pensacola essentials, including pontoon boats, sailboats, and kayaks. If you prefer to explore with a guide, you can always book a jet ski tour.
Radical Rides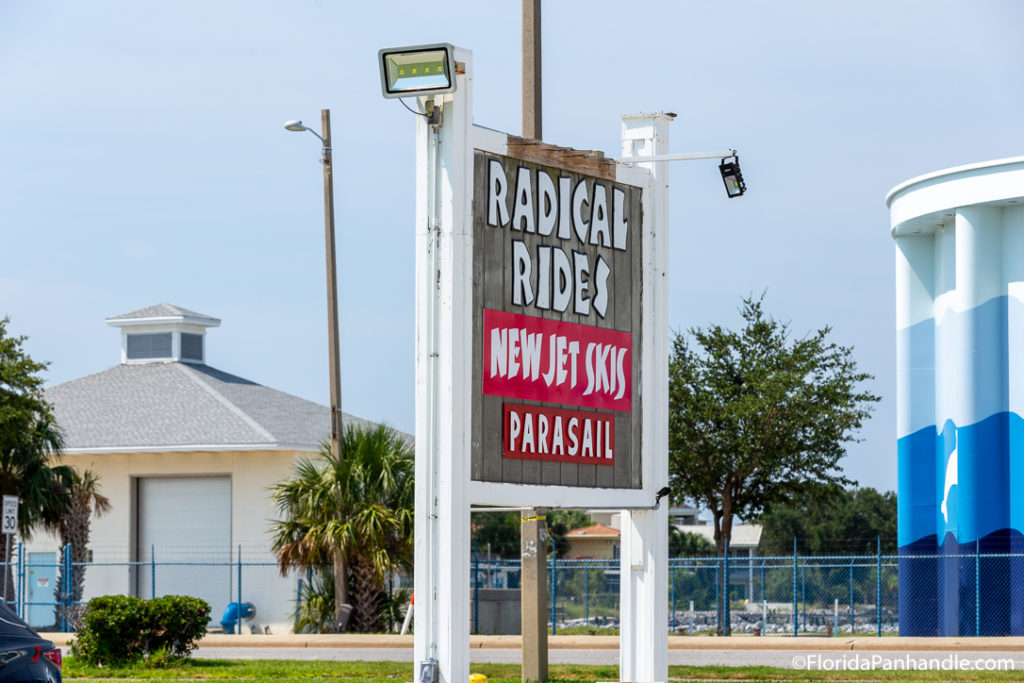 Customer service is a point of pride for Radical Rides, which has enjoyed a strong reputation since it opened in 1992. The family-owned business has earned the distinction of being named Best of the Bay on numerous occasions.
Single, double, and triple rides are available, as is reservation space for passengers who want to observe rather than commit to parasailing. Those who feel brave enough to try parasailing have the option to be dipped in the water, although it's also possible to remain dry.
Radical Rides expeditions are easily identifiable due to patriotic parasails, which never fail to attract attention as adventurous types soar above the beach. Safety is a priority, with regular inspections (plus certification from the USCG) ensuring that the Ocean Pro 31 remains reliable. Additionally, each captain maintains a USCG 100 Ton Master License.
Reservations for these tours are made over the phone, although walk-up visits are welcome and encouraged. Rescheduling may be required if weather conditions prevent trips from going out as planned.
In addition to parasailing, Radical Rides offers the opportunity to ride wave runners. Kayak and paddleboard rentals are also available. These options allow for an enjoyable day on the water, but nothing compares to the thrill of parasailing.
Laguna's Beach Bar + Grill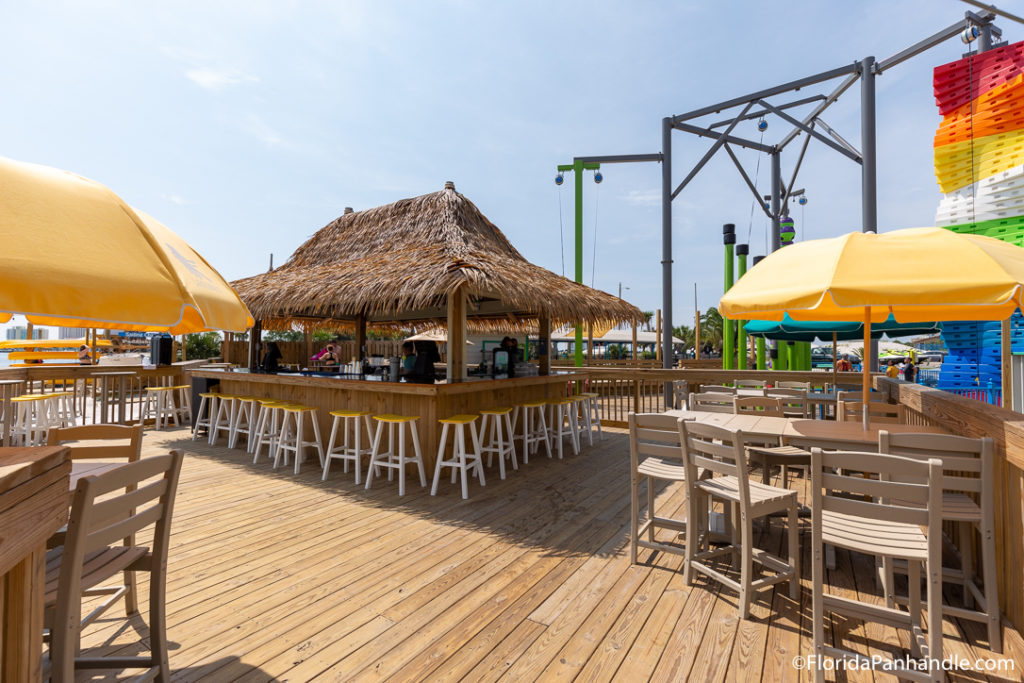 If you make your choices based on name alone, Laguna's Beach Bar + Grill might not seem like a top candidate for parasailing. In reality, however, this waterfront location offers far more than drinks and appetizers. If you go beyond the restaurant, you'll find equipment rentals and several types of guided tours.
Parasailing is a top option — and at a reasonable rate. Flying is available on a double or triple basis, so loved ones can join you for an adventure to remember. Booking is easy; simply visit the watersports area on Laguna's website and complete the online reservation process. This can include add-ons such as passengers or even a photo pack combo.
If you're not feeling courageous enough for parasailing, you can always join the trip as an observer. Otherwise, the jet ski tour is a great alternative, as your guide will bring you to some of the best dolphin-viewing spots near Pensacola Beach.
No matter how you spend your time on the water, you'll love returning to the bar for a celebratory drink. This, alone, makes Laguna's a great starting and ending point for a day of water-based fun.
Whether you love to chase thrills or typically prefer to keep both feet on dry land, you will be amazed by how free and exhilarated you feel while parasailing. Book a tour in or near Pensacola to discover the joy of parasailing for yourself.