Pensacola, Florida is known for its brilliant white sandy beaches and gorgeous temperatures. These facets have, after all, combined to make it one of the premier spring break destinations in the country. But by spring break destination, we don't just mean bikinis and beer pong. Pensacola has become popular among individuals and families of all ages. Thanks to its offering of a variety of entertainment, including an array of water parks.
That's right, Pensacola might have some of the best beaches in the state. However, that doesn't mean the salty Gulf waters are the only type of water the city has to swim in.
Check out the following excellent Pensacola water parks that offer an alternative way to cool down and have fun in and around the city:
Splash City Adventures
6709 Pensacola Blvd, Pensacola, FL 32505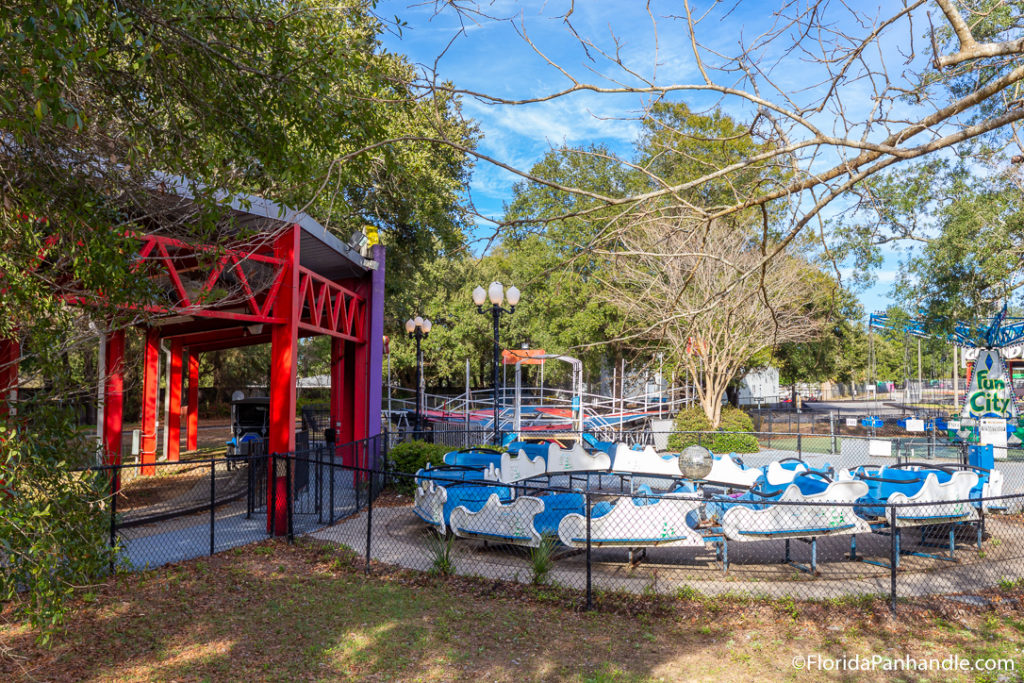 Sam's Surf City was part of a larger amusement park called Sam's Fun City. It is now combined and is known as Splash City Adventures! Both have become a legacy Pensacola attraction. This big theme park first opened in 2000 with the water park added in 2005. The park is located in the heart of Pensacola. The water park is open seasonally and the other attractions of the larger overarching theme park opened all year long. One of the biggest highlights of this larger theme park is the area called the Crossroads Arcade. Crossroads Arcade boasts the most extensive arcade game collection in the region. It features a massive laser tag spot in which participants can compete for prizes. 
But back to the water park portion. Splash City Adventures boasts 12 thralling water slides, seven swimming pool areas, and a winding 750-foot endless lazy river. The lazy river takes swimmers on a relaxed adventure around this Pensacola water park. Children will enjoy the unique interactivity pool and two kiddie play pool areas that boast their own child-friendly water slides. There is even an exciting rope course that more adventure-minded children will love. For older children, teens, and adults, there are four exceptionally thrilling water slides. Including the newest addition, a red tube water slide called Shark Attack. 
Waterville USA
906 Gulf Shores Pkwy, Gulf Shores, AL 36542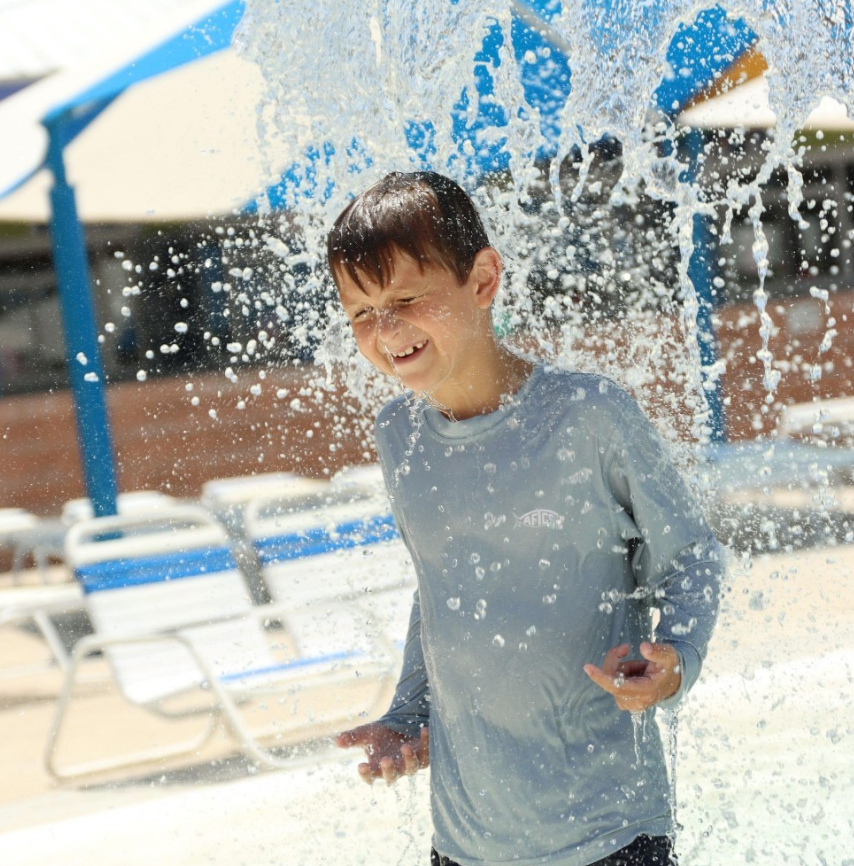 Waterville USA is a little under an hour's drive west of downtown Pensacola, FL in Gulf Shores, AL. Yet well worth a visit for water park lovers. This incredible theme park features over 20 acres of water rides, amusement park thrills, and modern escape rooms. This is a slightly more established water park, having been around entertaining families from around the country since 1986.
There is something for everyone of every age at Waterville USA — at least that is if you love water-based rides. For example, if you or your child loves surfing or have always wanted to try surfing, check out the Flowrider attraction. This water ride features an endless wave. Have young kids? Relax in a cabana while watching them explore the Shrimp Boat Village. This verifiable water wonderland features three stories of water excitement. For example, water cannons can be turned to soak friends and family members, with slides, a net crawl and so much more. Thrill lovers will love the Dune Racer. This six-lane, 55-foot-tall water slide pits racer against racer — just one of the park's many outstanding water slides. And when you're ready to take a break from running around, dip back in a tube and let the park's Lazy River take you on a relaxing float.
Navarre Family Watersports
8671 Navarre Pkwy, Navarre, FL 32566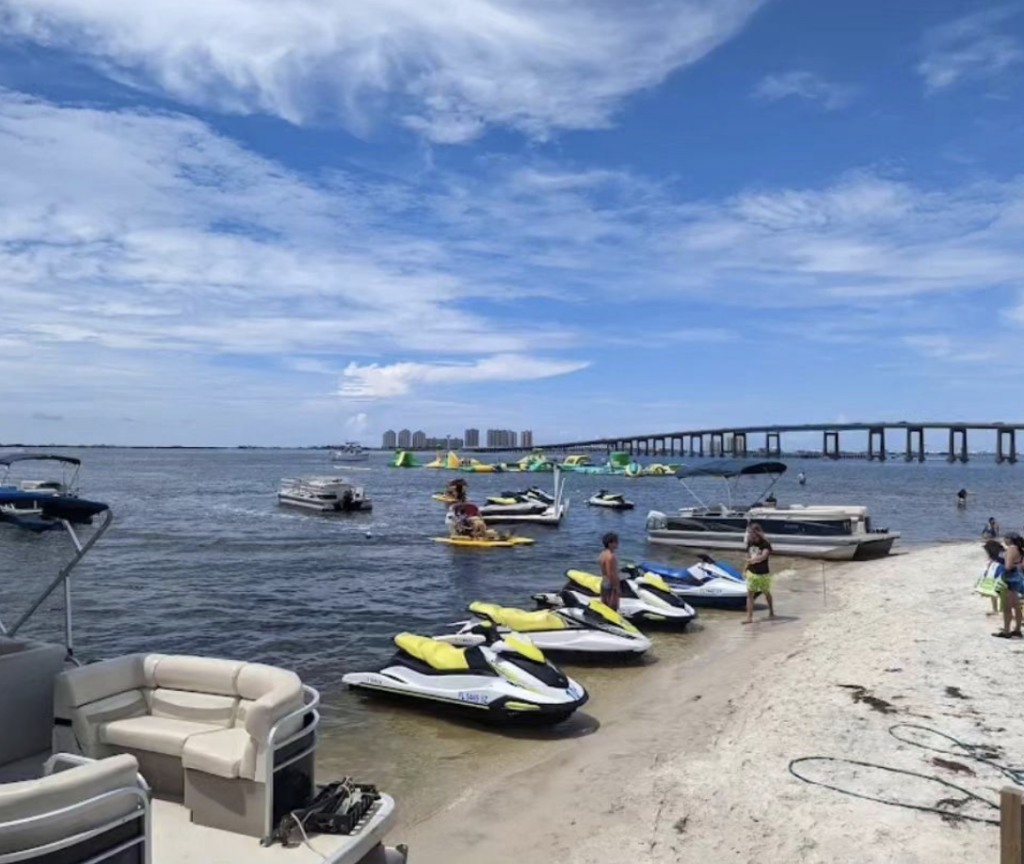 Navarre Family Watersports can probably best be described as a tour outfitter given that their primary business is rentals. This group offers all manners of boat rentals, including pontoon boats (single and double-deck), wave runners, CraigCats, paddleboards, single and double kayos, and more. They also offer guided tours for both fishing charters and dolphin tours. But in addition to these things, the Navarre Family Watersports group also has a unique type of water park available just off the beaches of Pensacola.
The unique water attraction of the Navarre Family Watersports group is the Wibit Waterpark. The Wibit Waterpark is a massive inflatable waterpark set up in the Santa Rosa Sound. Just east of Navarre Beach Bridge (in fact, you'll be able to see the various inflatable attractions as you cross that bridge). This is an inflatable park that features jump-off platforms, slides, rock walls, and more. Playing on the park's inflatables costs $20 for the first hour, $30 for two hours, or $35 for all-day play (party/group rates are available). Parents can either relax on the beach and well within eyesight and ear shout, or they can take part in the fun themselves.
Big Kahuna's Water & Adventure Park
1007 US-98, Destin, FL 32541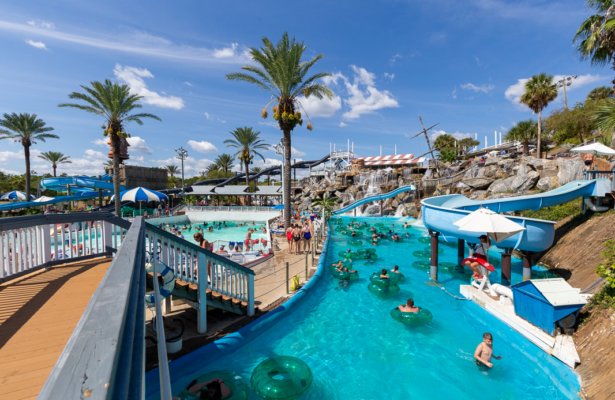 Big Kahuna's Water & Adventure Park is located about an hour's drive east of downtown Pensacola. This massive waterpark is part of the Boomers Park Family. A privately held company that boasts six family entertainment centers along with other water parks in California, Florida, and New Jersey. Some people may not like the corporate feel this type of setting thus engenders, but there are benefits to it. This water park is consistently updated and features some truly beautiful rides.
At the heart of Big Kahuna's Water Park is a whimsical water park featuring a pirate-themed Buccaneer Cove with kiddie slides and high-spraying water cannons. This area also has four child-friendly slides, some of which with giant buckets of water perched above that can be sent pouring down on the unsuspecting sliders.
For older children, teens, and adults of all ages, there are plenty of other fantastic water-themed areas to check out. The Bombs Away Bay transports pool lovers to a tropical oasis while the Raging Rhino River allows tubers to experience a wild and wet rapid ride. You'll find these and over 40 other fantastic water attractions waiting for you and your family at Big Kahuna's Water Park.
Isn't it Time to Book Your Pensacola Vacation?
We hope the above guide to the wonderful water parks of the Pensacola area helps inspire you to finally book that Gulf Coast vacation. If you're in need of some more information about the area, make sure to view our website.