Panama City Beach advertises its seashore as boasting the "World's Most Beautiful Beaches." Beach beauty is, of course, in the eye of the beach beholder, and there are an awful lot of sandy stunners around the world. That said, the quartz sand grains of PCB do compose a lovely oceanfront playground: the city's premier attraction.
Spanning nearly 30 miles, the PCB beachfront includes almost 100 public access points, some of which include parking. From Beach Access 1 (4723 Spyglass Dr) in the southeast to Beach Access 96 (23011 Front Beach Rd) in the northwest, these give PCB locals and visitors alike free use of this exemplary expanse of Emerald Coast shoreline. (And keep in mind that St. Andrews State Park immediately to the southeast of Beach Access 1 provides further beachgoing opportunities in PCB's front yard.)
With all that sugar sand to enjoy and all manner of beach rentals, restaurants, shops, and other services within easy reach, the PCB beachfront is an all-ages, all-day destination. While there are awesome swimming and watersports to be enjoyed here, you can also have a perfectly lovely day never stepping foot in the water: just kicking back in classic sand-between-your-toes style.
Taking in a Panama City Beach sunset, which turns the Gulf of Mexico skyline into a breathtaking painting, is an absolute must—and after seeing one in the flesh, you're likely going to want to take in this daily show again.
Fishing is also a popular activity on the beaches, not least from the longest twin fishing piers on the Gulf Coast: Russell-Fields Pier ("City Pier") and M.B. Miller Pier ("County Pier"), both jutting out about 1,500 feet. Two other piers—one in the Gulf, the other in the Grand Lagoon—beckon anglers to St. Andrews State Park.
Beachgoing in Panama City Beach is a pleasure, but you'll always want to keep safety and environmental ethics foremost in mind. On the first subject, pay heed to the color-coded beach warning flags that alert visitors to risky water conditions.
Here's the breakdown: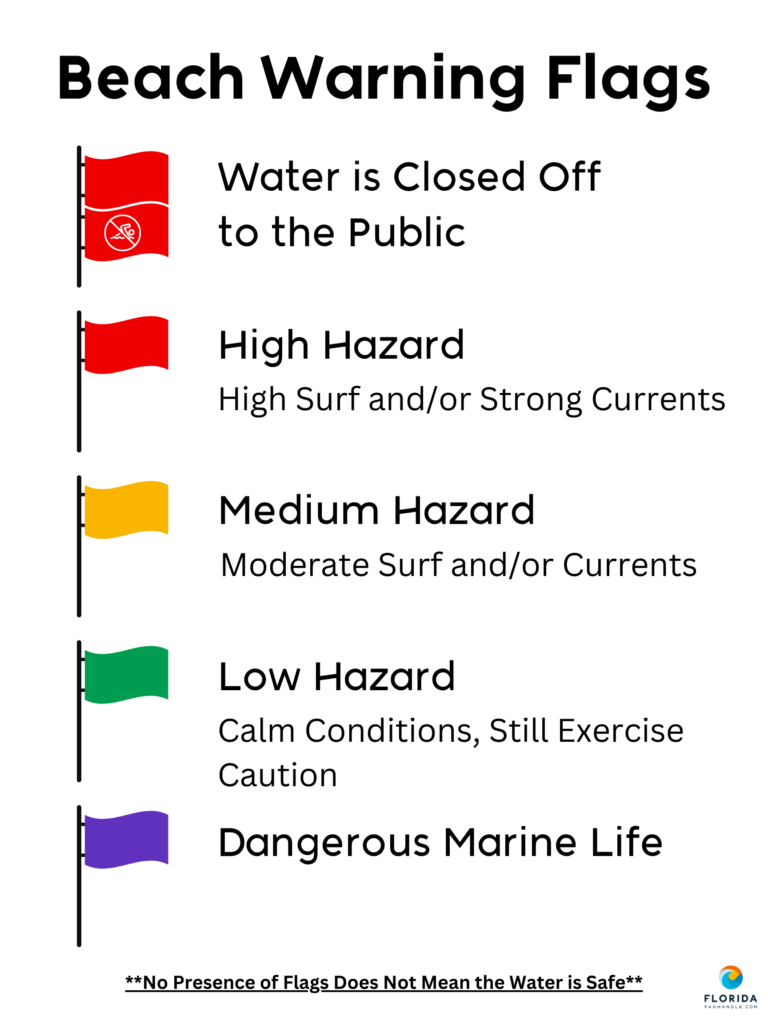 A purple flag means dangerous marine life is present and we should use caution.
A green flag means "Low Hazard": calm surf warranting (as always) basic common-sense caution.
A yellow flag means "Medium Hazard," indicating moderate currents or surf.
A red flag is "High Hazard," meaning there's strong surf and/or currents that may be too dangerous for less skilled or weaker swimmers.
A double red flag means the waters are completely closed to public entry. Don't disregard this signal: Taking a dip on a Double Red Flag day can land you in jail. In the peak season of summer, double red flags are often reinforced by airplane banners.
These beach warning flags are spaced about a mile apart. Keep in mind that no posted flags don't mean safe waters: Swimmers, boaters, and any other water users should always stay aware and be ready to deal with such challenges as rip currents or rough swells.
The PCB beachfront includes three beaches watched over by lifeguards on summer days from 10 AM to 6 PM. Lifeguards are posted at M.B. Miller County Pier and at Rick Seltzer Park from May 27th through Labor Day weekend, and at Russell Fields City Pier from April 1st through Labor Day weekend.
As far as environmental ethics go, Panama City Beach established a "Leave No Trace" ordinance in 2012 to help preserve the beauty and quality of its beaches. This mandates that any personal belongings—beach chairs, towels, etc.—left on the beaches after 7 PM and before 7 AM will be collected and discarded.
Use the established beach access ways: Don't walk on sand dunes or beach vegetation, both of which help stabilize the PCB oceanfront and buffer it from storm surges. Be aware of sea turtle nesting season between April and November: Give these marine reptiles plenty of space, don't use flashlights on nesting beaches, and otherwise follow all posted directions.
Now, how about alcohol? Adults of legal drinking age can enjoy it on the PCB beaches year-round except for March when the city institutes a month-long ban on alcohol on the beaches. 
Whether you're kicking back with a big fat summer novel and catching some rays, going hunting for seashells, or taking a swim in the Gulf, Panama City Beach's sands are as inviting as they come!
Insider Tip:
Dogs aren't allowed on PCB beaches except for the designated pooch-friendly one at Russell-Fields Pier across from Pier Park. Not only is there a posted beach span open to four-legged buddies on leashes, but the pier itself also welcomes canines.