You'll find some of the best saltwater fishing in the country at your fingertips—bar none—with a Panama City Beach base. From brackish creeks and the expansive flats of the St. Andrew Bay system to the offshore Gulf, the local fishing grounds cover an awful lot of diversity, and that translates to a whole casting call of topnotch game fish. Common catches include redfish, tarpon, king and Spanish mackerel, spotted sea-trout, jack crevalle, pompano, amberjack, flounder, and sheepshead, plus pelagic species such as wahoo, yellowfin tuna, sailfish, marlin, and sharks that draw quite close to shore here.
To really get the most out of the fishing scene around Panama City Beach, consider taking advantage of the area's numerous outstanding charters. Local guides and deckhands know where and when the fish are biting, supply your license and other fundamentals, and can help you efficiently rig and manage your tackle and reel in your catches.
While we don't have anywhere near the space to properly profile all of the first-rate PCB fishing charters, we thought we'd highlight five representative options.
Southern Dawn Charters
Between them, Captains Ray and Laken lay claim to a whole lot of know-it-like-the-back-of-my-hand experience in Panama City Beach's waterways, and you can be the happy recipient of that insider knowledge as a client of their Southern Dawn Charters. The guides run charters on two different vessels: the 43-foot-long Hunter, a Provincial able to carry up to six passengers, and the 45-foot Miss K-C, an Infinity that can take parties as large as 15. These all-inclusive trips cover your fishing license, tackle, and bait; you just need to bring food, drinks, sunscreen, and other basic personal essentials.
Fly Time Charters
Fly Time Charters, helmed by Captain Jason Shepard and Captain Kyle Morella, caters to both spin casters and fly fishers, running trips across a broad swath of the Emerald and Forgotten coasts: from Santa Rosa Beach down to Cape San Blas. Full-day quests after tarpon, the great "silver kings" of the Gulf, are one of the Fly Time Charters specialties, but the company also offers more general-purpose sportfishing trips of half-, 3/4, and all-day itineraries. Your fishing license is covered with the cost as are tackle, fuel, water, and ice; you bring along whatever snacks and other beverages (including alcohol) you want onboard.
Miss Kelley Fishing Charters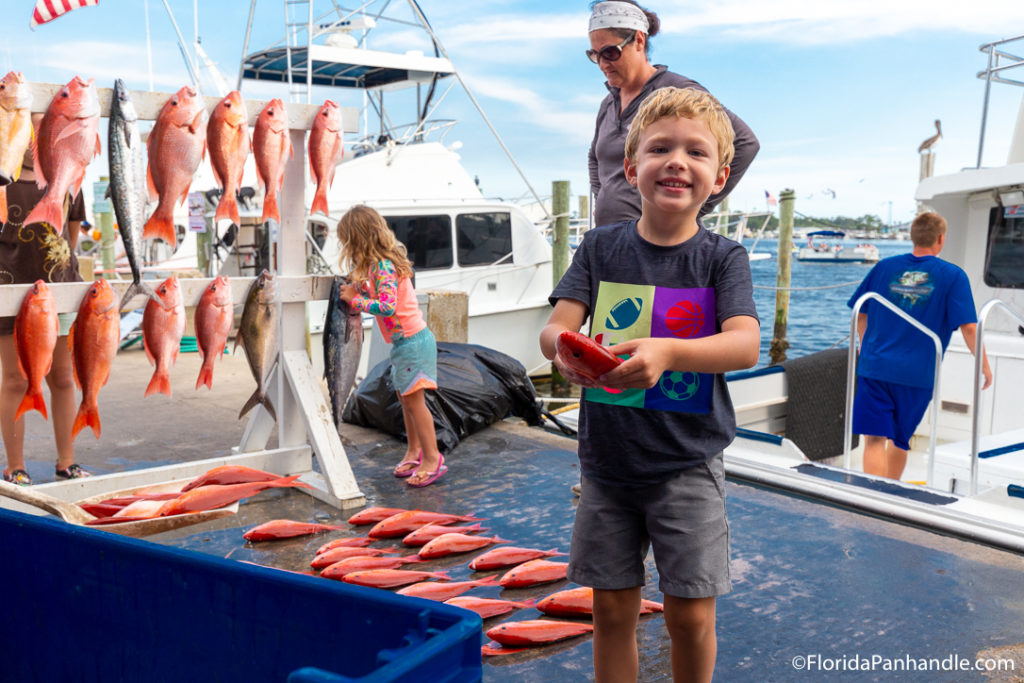 Miss Kelley Fishing Charters is a multigenerational company providing both newbie and veteran anglers with a fine taste of Emerald Coast fishing aboard a 52-foot vessel built in Panama City. As many as 16 passengers can join a trip. The skillful deckhands set up your lines and can provide any assistance reeling in a catch, which may include mahi-mahi, grouper, vermilion snapper, and any number of other primo game fish. Miss Kelley Fishing Charters provides your license, tackle, cut bait, artificial lures, and fish boxes; you bring along your food, drink, and coolers.
Stingray Fishing Charters
Another good choice for both nearshore and pelagic fishing, Stingray puts the knowledge and savvy of Captain "Ray" Tyson—who has more than a half-century of experience fishing local waters—at your full disposal. The charter covers your fishing license, tackle, and frozen bait (with live bait available at an extra charge).
Panama City Inshore
An elite team of guides—all of them locals—makes Panama City Inshore another awesome option for upping your chance of success landing some of the Emerald Coast's standout quarry. The company offers both fly fishing for tarpon and redfish as well as light-tackle casting for pompano, cobia, mahi-mahi, mackerel, and more. Panama City Inshore leads trips from Panama City Beach to Apalachicola, focusing on everything from estuarine flats to nearshore waters off the beach and over fish-swarmed reefs.
Fish Prime Waters on a Panama City Beach Charter
Maximize your probability of hoisting a redfish, wahoo, or other shiny stunner out of the sparkling waters at Panama City Beach's doorstep by enlisting the help of one of the area's fantastic charters. Here's to some happy and productive casting on the Emerald Coast!