From shopping to dining to lounging in the sun, there's an endless array of activities to keep you entertained in Panama City Beach. Sometimes, however, the most enjoyable pursuits are also the simplest: taking a casual stroll.
This is a great, low-cost option for visitors of all ages and all ability levels — and when you select the right destinations, it's possible to walk without causing too much physical strain.
Walking can be fun nearly anywhere or at any time, but it's also worth building into your itinerary. To help, we've highlighted the five best places to visit when you want to take an easy walk in or near Panama City Beach.
Panama City Beach Conservation Park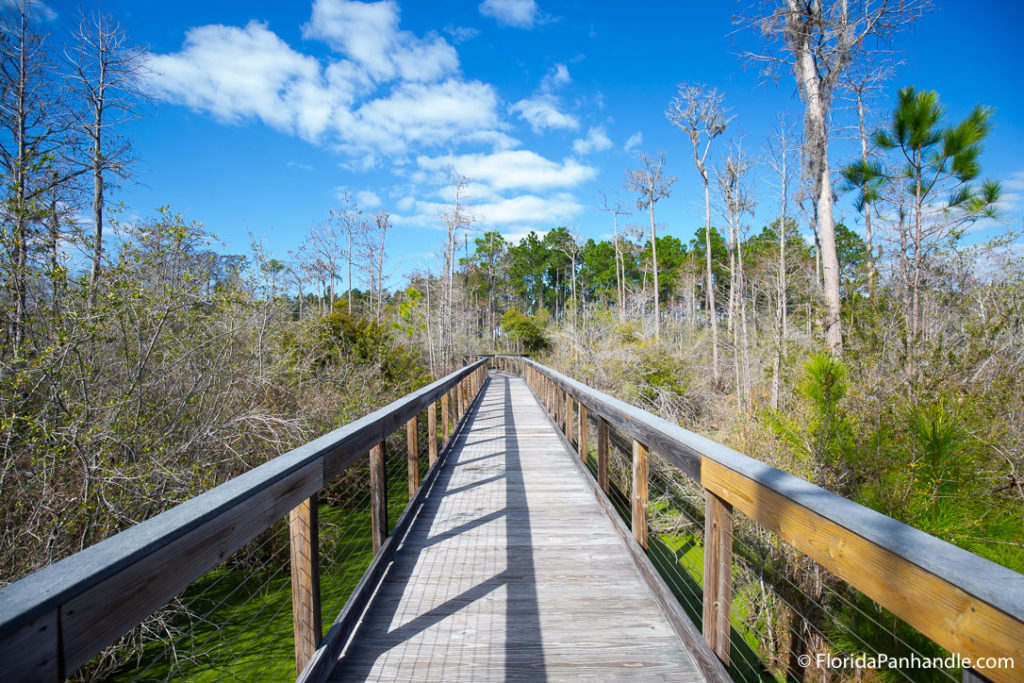 Over 24 miles of trails make the Panama City Beach Conservation Park an idyllic environment for anyone who prefers to explore on foot. These trails vary dramatically in terms of difficulty, so you'll definitely want to plan your route before you arrive. With a little preparation, you can ensure that your walk is just as long and challenging (or leisurely) as you desire.
You may be able to travel farther than you think, as there are plenty of benches provided along the way. Stop and rest when you need a break — simply sitting and enjoying the view can be just as fun as walking on the boardwalks, which weave through gorgeous Cypress domes. The wildlife is abundant, with birdwatchers, in particular, finding plenty to observe while walking or sitting.
The trails are labeled by number and are well-marked, making them easy to navigate no matter how far you choose to walk. Trail Route 1 is an obvious choice for a casual stroll, as it extends just over half a mile. If you'd like to spend a bit more time on your feet, you can't go wrong with Trail Routes 2 or 3, which span slightly under two miles each.
St. Andrews State Park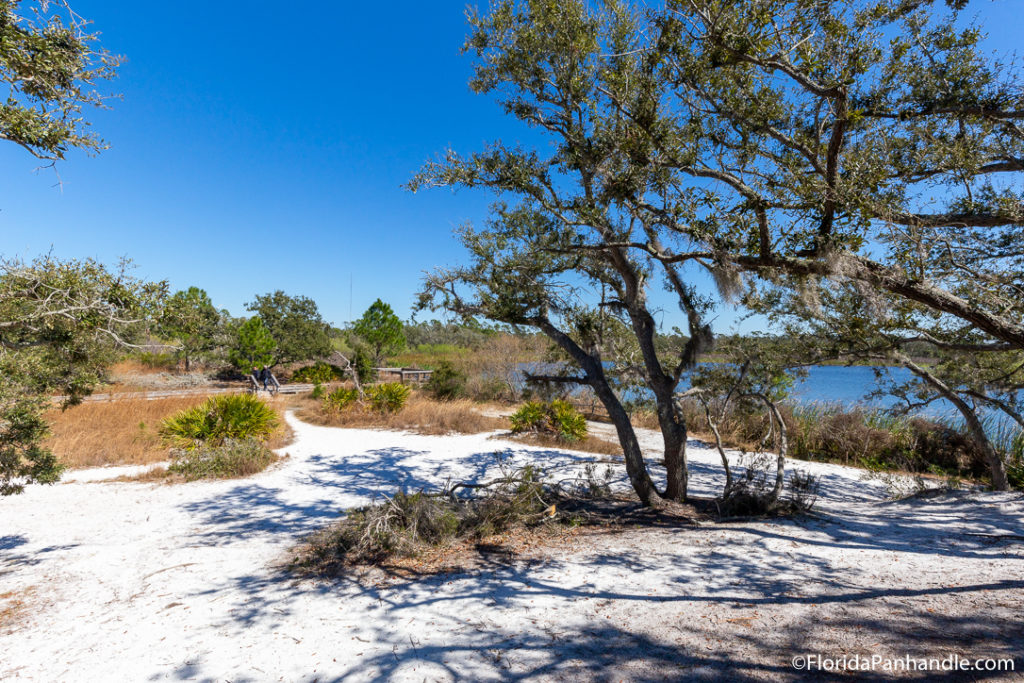 Swimming, snorkeling, and surfing may be the go-to activities at St. Andrews State Park, but there's also plenty to do on land. Simply strolling along the beach or the pier can be fun, although you're also welcome to explore the park's lovely trails. Both are short and should not take you long to traverse:
Gator Lake Trail
Named for the alligators that hang out at the trail's picturesque pond, this interpretive loop beckons you to explore the coastal scrub forest. While the trail can be rugged at times, most people should have little trouble making it through this half-mile hike.
Heron Pond Trail
During this brief hike, you'll see the signs of turpentine distilling. Rosemary scrub is abundant throughout this walk, as are tall pine trees. At 0.6 miles, this hike is only slightly longer than the aforementioned Gator Lake Trail.
Camp Helen State Park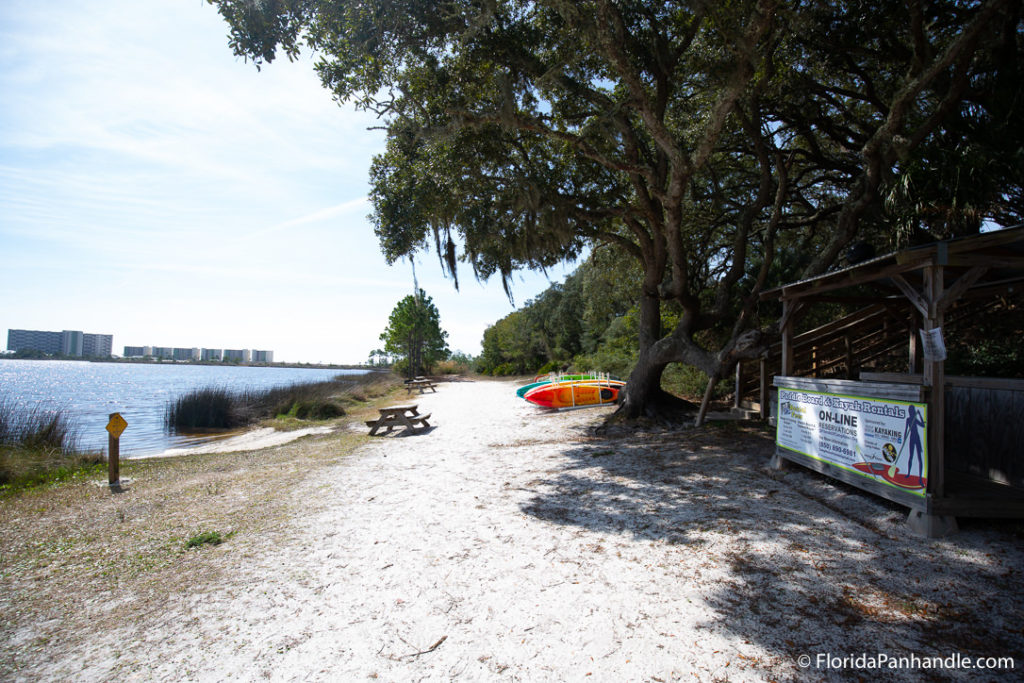 Camp Helen State Park is a wonderful destination when you want to move your body but aren't in the mood for a challenging hike. Home to the state's largest coastal dune lake, this day-use park beckons you to slow your pace and observe its pristine habitats and abundance of wildlife.
Feel free to grab a trail map at the visitor center (or, if you desire, a pair of binoculars for birdwatching) before you head out on your walk. Top trails include:
Oak Canopy Trail
When you're unable to commit to a longer walk, the Oak Canopy Trail is your best bet. It's just half a mile long, but it instantly immerses you in a peaceful environment. This packed earth trail is a go-to for bird lovers, who listen to lovely melodies as they meander through beautiful tree tunnels.
North Trail
At a comfortable 1.8 miles, this paved trail provides a nice, easy stroll with scenery that anybody can appreciate. Covered benches can be found along this path, so you're always welcome to take a rest midway through your walk. This is not the best-marked trail on our list, but visitors generally find it easy to determine where to go.
Pier Park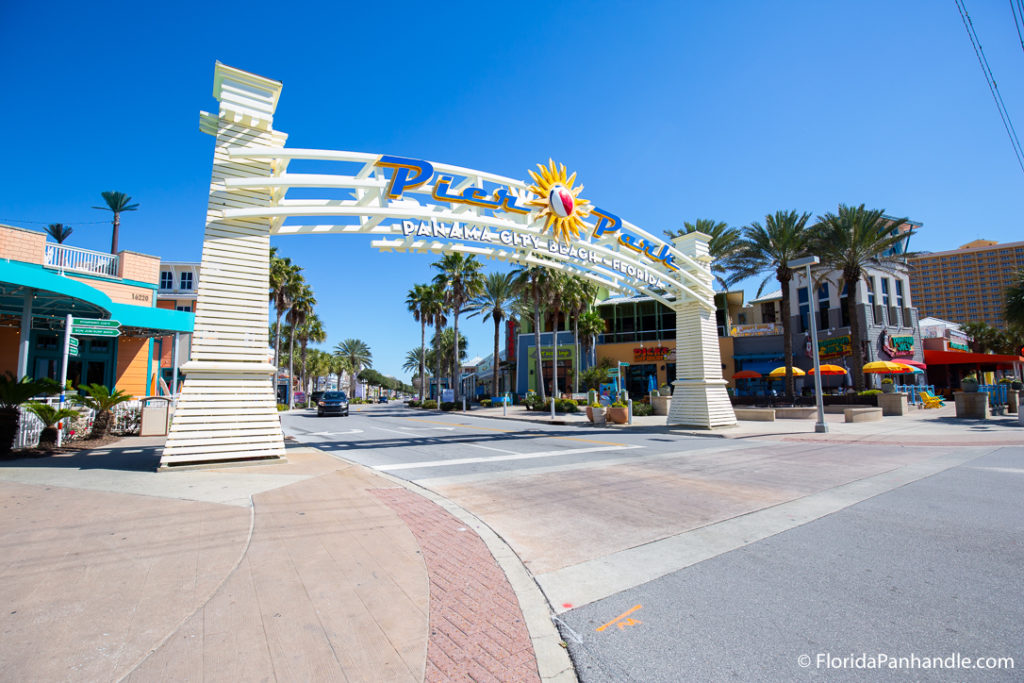 No Panama City Beach extravaganza is complete without a visit to Pier Park. As arguably the easiest place to stroll in the entire city, this local gem is home to many of the area's finest shops and restaurants.
Trees and colorful storefronts make every stroll a visual feast, while abundant chairs allow you to relax as you see fit. The shopping center also provides easy access to Russell-Fields City Pier, which is definitely worth checking out if you have time.
Frank Brown Park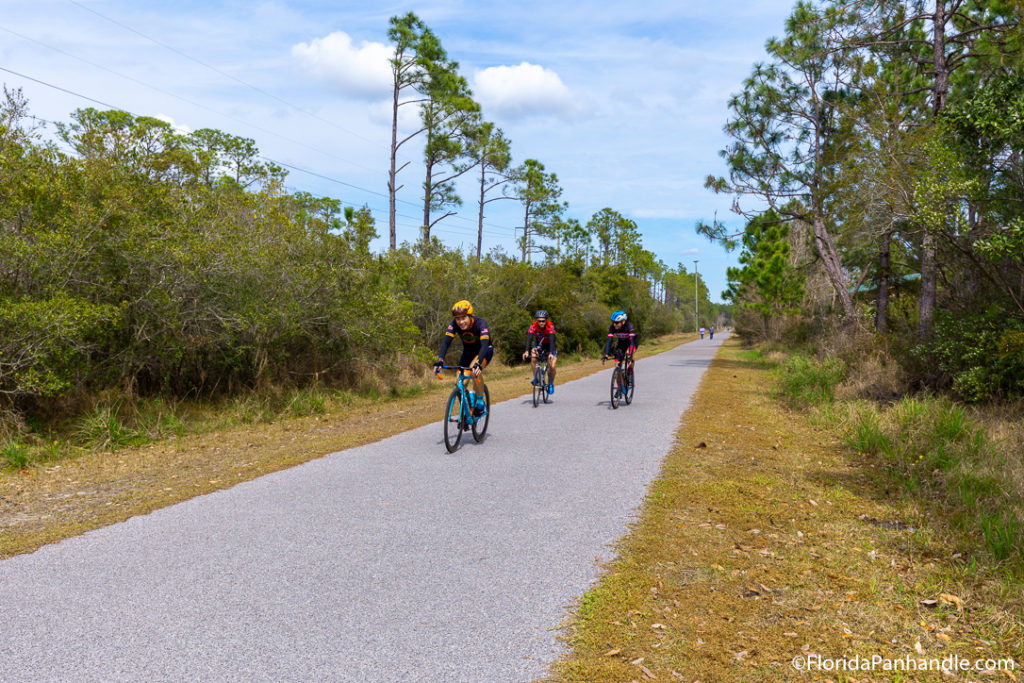 Although it's best known for its sporting facilities, Frank Brown Park is an excellent place to take a casual stroll. This can also be a jumping-off point for a longer trek, as the park conveniently connects to Gayle's Trails. Although primarily used for long bike rides, Gayle's Trails can also form the basis of an easy hike.
Should you choose to remain within Frank Brown Park, you can walk along simple paths. These take you near palm trees and a small pond. Dog lovers typically take their canine friends for walks on these paths, stopping by the dog park when they want their four-legged companions to let out some energy.
From boardwalks to state parks and even shopping centers, there is no shortage of opportunities for strolling in and around Panama City Beach. Make the most of this beautiful setting as you explore the region's finest trails.