When nothing else will do but a leisurely stroll down truly beautiful beaches, there's perhaps no better place to go than Destin. With brilliant white sands and emerald green waters as far as the eye can see, the local beaches never fail to delight. The sights don't end there either. You can often catch a glimpse of sea creatures along the shores plus the most breathtaking sunsets and sunrises around. Ready to experience the magic of beach walks in Destin, Florida? Here's where to go.
Henderson Beach State Park
As one of the last coastal scrub landscapes in Destin, Henderson Beach State Park offers unmatched views from end to end. The way the bright green waters hit the sandy beaches is always a true sight to behold, but that's not all you get to enjoy.
While walking along the shoreline, you'll get to see 30-foot dunes made from the same brilliant white sands covering the entire beach. Green vegetation peppers the landscape to add contrast and interest to the scene before you.
If you're lucky, you'll also get to see green and loggerhead sea turtles coming up on the shores for a rest. Dolphin pods often make an appearance out in the distance as well, putting on a show for onlookers as they move through the water.
To keep your adventures going, you're welcome to explore the pet-friendly nature trail that winds through the park. If you don't want to ever head home, land at the campground for the weekend or longer to keep enjoying the beach walk experience again and again.
June White Decker Park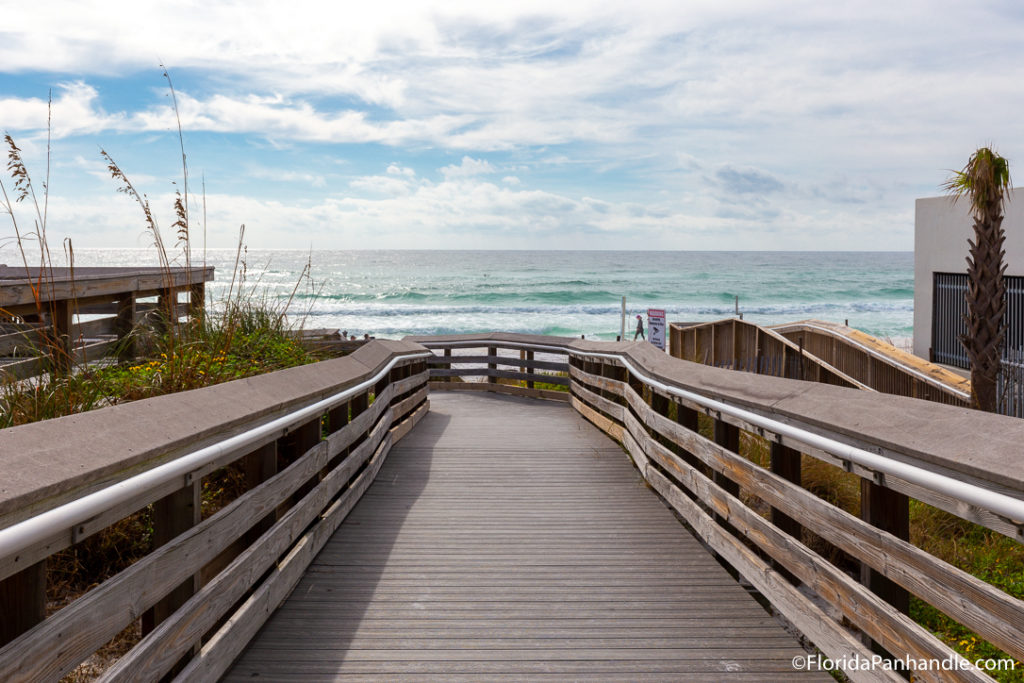 Set along the coast near many top-notch condos and hotels, the June White Decker Park offers a chance to dip your toes in toasty sugar sands. Although the park only goes on for about 1,000 feet, it's a must-visit destination for a beach walk to remember.
If you'd like to avoid the crowds, come by early to see the sunrise from beyond the horizon. As the sky lights up in vivid orange, pink, and purple hues, the beach gets evermore beautiful, providing the perfect backdrop for your photos.
When you want to make fast friends on your travels, come by any time of the day to see what's popping up at the beach. Instead of just strolling along, you can join pickup games of frisbee, volleyball, and so much more.
If you'd like to get even more exercise in, see how many times you can jump the waves without getting drenched. Then, continue your leisurely stroll to dry back off before continuing on your day.
James Lee Beach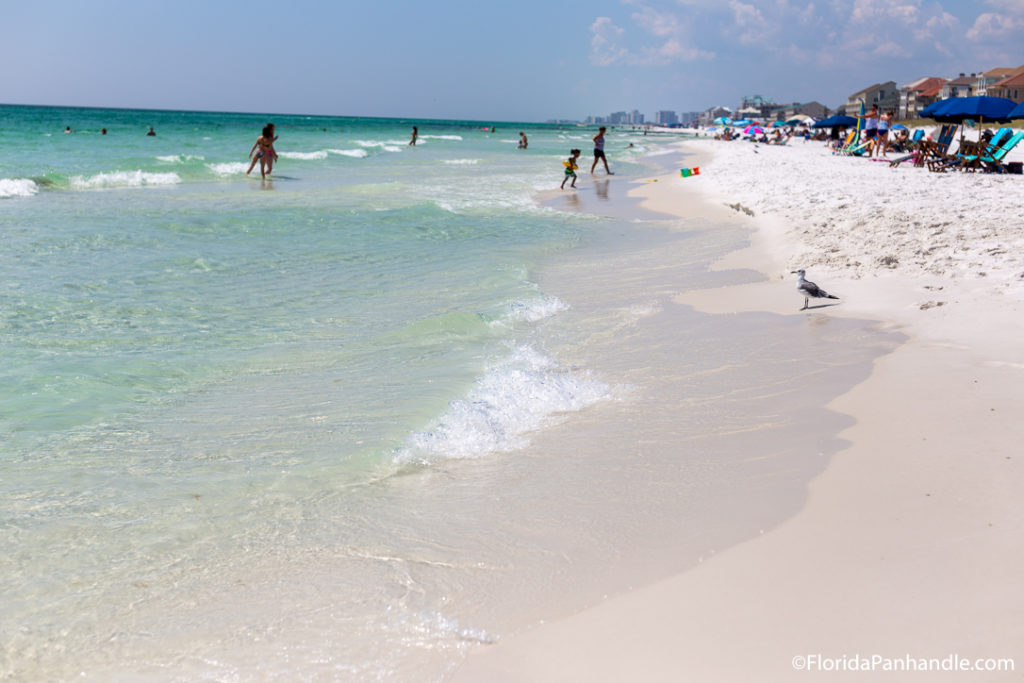 When you want to spend the entire day strolling the beach and enjoy the oceanside wonders, set your sights on James Lee Beach. Located near the county line for Walton/Okaloosa, this wonderful beach promises to exceed your every expectation for stellar sand and surf adventures.
You can start out your journey by waltzing over to the nearby beach equipment rental company for an umbrella and chairs. Then, grab a spot on the beach and set up all your gear for whenever you want to rest. Then, get to strolling along the dazzling waterway while simply enjoying the views of the endless oceanside.
If you stick around long enough, you'll get to see the sunset light up the sky in awe-inspiring hues. Remember to take advantage of the golden hour, too, so you can capture spectacular photos to share far and wide.
Once you're done enjoying your beach walk experience, you're only a hop, skip, and a jump away from the Crab Trap restaurant. A true Destin favorite, this restaurant allows you to restore your energy with all the best seafood favorites.
Santa Rosa Island Beach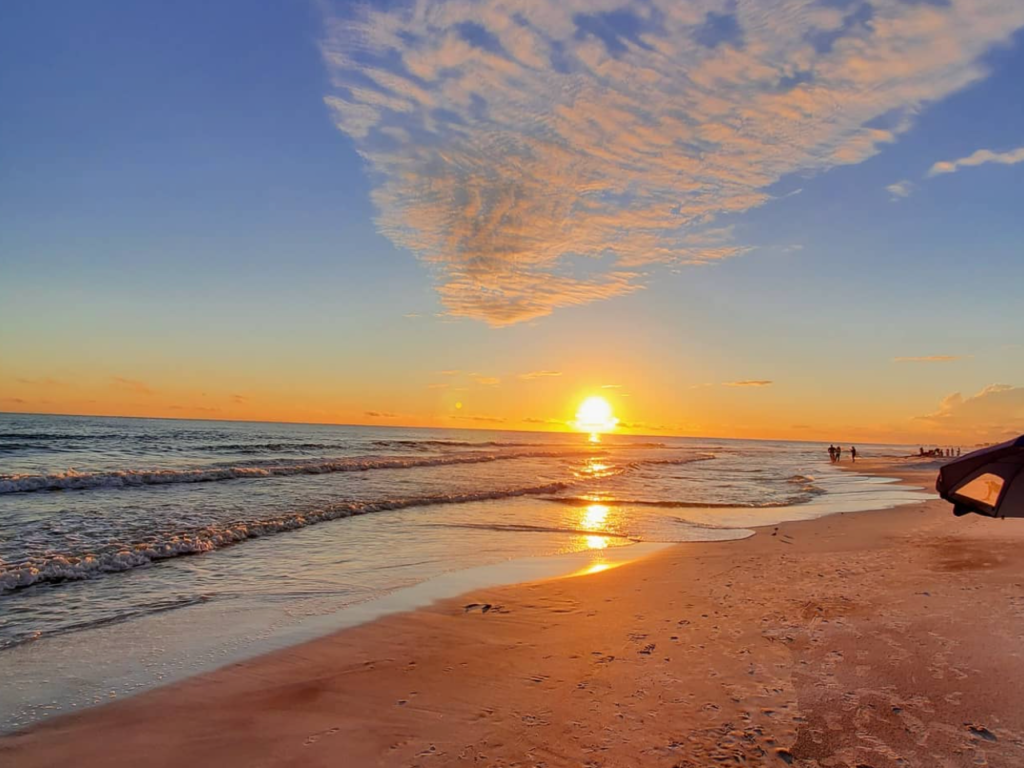 Unless you come by on the weekends, Santa Rosa Island Beach offers a wide-open view of powerful waves lapping at the pure white sands. The sunrise and sunset hours add to the magic, but there's really no bad time to come by this beach for a walk along the shores.
In addition to the views, this beach often boasts lovely treasures, including sand dollars, conches, and other seashells. Plan to simply admire the treasures and perhaps use them to build an onsite mandala before moving on your way. That way, you leave all your finds in place for others to admire as well.
Other sights to see at this beach include shorebirds, sea turtles, and crabs, of course. Be sure to gaze out into the distance as well in hopes of seeing dolphins moving through the water in their huge pods.
If you want to see the beach light up in a flurry of activity, come by on the weekends, too. Although it gets a bit more crowded, there are tons of people to meet and have fun with, adding to the beach walk experience in a big way.
Eglin Beach Park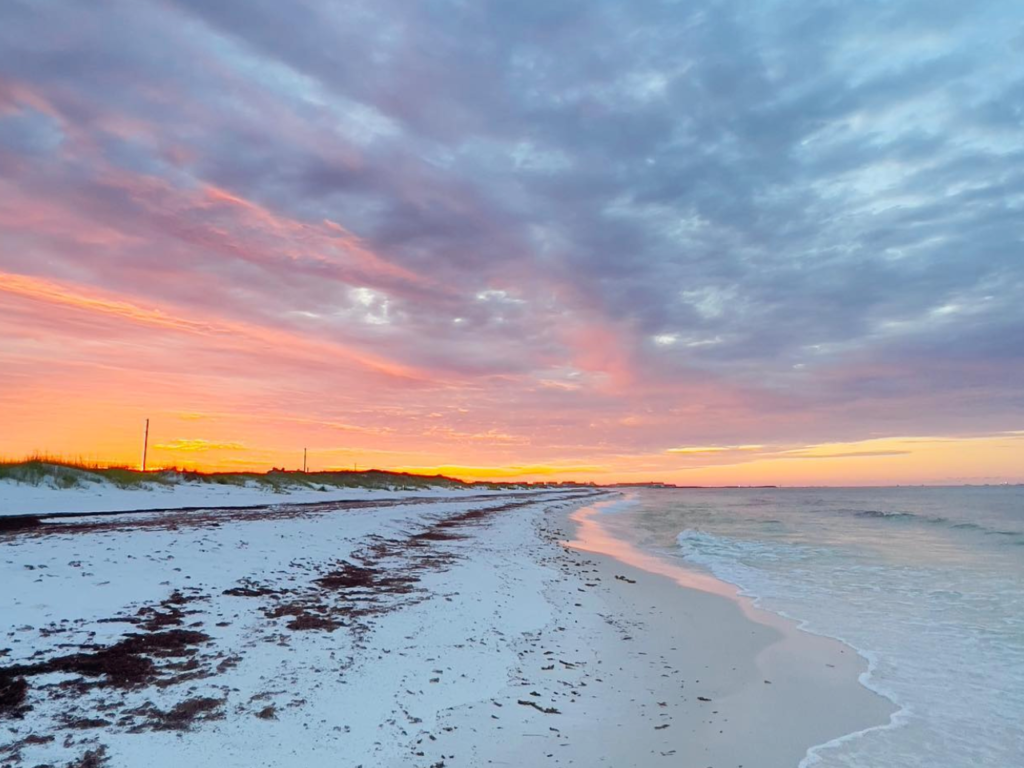 If you're an official member of the Department of Defense, Eglin Beach Park offers secluded beach walks all throughout the year. This private beach stays closed off to the general public, so you never have to worry about the crowds.
When you arrive, you can count on having plenty of space to explore the sandy shores for as long as you'd like. You can go all the way to the end to land at the West Jetties or just meander along the area near the open pavilions.
Throughout your visit, you can shop the online vendors for refreshments and souvenirs galore. If you'd like to swim, you can do so relatively safely due to the presence of well-trained lifeguards. Afterward, you can get rinsed off at the onsite showers, and then freshen up in the restrooms to get ready to go to your next destination.
With a visit to each of these beaches, you're bound to fall in love with them all. Fortunately, you're welcome to stroll along the sandy shores to your heart's content. So, whenever you want to simply get away from it all while enjoying the oceanside, just jet on over to Destin to visit all the stunning beaches.