Traveling with family comes with a unique set of needs to fulfill.
Attractions must entertain the entire family, including rambunctious toddlers and tech-savvy teens. Fortunately, the Florida Panhandle has a lot to offer and is home to many beautiful beach towns and diverse cities.
We put together a guide to highlight some of the best family-friendly features in the Panhandle. Since every family is different, we've featured everything from bustling seaside cities to secluded sandy getaways.
Take a look at our list of neighborhoods below to scope out some sweet spots for your family's next holiday and learn more about Florida. During these uncertain times, you should also look at each area's official website to check for any travel restrictions in place before booking a trip.

Cape San Blas
You can find Cape San Blas on the St. Joseph Peninsula, about 20 minutes away from Port St. Joe. Cape San Blas is the perfect spot for a family looking for a secluded vacation close to the beach, sea life, and local shops.
The T. H. Stone Memorial St. Joseph Peninsula Park is the gem of Cape San Blas and has many things to do. You can visit the sandy white beaches during the day, go stargazing at night, or view wildlife any time in between. Family members looking for a blood-pumping experience can try their hand at the eight-mile Loggerhead Run bike path. St. Joseph Bay Aquatic Preserve is another spot to visit to learn about local sea life. When you're ready to eat, Cone Heads is a local favorite for seafood and delicious key lime pie. Indian Pass Raw Bar is another delicious eatery if you're looking for a casual atmosphere and fresh seafood.
Scalloping is another popular Cape San Blas outing every member of the family can do. After picking up a Florida saltwater fishing license from the Florida Fish and Wildlife Conservation Commission, you can look for scallops while walking or snorkeling. Just make sure you don't pick up too many scallops! Fishing, boating, kayaking, and beachside horseback riding are also available in Cape San Blas. A Cape San Blas getaway is perfect for a family who needs to recharge from today's fast-paced world.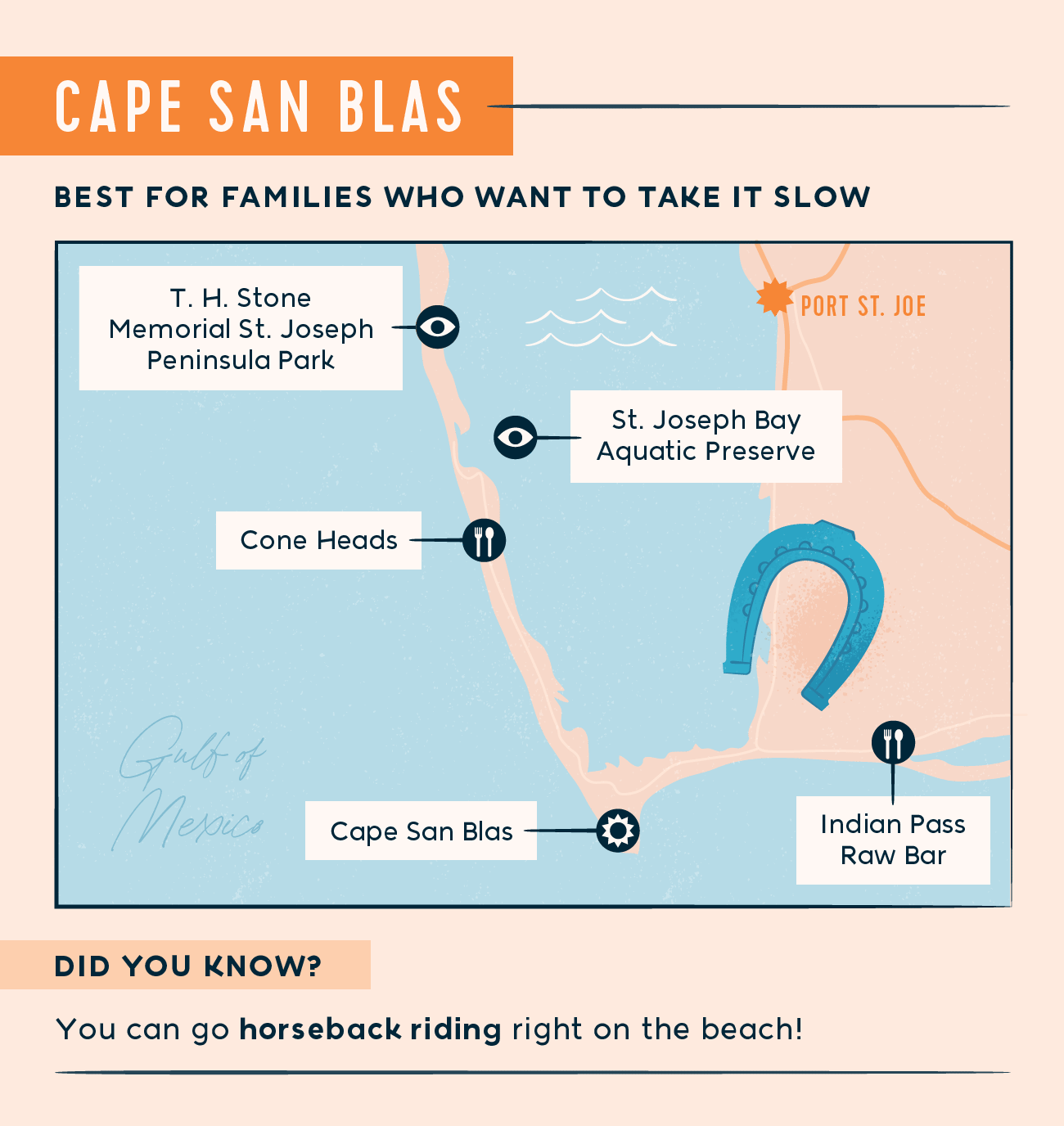 Destin
The city of Destin is west of Panama City Beach and east of Okaloosa Island. Known as the "World's Luckiest Fishing Village," Destin is a prime spot for both budding fisherman and experienced anglers. It's about a 25-mile boat ride to reach the Gulf of Mexico's deep waters (and deep waters means bigger fish!). Destin is also home to Gator Beach where guests can take pictures and feed alligators. Depending on when you visit, you can also catch a gator show!
If fishing isn't your cup of tea, your family can still visit one of Destin's sun-kissed beaches. The beaches in Destin have fine, soft sand that doesn't get too hot under the sun. Henderson Beach State Park is one of these scenic beaches with picnic areas, sand dunes, and campsites.
After your family is done at the beach, you can head over to the Destin Harbor Boardwalk for a bite to eat and to check out the other fun things to do there. You can see the shops, escape rooms, and zip lines.
Crab Island is a great place to go and have fun with locals and other tourists. You can only reach it by boat, so you'll need to either rent one or take a water taxi there. Mini stores are available to get things like snacks and sunscreen. Some vendors even rent water trampolines and jet skis!
Food is plentiful in Destin. Boshamps Seafood & Oyster House has fresh seafood you can enjoy while dining along the Destin harbor. LuLu's is a colorful family favorite with live music and spectacular views. A Destin vacation is ideal for families who adore the ocean and would enjoy doing anything on or near it.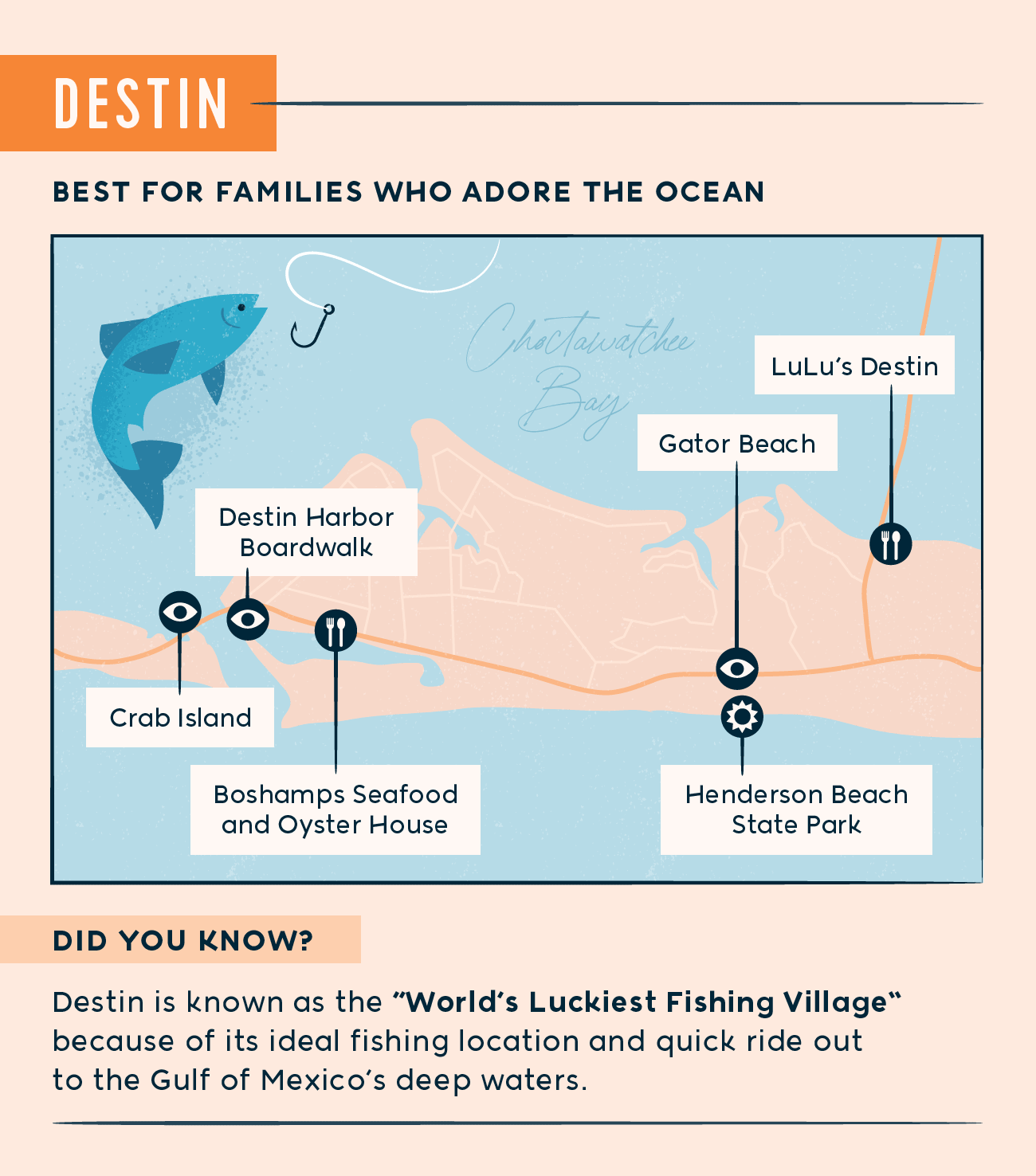 DeFuniak Springs
The city of DeFuniak Springs is northeast of Fort Walton Beach and north of Seaside. This small town is home to the historic Florida Chautauqua Resort/Campus. This area opened in 1885 to host the Florida Chautauqua Assembly and continued to host the event until 1927. This popular multi-week event brought many people to DeFuniak Springs, including former presidents, poets, abolitionists, and other national heroes. The Walton County Heritage Museum offers an intimate way to learn about the DeFuniak Springs' rich past. The Little Big Store is another fun place to take the kids to get a glimpse of a classic general store. It's a great place to pick up souvenirs and vintage candies. This is a great place for history-loving families!
After walking through the grounds, you can take your family to Chipley Park. This park is also known as Lake DeFuniak. The park is home to two almost perfectly round lakes that take up about 40 acres of land. You can take a load off for lunch or let the kids have fun in the children's area.
There are lots of eateries around DeFuniak Springs. Ed's Restaurant is a mom and pop style diner with friendly service and generous portions. Bogey's Bar and Restaurant is a local favorite with delicious steaks, burgers, seafood and drinks! You can also check out family-owned 4C BBQ if you're in the mood for good barbecue.
Lake Stanley Park is an ideal destination if you're itching to get out into the water. You can swim, fish, and boat in this lakeside park. The kids can also play in the nearby playground!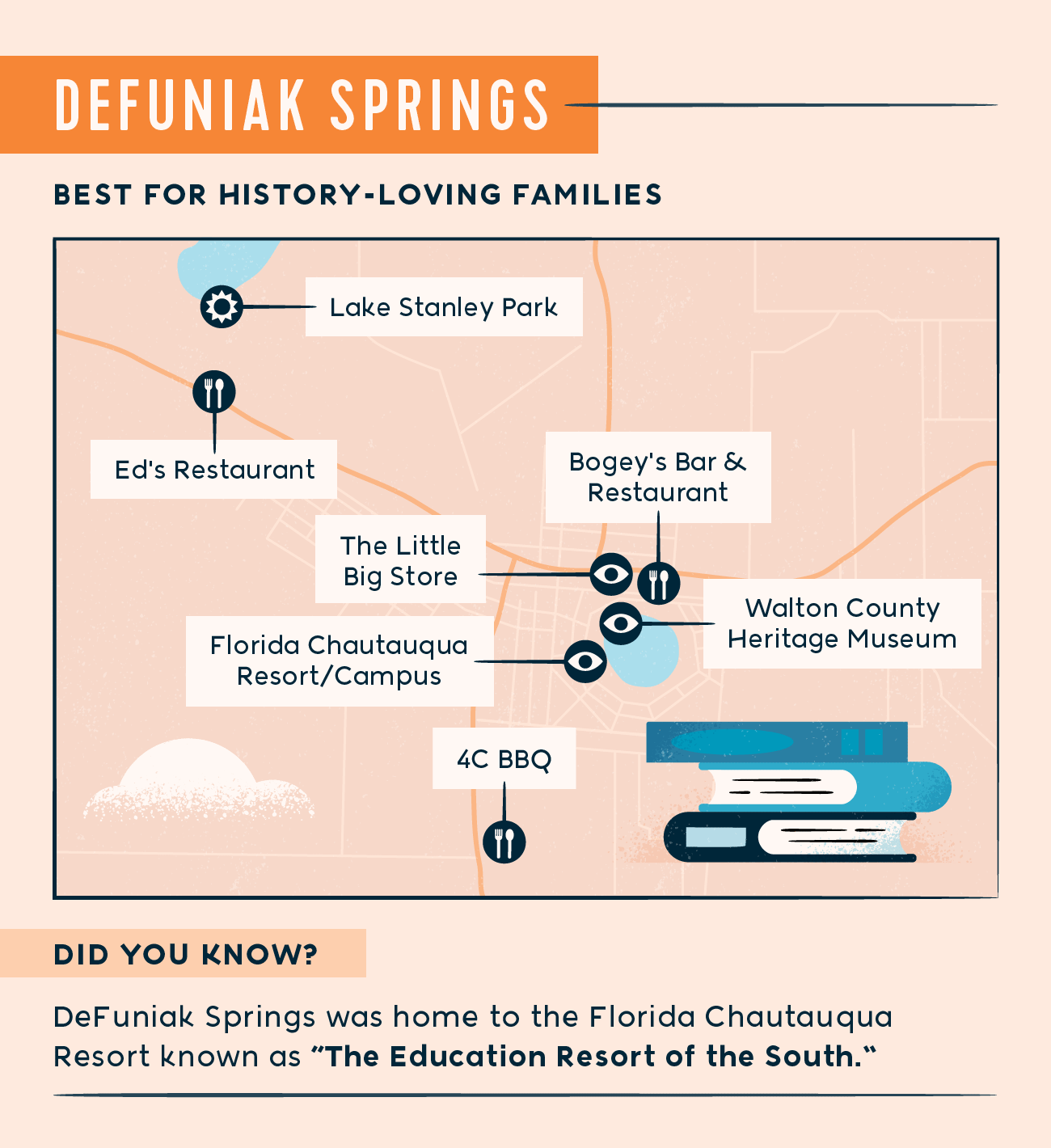 Fort Walton Beach
You can find Fort Walton Beach west of Destin and north of Okaloosa Island. This city has a great mix of outdoor excursions and historical experiences.
Okaloosa Island is a barrier island between Destin and Fort Walton Beach and is a popular destination for vacationers in Fort Walton Beach. John Beasley Park is another beautiful beach to visit on Okaloosa Island. On the island, you can walk and fish on the pier or eat and look at the amazing views from the boardwalk. Sealife lovers can check out the aquariums and dolphin performances in The Gulfarium Marine Adventure Park. Kids and adults can hop over to Wild Willy's Adventure Zone if miniature golf and rope courses are more their speed.
Stewby's Seafood Shanty is a lively seafood restaurant with yummy gumbo, hush puppies and seafood. You can also head to The Crab Trap if you want to get ahold of their delicious Hot Crab Dip and other tasty crab dishes.
Back on the mainland, Fort Walton Beach has a lot of educational opportunities for everyone in the family. The Heritage Park and Cultural Center teaches visitors all about the local history of Fort Walton Beach. You can walk through the Indian Temple Mound Museum, the Fort Walton Temple Mound, Garnier Post Office Museum, Camp Walton Schoolhouse Museum, and the Civil War exhibits.
Fort Walton Beach is near Eglin Air Force Base, the largest Air Force base in the world. The city is also home to the Air Force Armament Museum. This museum is the only one in the world dedicated to the collection, preservation, and exhibition of items associated with the Air Force Armament. It's a good place for any kids (or adults!) interested in learning about the Air Force's vast history.
For your family's future scientists, visit the Emerald Coast Science Center. This hands-on science museum has lots of activities for kids and adults. They have exhibits on robotics, engineering, the ecosystem, and more.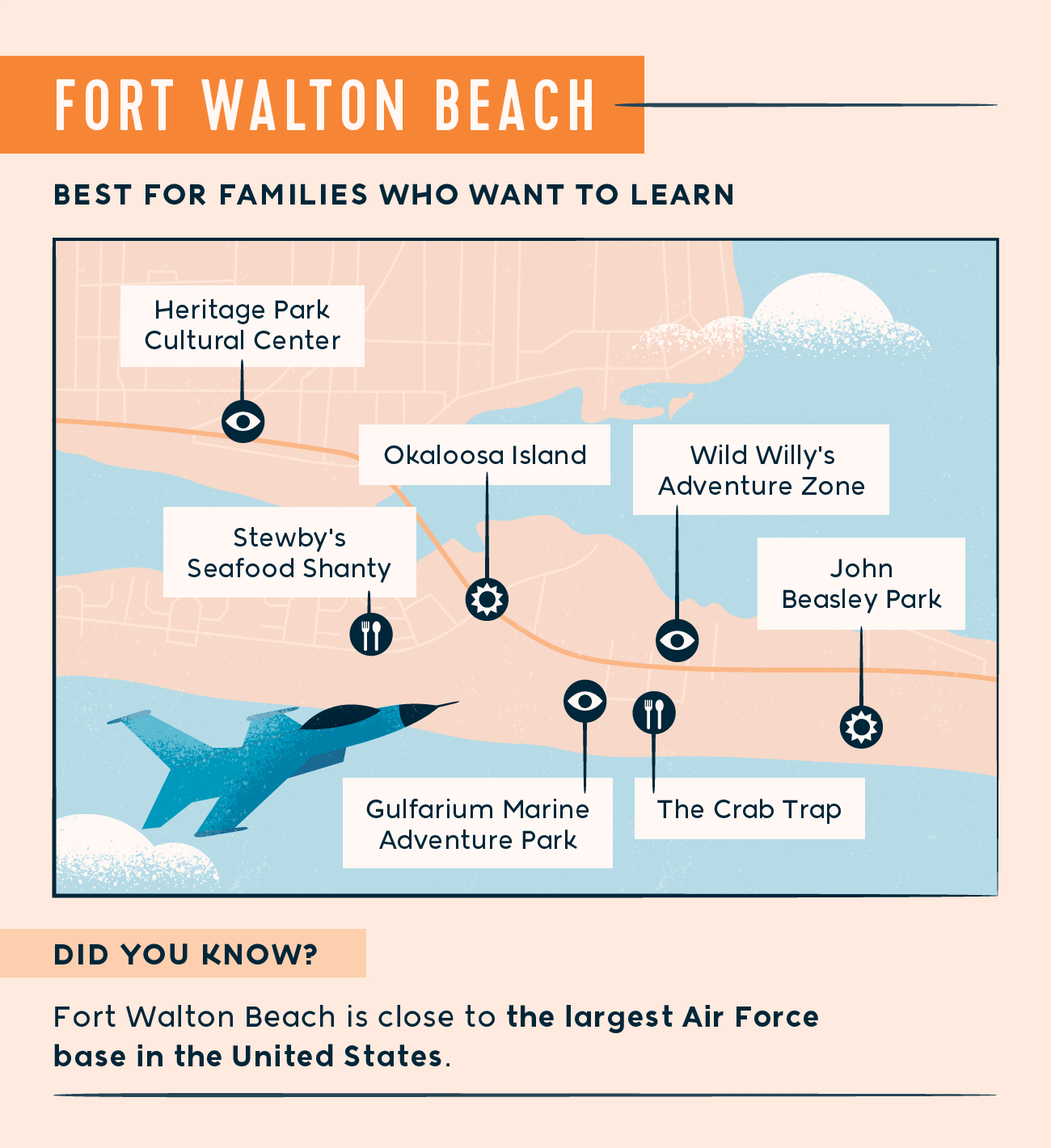 Navarre
The simple seaside community of Navarre is east of Pensacola Beach and west of Fort Walton Beach. You won't find flashy amusement parks or lively nightlife here. Instead, you'll find an unspoiled waterfront, spacious beaches, and a relaxed atmosphere that can help your family take it slow.
Navarre Beach is perfect if you're looking to get away from tourist-filled sands. When you're done at the beach, you can head over to the Navarre Beach Fishing Pier to drop a line and take in the spectacular scenery.
For breakfast, take the family over to JJ Chagos for some delicious breakfast tacos and sandwiches. Later in the day, you can swing by Tommy's New Orleans Snoballs to try their fun and flavorful snow cones. Finally, you can stop by Scooter's Fish House for some fresh seafood that everyone will love.
The Navarre Beach Marine Park is an ideal place to head to if you want your family to learn about the local sea life. At the Navarre Beach Marine Science Station, families can learn about nearby wildlife through hands-on activities. Interactive sites are also found at the Navarre Beach Sea Turtle Conservation Center. Sweet Pea, their resident green sea turtle, will entertain your family as you learn about her and her underwater friends. Finally, the Navarre Beach Marine Sanctuary and artificial reefs allows visitors to dive or snorkel to experience everything they've just learned.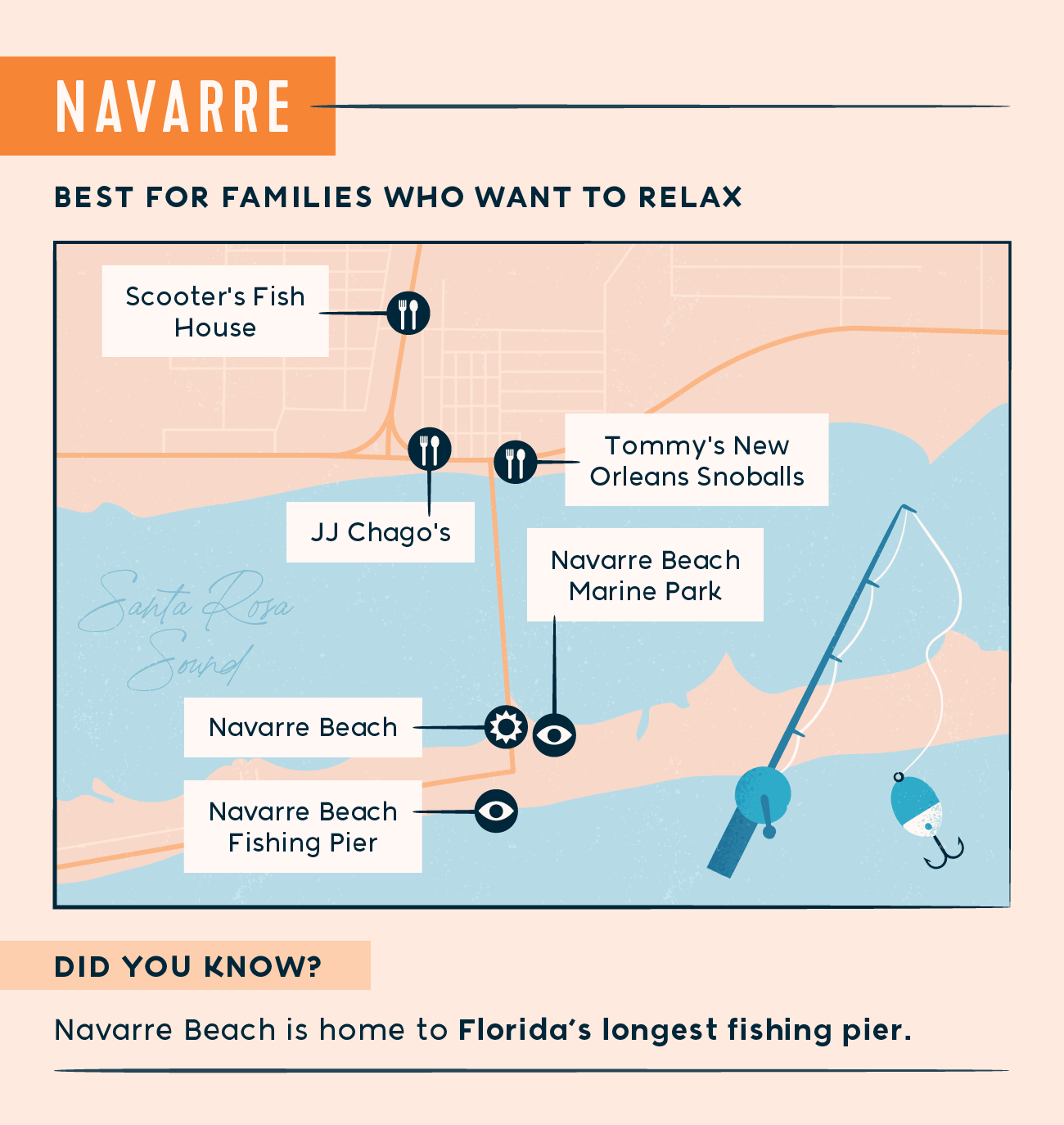 Panama City Beach
This waterfront town is located north of Port St. Joe. This lively area features 27 miles of pristine beaches, amusement parks, and many other attractions fit for everyone in your household.
Kids young and old can enjoy the water slides and other attractions at the Shipwreck Island Water Park. The Coconut Creek Family Park is another unique amusement park that features a labyrinth the size of a football field, along with a scenic mini golf course.
If your family is filled with animal enthusiasts, check out the Seacrest Wolf Preserve to learn and get the rare chance to interact with these furry creatures. Another popular spot is the ZooWorld Zoological Conservatory, where you can meet giraffes, play with goats, and pet a sloth!
There are a couple places to check out during your Panama City Beach vacation. David's Sno-Balls is a great place for beignets, chicken po'boys and yummy sno cones. Runaway Island has a great view with a variety of food options.
Any families looking to get away from the liveliness of Panama City Beach can make their way to St. Andrews State Park. The calm currents and crystal clear water is perfect for wading in the water or soaking up the sun. You can also visit Camp Helen State Park on the opposite side of town to see the dune lake, scrub oak forests and other features unique to the area.
These are only a few of the endless activities you can find at this bustling beachside town. Fun-seeking families are sure to find everything they're looking for on a Panama City Beach trip.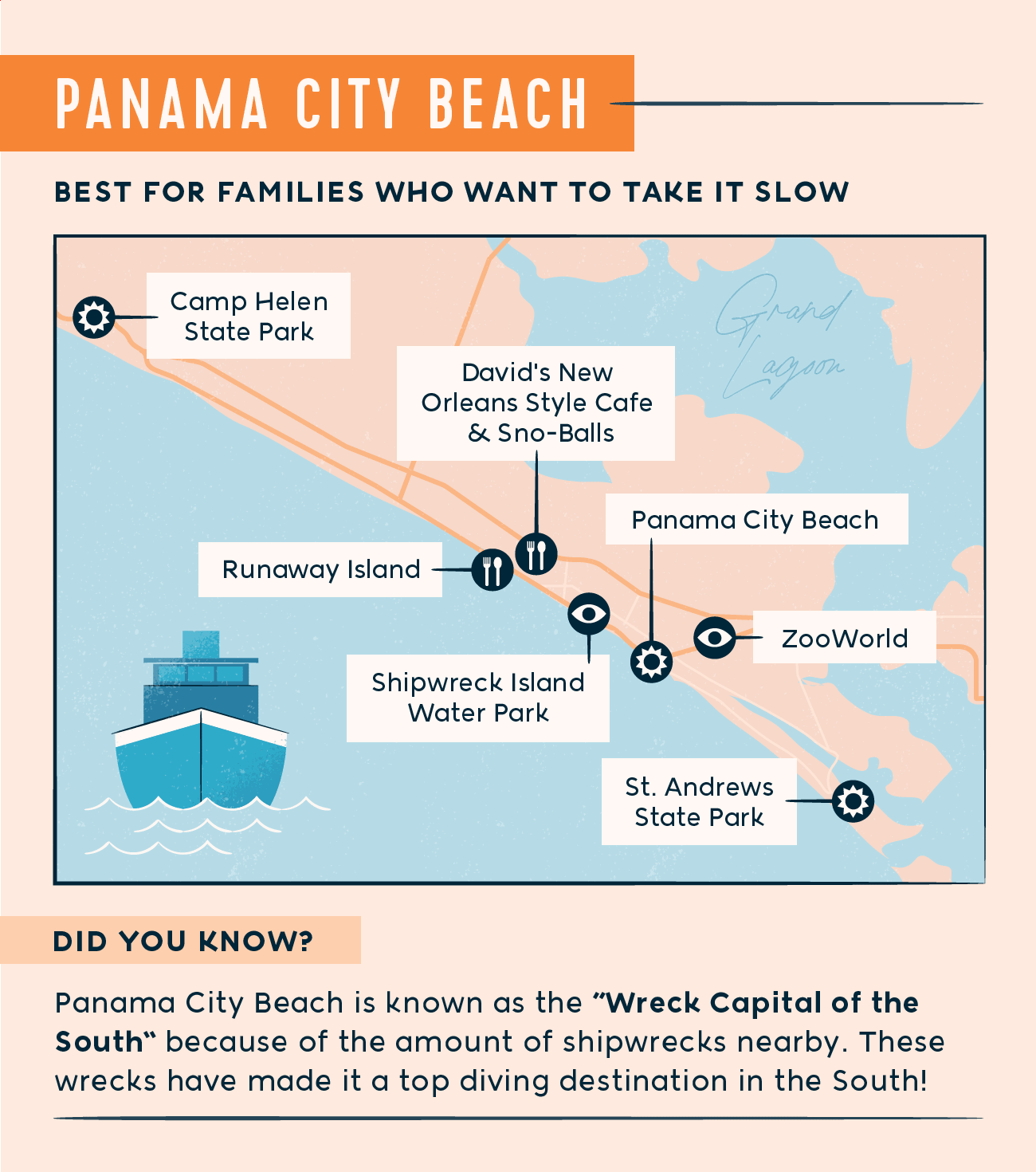 Pensacola Beach
Pensacola Beach is a barrier island just south of Pensacola on Santa Rosa Island. Pensacola Beach is known for its gorgeous white sand beaches, fun boardwalk, and relaxed atmosphere.
Pensacola Beach's namesake beach is a popular destination for families because of its cleanliness and natural beauty. Shops and eateries are also steps away from the shore. Gulf Islands National Seashore and the Gulf Pier are other options to explore on the island.
Animal-loving families can enjoy local dolphin cruises to watch these intelligent creatures play in the sea. The household history buff can visit historic Fort Pickens and see how everything in and around its walls has changed over the years. Other fun activities like fishing, surfing, and sailing are also available at Pensacola Beach.
Families can also enjoy the Footprints in the Sand Eco-Trail. You can learn all about local wildlife on this 8.5-mile trail. Turtles, birds, and crabs are a few of the critters you can encounter on the trail. You can bike, drive, walk, and swim through all 29 stops.
The family is bound to work up an appetite after all of these activities! You can head down to Peg Leg Pete's seafood restaurant for a swashbuckling dining experience—complete with a play area and raw bar. Red Fish Blue Fish features beautiful outdoor dining areas along with lawn games to keep everyone entertained. Crabs on the Beach is a fun restaurant located right on the beach that has live music and delicious food.
The beach's amazing views and community has not gone unnoticed! USA Today, Condé Nast Traveler, Trips to Discover and Tripadvisor are just a few outlets that recognized the area's beautiful sands and emerald-green waters. Booking a trip to Pensacola Beach is a surefire way to make lasting memories with the entire family.
Port St. Joe
Port St. Joe is a small Gulf County town found on the upper Gulf Coast. This community's 3,000 residents will make you feel right at home. Port St. Joe is a top choice for families who are looking to get away from the hustle and bustle of bigger, tourist-filled towns.
St. Joe Beach is only 10 minutes away from town. It's a serene spot for your family to sunbathe and enjoy a beautiful sunset. Food-loving families should also consider Port St. Joe for its fresh and delicious seafood.
Your family can also enjoy learning about the rich history of Port St. Joe and the surrounding area. The town of St. Joseph was the first site of Florida's first Constitutional Convention in 1838. The residents abandoned the boomtown after a yellow fever outbreak in 1841 and severe storms destroyed most of the town's remains years after. You can visit the Constitution Convention Museum State Park to learn more about the St. Joseph settlement and Florida's first constitution.
When the kiddos get hungry, your family can stop by Krazyfish Grille. This casual restaurant uses fresh ingredients for their dishes. Joe Mama's Wood Fired Pizza is a spot to check out if your family needs a break from the seafood!
The Cape San Blas lighthouse is another historical landmark your family can enjoy. The lighthouse recently relocated to Port St. Joe in 2014 due to beach erosion.
Hurricane Michael hit the area in 2018 and damaged some beloved attractions like the Port St. Joe Marina. Fortunately, both areas have since recovered thanks to local volunteers and the collaborative effort of the community.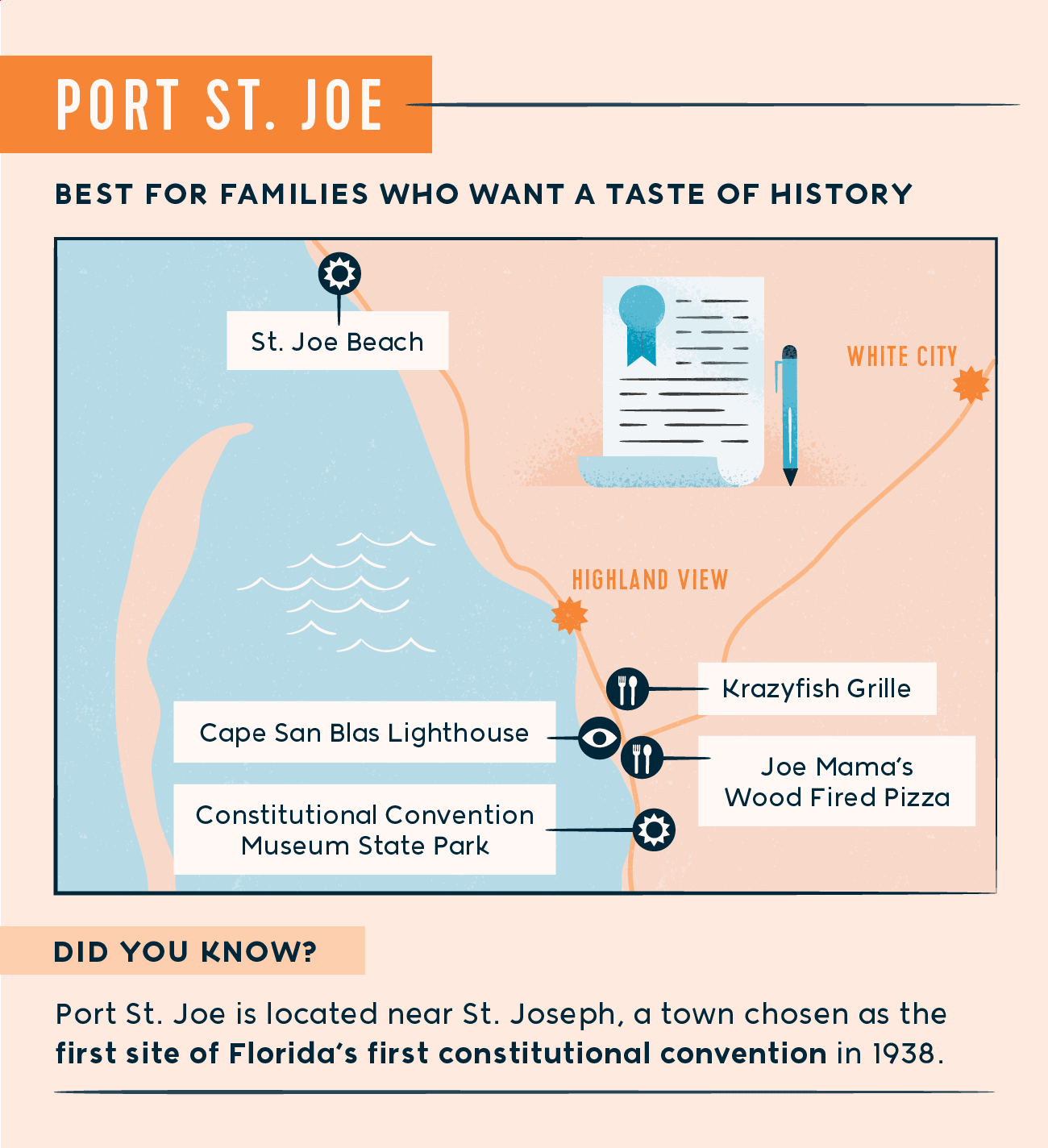 Seaside
Seaside is east of Fort Walton Beach and west of Panama City Beach. Seaside is a master-planned city and boasts many modern features –– it was the first first New Urbanist community! For instance, it's easier to walk and bike around Seaside than to drive!
Central Square is home to many events. You can find movies under the stars and jazz shows in the evening. The Seaside Amphitheater is home to many shows and cinema screenings.On Saturday mornings, you can head over to the square to look through the Seaside Farmers Market. You can make your way down to the gourmet food trucks found along Highway 30A for yummy food throughout the week.
The Great Southern Cafe is another eatery you can go to enjoy a casual atmosphere that features tasty dishes with southern flair. The Seagrove Village Market is another great local restaurant with yummy seafood dishes.
Tallahassee
Tallahassee, Florida's capital, is found northeast of Port St. Joe. This city is much more inland than the other communities on our list, but is still filled with lots of family-friendly attractions that everyone will enjoy!
This capital city has plenty of opportunities to learn. The Museum of Florida History teaches visitors about past and present cultures in Florida and the Florida Historic Capitol Museum focuses on the state's political history. The Tallahassee Museum is a fun place to learn about the flora and fauna related to the area, in addition to the history of the communities in the area. In the Tallahassee Museum, your family can also indulge in the museum's Tallahassee Tree to Tree Adventures and its zip line and adventure course!
Take your family to Hangar 38 if you're looking for a fun, family-friendly place you can go to play and eat! Hangar 38 features bowling, gaming and lots of food ranging from pizza to sushi. Midtown Caboose is a great railroad-themed restaurant with unique burger and sandwich options. Backwoods Crossing is another great Tallahassee restaurant with live music and an onsite farm.
Tallahassee is also home to the Challenger Learning Center for Space Science Education, where kids and parents can interact with a space mission simulator, watch a planetarium show, and participate in hands-on learning labs.
This eclectic town is farther away from the coast, but there are still plenty of nearby areas you can visit to get a beach experience. Locals usually head to Saint George Island to get their beach fix. If you don't want to spend too much time travelling, check out Mashes Sand Beach and Carrabelle Beach. St. Marks National Wildlife Refuge is a fun outdoor alternative to the beach that's closer to Tallahassee than other beaches. Visitors can fish, watch wildlife, and walk around the trails.
There are also local areas away from the water families can enjoy. Cascade Park is a local favorite with a few fun features just for kids. Your little ones can play in the Imagination Fountain and the whole family can enjoy a light show at the fountain in the evening. This park also features Discovery, a special play zone designed with natural materials.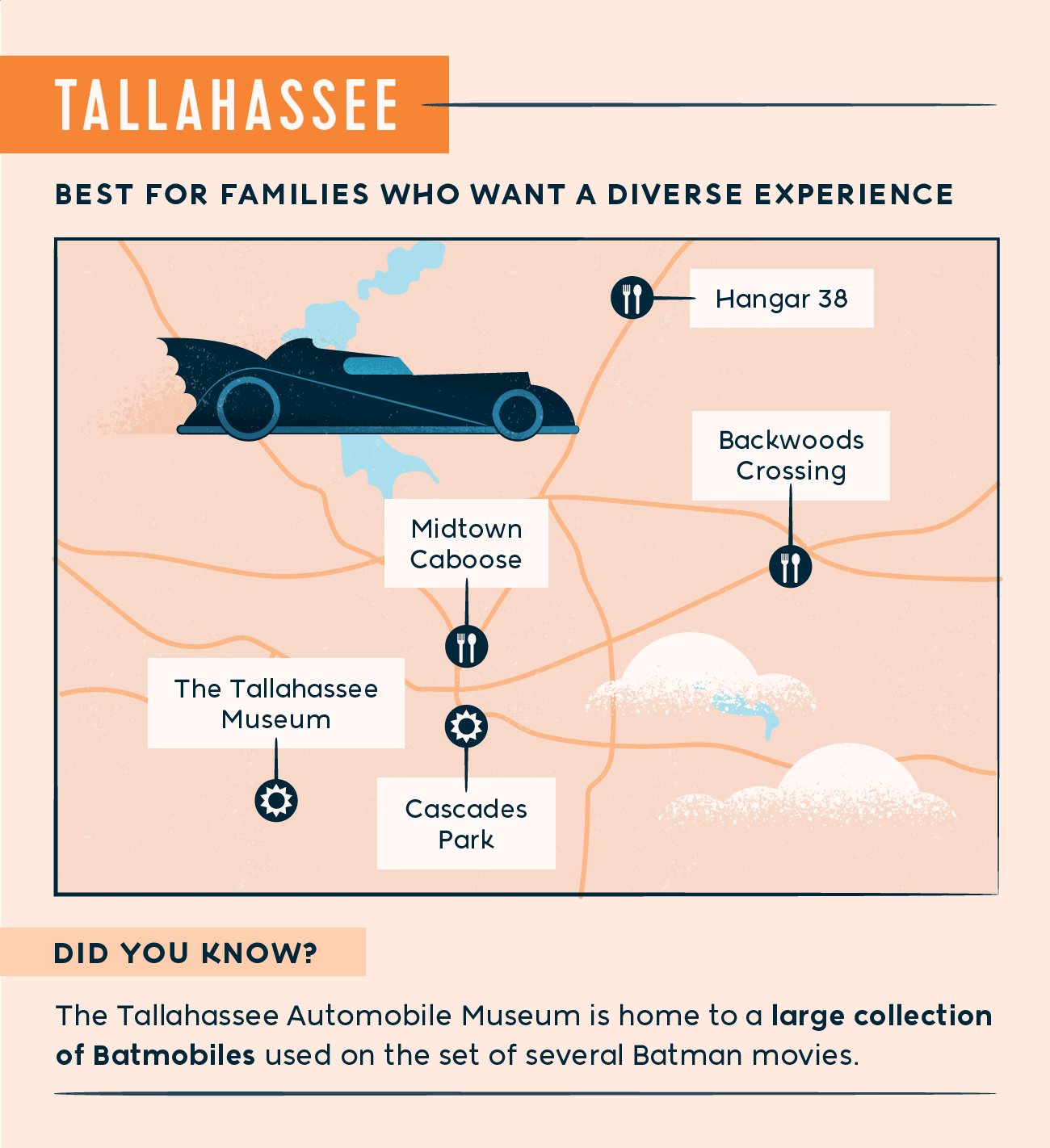 These are just a few amazing neighborhoods your family can explore in the Florida Panhandle. Whether your family prefers delicious eats or quiet beaches, the Florida Panhandle is bound to have something for everyone!
If you can't decide, you can take a look at all of our neighborhoods below to see where you want to visit!