Travel has been an ongoing conversation during the pandemic and it may become a tougher conversation when the holidays come around.
Some of us are choosing whether or not we'll see loved ones or continue holiday traditions this year due to the pandemic and the upcoming flu season.
In 2019, the Transportation Security Administration (TSA) predicted more than 26.8 million people would travel through security screening checkpoints between November 22 and December 2. The American Automobile Association (AAA) predicted 115.6 million Americans would travel between December 21, 2019 and January 1, 2020.
We wanted to know about American's attitudes toward holiday travel in spite of the pandemic, so we surveyed a total of 1,500 Americans to get their feelings on the upcoming season. We found that many Americans don't have health concerns about their upcoming holiday travel.
Here are our key takeaways:
39 percent of Americans aren't afraid of getting sick while traveling during the holidays
Only 12 percent are worried about infecting friends and family due to holiday travel
Only five percent fear being infected by friends and family during this holiday season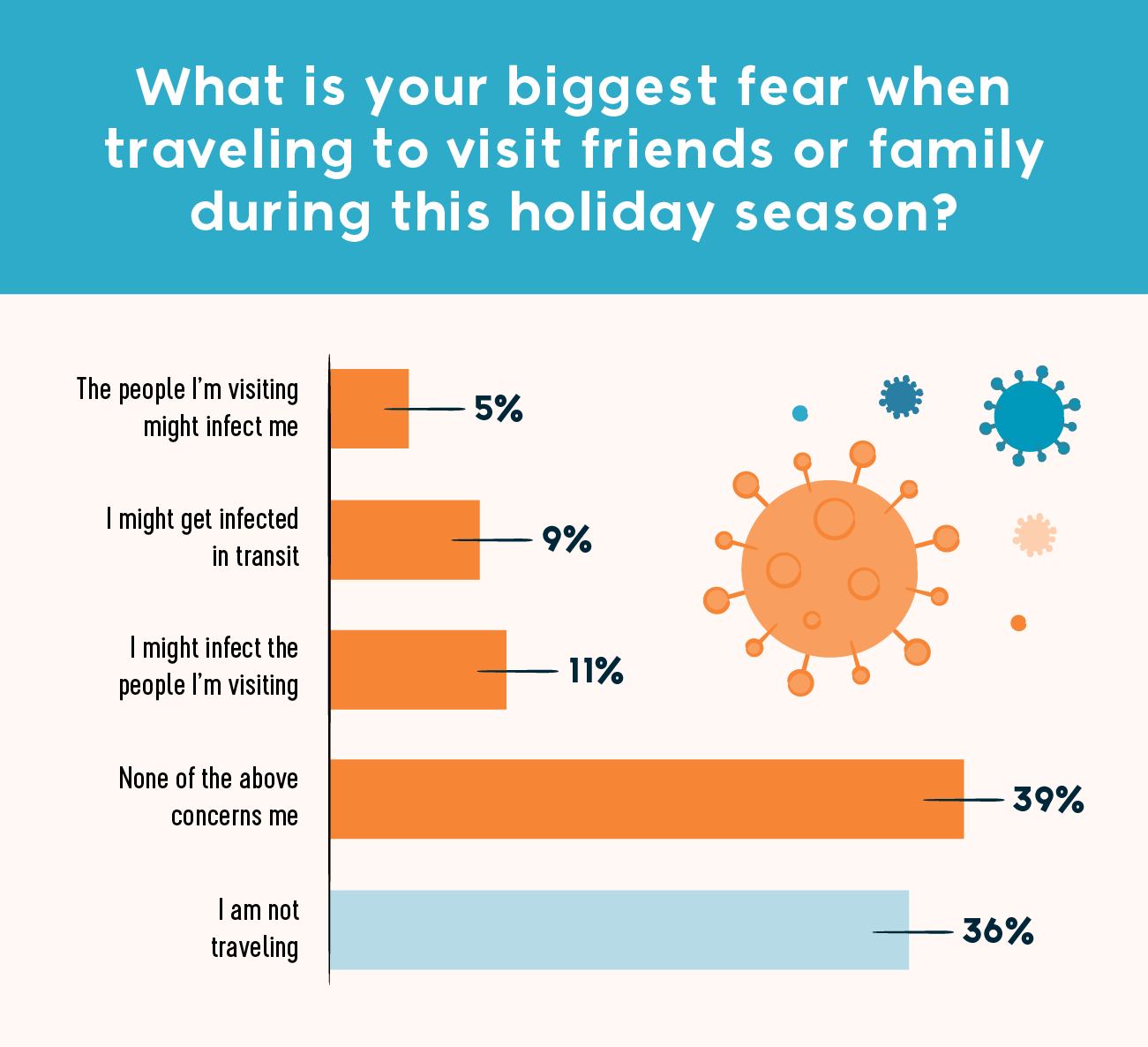 Nearly Four in 10 Aren't Afraid of Getting Sick This Holiday Season
We found that 39 percent of Americans aren't concerned with exposure during this holiday season. Although COVID-19 is of main concern for many this year, other illnesses are regularly associated with holiday travel like the flu and listeria exposure.
Being in close contact with others in transit and a sudden change in weather are a couple of things we do when we travel that can expose us to germs and throw our body for a loop. Many American's have shifted their travel preferences during the pandemic to minimize contact.
When looking at gender, we saw that slightly more men than women were not concerned about catching something while they travel.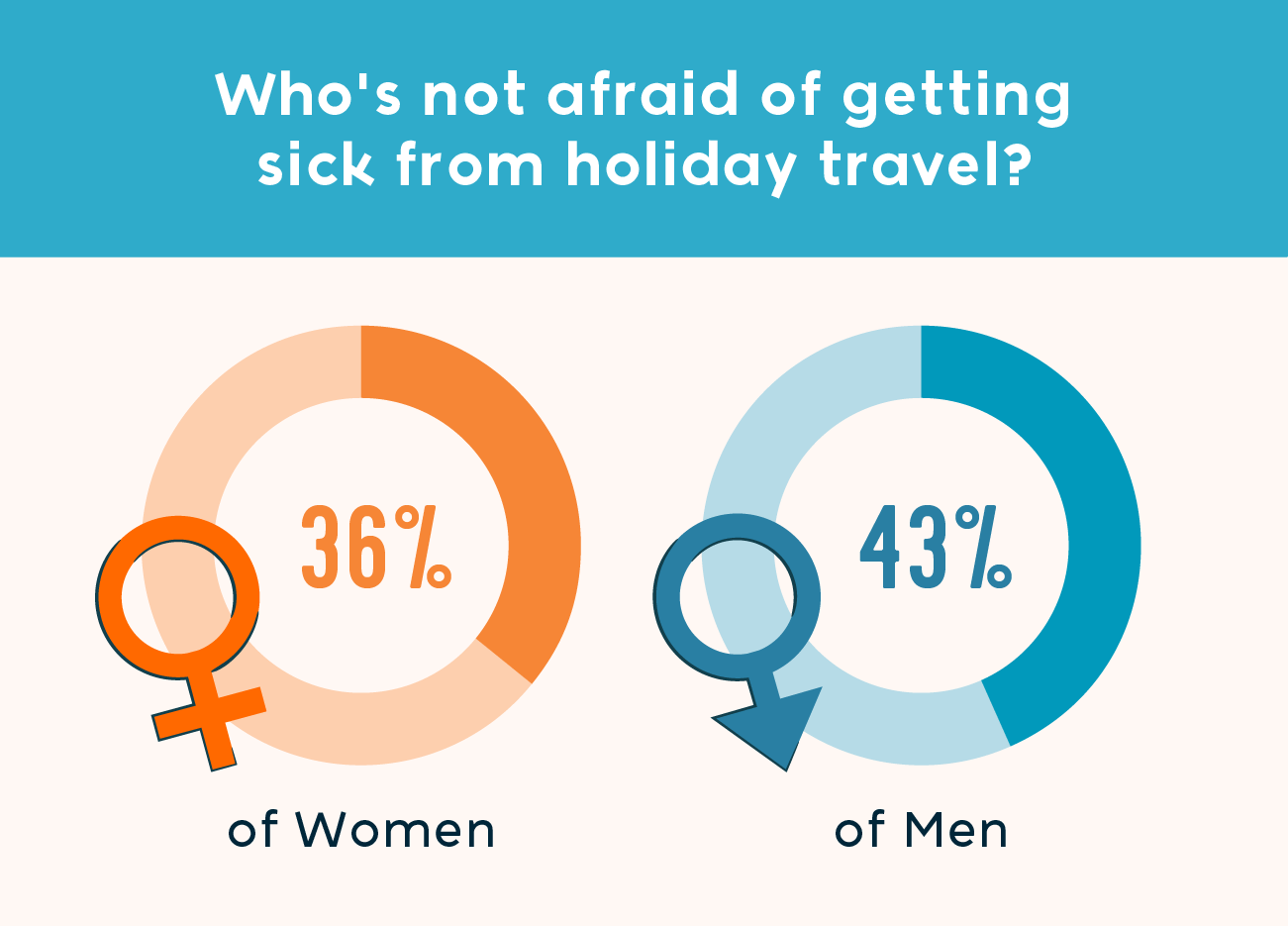 One other interesting point was our second most-chosen answer. More than a third of Americans surveyed said they are not traveling at all. Although reasons for not traveling weren't disclosed, it's still notable that holiday travel is not on the agenda for many Americans this year.
Only About One in 10 Fear They Will Infect Friends and Family
When looking at those who do have fears of infection, only 12 percent are afraid of infecting their loved ones. This comes out to about one in 10 people. This was the most picked choice of the three infection-related answers.
Some may believe that they're safe to travel if they don't have symptoms of any illnesses like COVID-19 or the flu. However, no symptoms does not necessarily mean you aren't carrying something. The term "asymptomatic" is commonly used today in reference to COVID-19. However, this isn't a new classification.
A 2019 study on respiratory viral infections (like the flu) published looked at the prevalence of asymptomatic spread. The study found that asymptomatic infection rates exceeded 70 percent for most viruses, except for the flu and human metapneumovirus. These two diseases produced more severe symptoms in the study compared to other tested infections.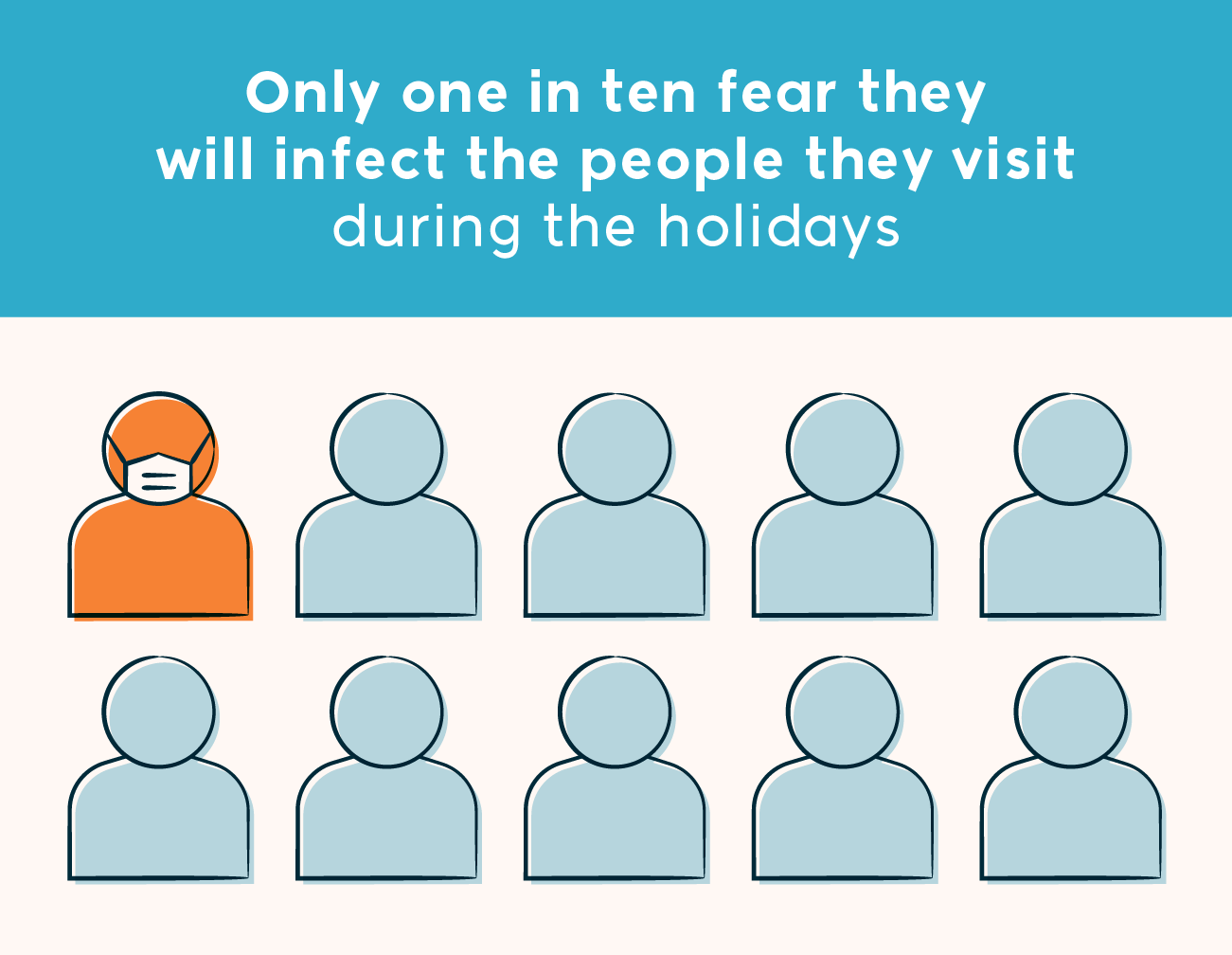 Only One in Every 20 People Fear Their Loved Ones Will Infect Them
Very few Americans are afraid of getting infected by friends and family this holiday season. Only five percent shared this fear. This comes out to about one in every 20 people.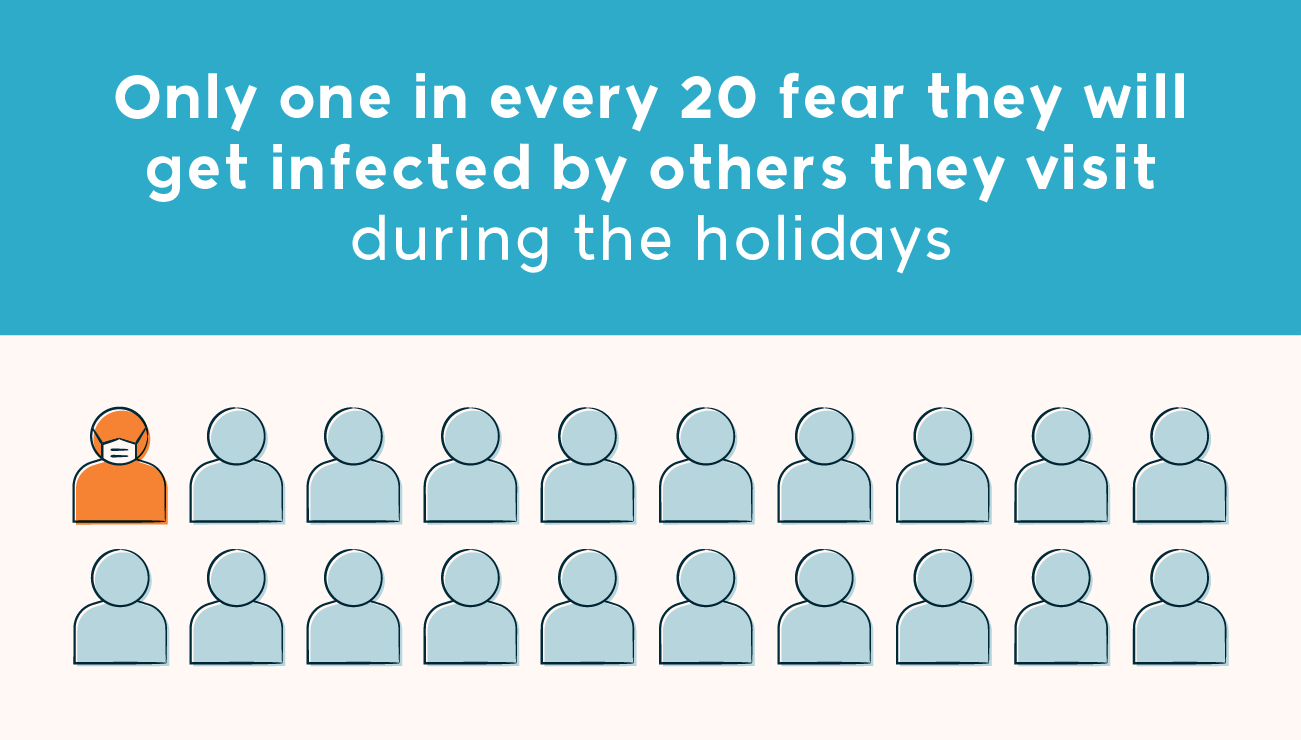 What's the Risk of COVID-19 and Other Infections During Holiday Travel?
COVID-19 put the world at a standstill and many countries have guidelines enforced to prevent the spread of the disease. The flu is another common disease that's common to catch during the holidays. We briefly go over the risks below.
COVID-19 Risks
The Center for Disease Control (CDC) says that traveling increases your chance of getting and spreading COVID-19. At the time of writing, there is no vaccine to prevent the disease and is mainly spread from close person-to person contact via respiratory droplets. We produce droplets when we cough, sneeze, or talk and these droplets can end up in the mouths or noses of people nearby.
According to the CDC data on U.S. COVID-19 cases at the time of writing:
Total cases: 7.1 million
Deaths: 204,500+
According to World Health Organization (WHO) data on worldwide COVID-19 cases at the time of writing:
Total cases: 32.7 million
Deaths: 991,000
High-risk travel-related activities according to the CDC include:
Traveling to areas with high levels of COVID-19
Attending a large gathering like a party, wedding, or sporting event
Being in crowded areas like an airport
Traveling on a cruise ship or riverboat
The CDC also says that your risk level during holiday celebrations varies greatly on things like the location of the gathering, duration, number of people, places people are coming from and their behavior. Certain groups like seniors and people with certain disabilities are more at-risk for COVID-19 than others.
Guidance is constantly changing as we learn more about the disease. Check out local COVID-19 laws and guidelines for your local area and the places you are traveling to this holiday season. The CDC also offers tips to know when you should delay travel and know your travel risk.
Flu Risks
In addition to COVID-19, the holidays are a peak time for the flu. The CDC says the flu is most common during the fall and winter and often starts as early as October. The flu spikes between December and February and can last through May. A CDC study published in Clinical Infectious Diseases found that about 8 percent of the American population catches the flu each year.
These were estimates from the CDC on the 2018-2019 flu season:
Symptomatic illnesses: 35.5 million
Medical visits: 16.5 million
Hospitalizations: 490,000+
Deaths: 34,000+
A study published in PLOS Medicine found that domestic air travel had an important influence on the flu's spread. They also found that regional spread of the flu is largely based on November travel. Although the flu spread is highest later in the season, the study found that spread occurs earlier in the season.
The CDC says getting a flu vaccine this year is more important than ever given the risks of catching both the flu and COVID-19.
You should take care when traveling to ensure your family and loved ones are safe. If you're still on the fence on your holiday plans, consider a beachside vacation rental. Many outlets like Business Insider and USA Today highlight some of the benefits of vacation rentals like less contact with others. However, the choice is up to you. If you do stay at a rental, please remember to practice common courtesy with your rental hosts. Cleanliness and hygiene are especially important during the pandemic. Feel free to contact us if you have any questions about your upcoming holiday travel plans.
Methodology
This study was conducted for FloridaPanhandle.com using Google Surveys. The sample consisted of no fewer than 1,500 completed responses. Post-stratification weighting has been applied to ensure an accurate and reliable representation of the total population. Responses were collected in September 2020.
Disclaimer: FloridaPanhandle.com does not provide legal or medical advice. This post has been prepared for informational purposes only. All users are advised to check all applicable local, state, and federal laws and consult legal and medical counsel should questions arise.