Traveling today looks much different than it did a year ago because of COVID-19. Traveling requires cautiousness to protect ourselves and our loved ones and flexibility to comply with constant travel restriction changes.
If you do choose to travel, you need to give yourself enough time to plan in advance. You'll need to research the best place that accommodates your needs and allows you to have the experiences you want with travel restrictions and safety precautions in mind.
Below, we're going to go through general tips for traveling during the pandemic for people with disabilities. Depending on your personal circumstances, you may need additional specifications and advice from travel and medical professionals.
Table of Contents
Know Your Rights
You have a right to accommodations when traveling to different areas. Before you begin planning, get familiar with your rights so you know the requests and accommodations you're entitled to under the law.
Countries have varying laws protecting the rights of people with disabilities. The United Nations lays out laws and acts in several countries. In the U.S., we have the Air Carrier Access Act (ACAA) and the Americans with Disabilities Act (ADA). We briefly go over both below.
ACAA: This act prohibits discrimination against people with disabilities in air travel. It also requires airlines and airports to provide accommodations, accessible facilities, and training for employees who deal with the traveling public.
ADA: This act mandates the elimination of discrimination against individuals with disabilities by providing enforceable standards everyone must follow. For example, the ADA has standards for accessible design to make things like elevators, amusement park rides, and drinking fountains accessible for all.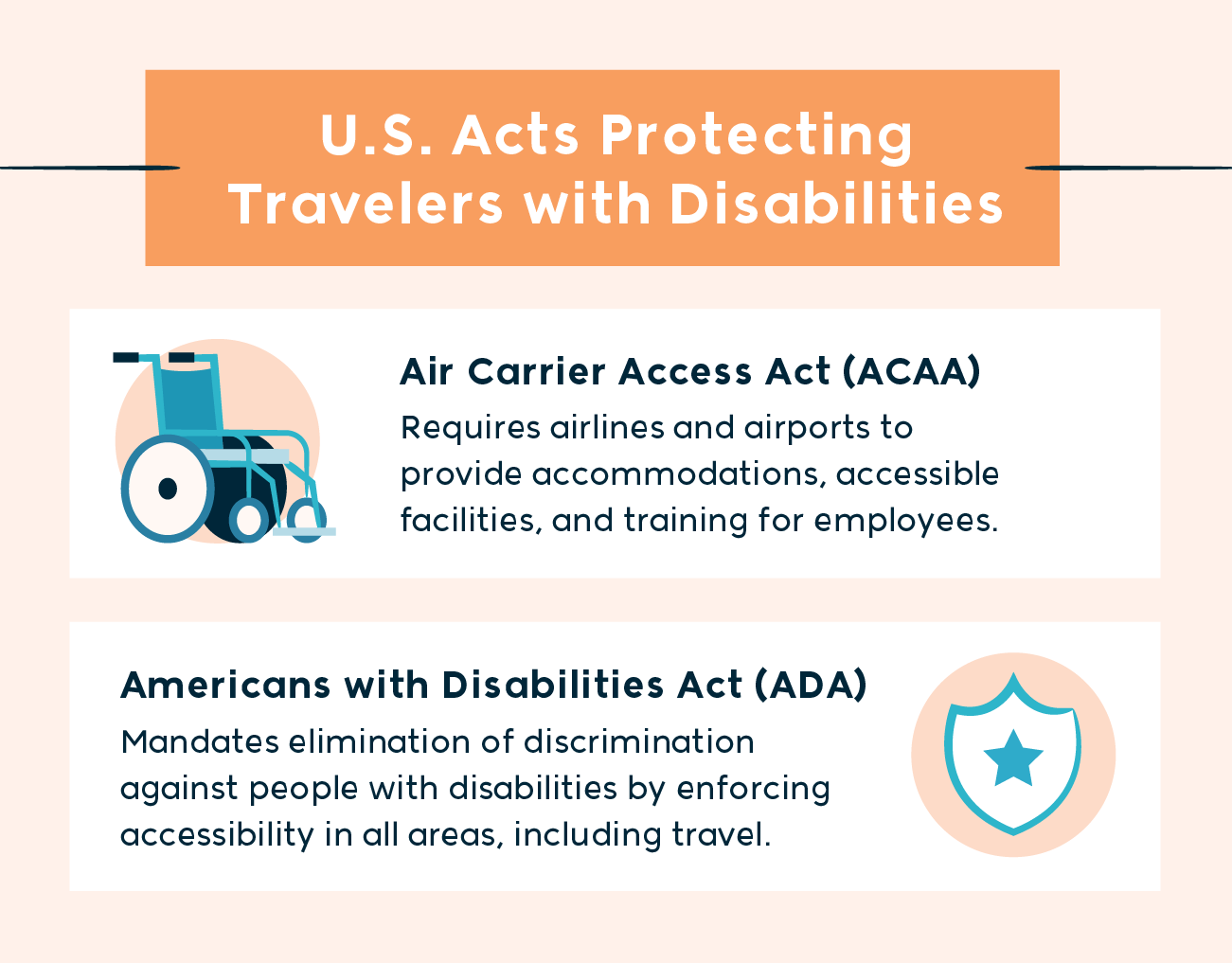 The ACAA also requires all airlines to have a specially-trained complaints resolution official (CRO) to respond to complaints. This individual is authorized to resolve complaints on behalf of the airline and must be available by phone or in-person during operating hours. If you run into any issues, request to speak to the airline's CRO.
You can also file a consumer complaint with the Department of Transportation (DOT). However, the DOT encourages travelers to give the airline a chance to resolve the issue first since they can typically take care of complaints right away.
Before You Travel
Planning the details ahead of time can save you stress from last-minute planning. It also gives you a better idea of potential alternatives if certain lodging or locations don't work out due to the pandemic or other reasons. These are a few things to consider when planning out your next trip.
Assess If You Should Travel
Although the United States is distributing and administering COVID-19 vaccines at the time of writing, you should still first evaluate your own health before considering travel during the pandemic. Availability also varies for approved COVID-19 treatments.
A lack of treatments and knowledge of the virus are reasons why the CDC and other experts recommend refraining from travel as much as possible, especially under specific circumstances. Here are instances when you should not travel according to the CDC.
You are currently sick.
You've been around someone with COVID-19 in the past 14 days.
Your travel companions are sick.
You recently tested positive for COVID-19.
You are waiting for the results of a COVID-19 test.
You are on the CDC's "Do Not Board" or "Lookout" lists.
You should also consider delaying travel if you live with someone or you have a high risk of catching COVID-19. If you find yourself in at least one of the above categories, you may need to quarantine or isolate according to the CDC. Quarantine is for people who may have been exposed while isolation is for people who have a confirmed infection.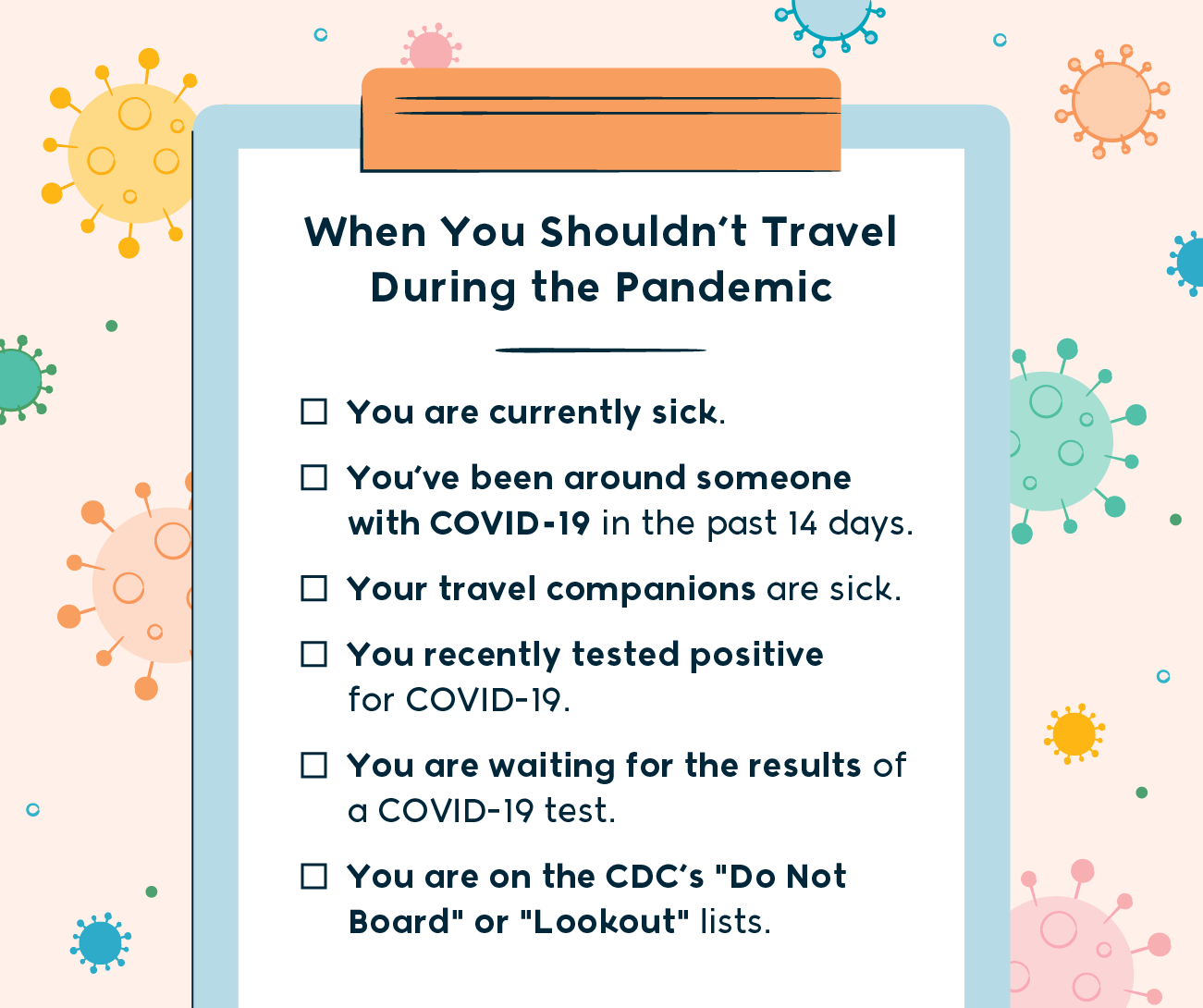 Decide If You Want to Use a Travel Agent
Travel agents may save you time by handling the full research and booking process. They can take care of small and large tasks like ensuring accessible accommodations and securing refund policies that align with your needs. If you need to cancel or reschedule a trip due to the pandemic, you can also lean on your travel agent to take care of it.
The drawback to travel agents are the upfront costs. Agents also may not be the best option if you prefer to do research on accommodations yourself. Weigh the pros and cons to see if a travel agent is the best choice.
Contact Your Transportation Provider
Regardless if you're traveling by plane, train, or bus, you should call ahead to ensure you have the necessary accommodations available to you. You should call ahead to both the airport or station where you're departing and arriving to ensure a smooth trip from beginning to end. Below are a few things to ask about when you're doing your research.
Assistive devices like wheelchairs and oxygen
Facilities accommodations like accessible bathrooms, lifts, and bulkhead seats
Services like pre-boarding and baggage assistance
Accessible communication systems like through a TTY or video remote interpreting (VRI)
Airlines in the U.S. cannot require advanced notice that a person with a disability is traveling unless you need an accommodation that requires prep time. Some examples are respirator hookups and transporting an electric wheelchair on an aircraft with less than 60 seats. The Transportation Security Administration (TSA) is also required to make electronic and information tech accessible to individuals with disabilities.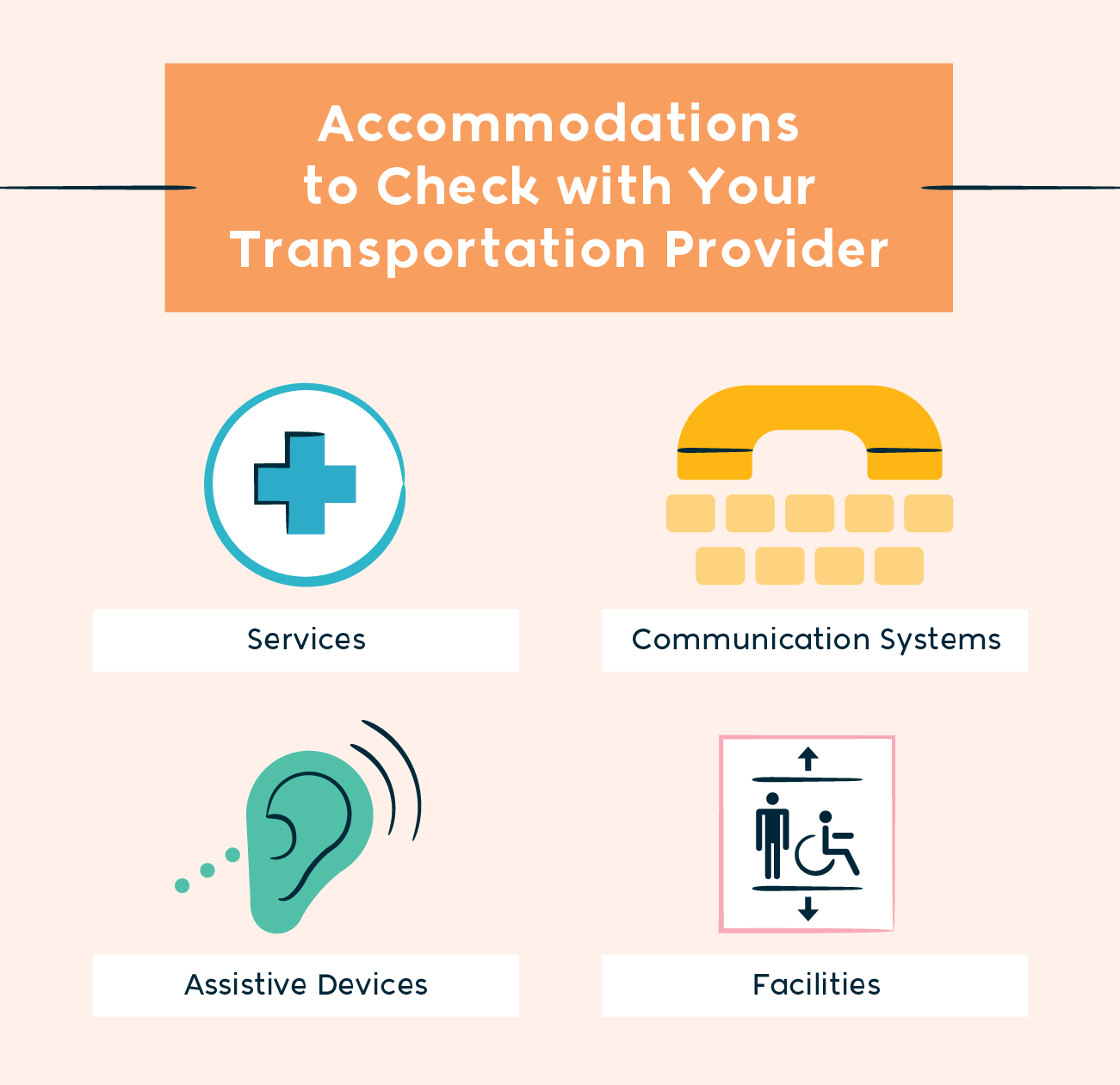 You can call the TSA 72 hours prior to your flight if you have questions about screening policies, procedures, and the security checkpoint. You can also go through their site to see information on security checkpoint accommodations. It's helpful to also prepare a TSA notification card and other medical documentation to describe your condition. If you use assistive equipment, consider if it's best to rent it in the area or to bring your own.
Finally, you also want to confirm what COVID-19 precautions the transportation provider is taking to keep passengers and staff safe. This could include mask requirements, increased sanitation, and reduced occupancy. You should also check cancellation policies in case you need to cancel due to something related to the pandemic. For example, some countries may suddenly choose to restrict or ban travelers from your country.
Research Your Destination
Take ample time to research your destination. On top of seeing if the place you're staying has accessible accommodations in and around the area, you also need to assess the pandemic's impact on your destination.
Pandemic Impact
Each country and each U.S. state is affected differently by COVID-19. Lookup sites for your destination's local government to learn about infection levels in the area, safety precautions they're taking, and restrictions you may face if you travel there.
You also need to look up your destination's travel requirements. Some areas may require any of the following:
Quarantine upon arrival
Negative COVID-19 tests before departure
Tests taken during certain timeframes
Post-arrival testing
In-destination testing
The U.S. Department of State also provides entry requirement information for other countries. Since you can also face quarantine requirements if you're traveling to another U.S. state, check your destination state's requirements ahead of time.
The CDC has COVID-19 travel recommendations by country if you're still unsure about traveling to certain areas. The Department of State encourages travelers to enroll in the Smart Traveler Enrollment Program (STEP) so the U.S. embassy can inform you about safety conditions and emergencies. Enrolling in STEP makes it easier to have your loved ones get in touch with you in an emergency.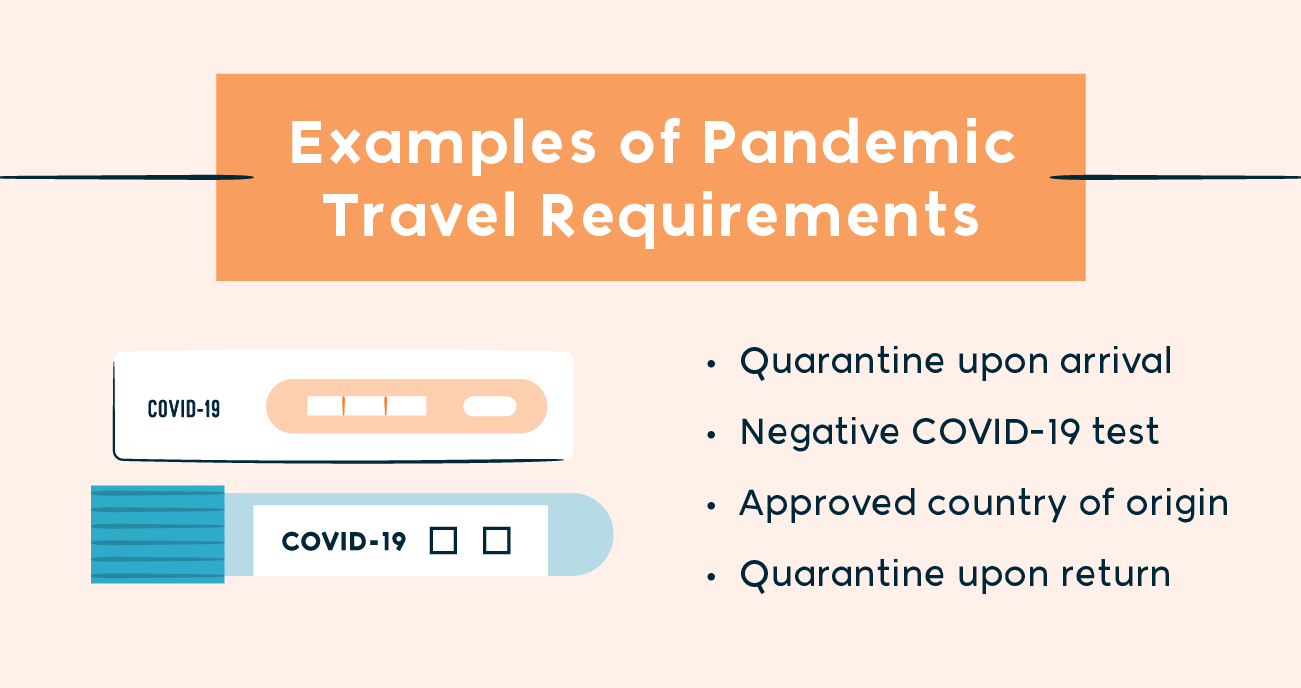 These requirements and restrictions can quickly change depending on the virus's progression and new information we learn about it. Review your requirements often to stay up-to-date on potential changes.
Regardless of where you're traveling, you may want to pack food and water in case restaurants and stores close during your trip. You should also bring enough personal protective equipment (PPE) like face masks and hand sanitizer to last your trip.
Lodging
Keep a list of your accommodation needs nearby to help you determine if a hotel or vacation rental fits your requirements. Most information should be available on their site, but you can also call if anything is unclear or missing from their site. Pick lodging that best replicates your experience at home. For example, you can find a hotel that has roll-in showers if you use one at home.
In addition to the building's amenities, you should also ask about the surrounding area's accessibility. For example, you can ask if they have lighting near the roads, steep hills, and if they're close to places you plan to visit.
Transportation
Public transportation may not be easily accessible during the pandemic. Walking may also not be ideal if you're staying in an area that's far from your other destinations. Ask your lodging provider about transportation options in the area. If walking or public transportation isn't a great option, look into car rentals or private chauffeur options.
Service Animal
The ACAA permits individuals with disabilities to travel with service animals, but there are several guidelines you must follow. For example, your airline may require you to bring documentation to verify your condition and your service animal. These requirements can vary by transportation provider.
The DOT outlines several guidelines to follow when bringing a service animal with you while traveling in the United States. The DOT recently released the final rule on traveling by air with service animals with several specific guidelines to follow. For example, the DOT no longer considers emotional support animals as service animals. Read up on these guidelines before you travel.
Transportation Laws
Countries have different laws on transporting animals. The Animal and Plant Health Inspection Service (APHIS) provides information on different laws and requirements for different countries. Your service animal may also need to follow CDC guidelines for bringing animals to the U.S. if you are traveling out of the country.
In addition to checking the country's requirements, you should also contact a few other entities. The U.S. embassy in your destination country can also help you navigate local laws and customs for animals. A veterinarian can also give you tips for traveling with your service animal.
Lodging Laws
Lastly, you should inform your hotel or rental as well as your transportation provider to inform them of your service animal. There are federal and local laws that govern your rights to have service animals with you in hotels and rentals. For example, the ADA does not allow hotels to charge a cleaning fee or pet fee for the service animal. However, a hotel or host can charge a fee for damages caused by the service animal. Check your lodging facilities guidelines along with the laws in your destination regarding service animals.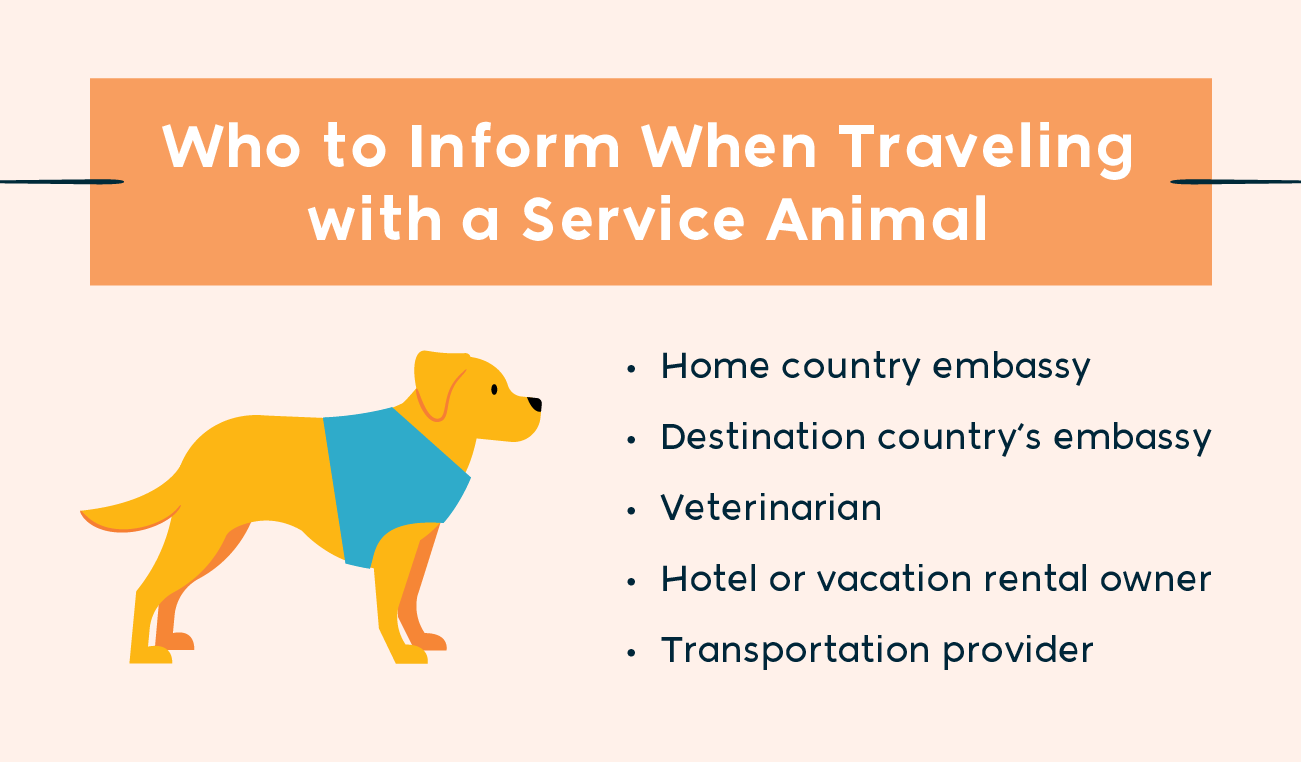 Plan Your Activities
The way you spend your time is up to you. However, it may be easier to plan for days that mimic your time at home. For example, if you have more energy at night, then you may have more fun doing activities in the evening. Take other things like potential bad weather or construction at popular sites that may limit your options.
There are also many attractions and companies that provide discounts for people with disabilities. For example, Amtrak offers discounts for people with disabilities and up to one traveling companion. The National Park Service also offers discounts for U.S. citizens or permanent residents with permanent disabilities.
Consider taking your caregiver into account (if you have one) when planning your trip. They'll likely appreciate an excursion that they'll enjoy or some time to rest in between activities.
Consult Your Doctor
See your doctor at least a month before your trip to confirm you're healthy enough to travel and for advice on vaccinations, medications, and ways to stay healthy on your trip. They can also provide any notes verifying any conditions or medications needed.
This doctor's visit is also a time to discuss medication needed while you're away. Ask if they can prescribe medication to last the length of your trip. However, keep in mind that traveling abroad with medicine gets tricky since some are considered illegal in other countries.
You also shouldn't count on buying medicine at your destination. Certain medications may not be available or have a different quality than the ones you're used to using at home. Personal care products like sunscreen and bug spray may also be more difficult to find or of a different quality than products from home.
Check with the U.S. embassy and the foreign embassy of the country you're visiting to confirm what is and isn't allowed.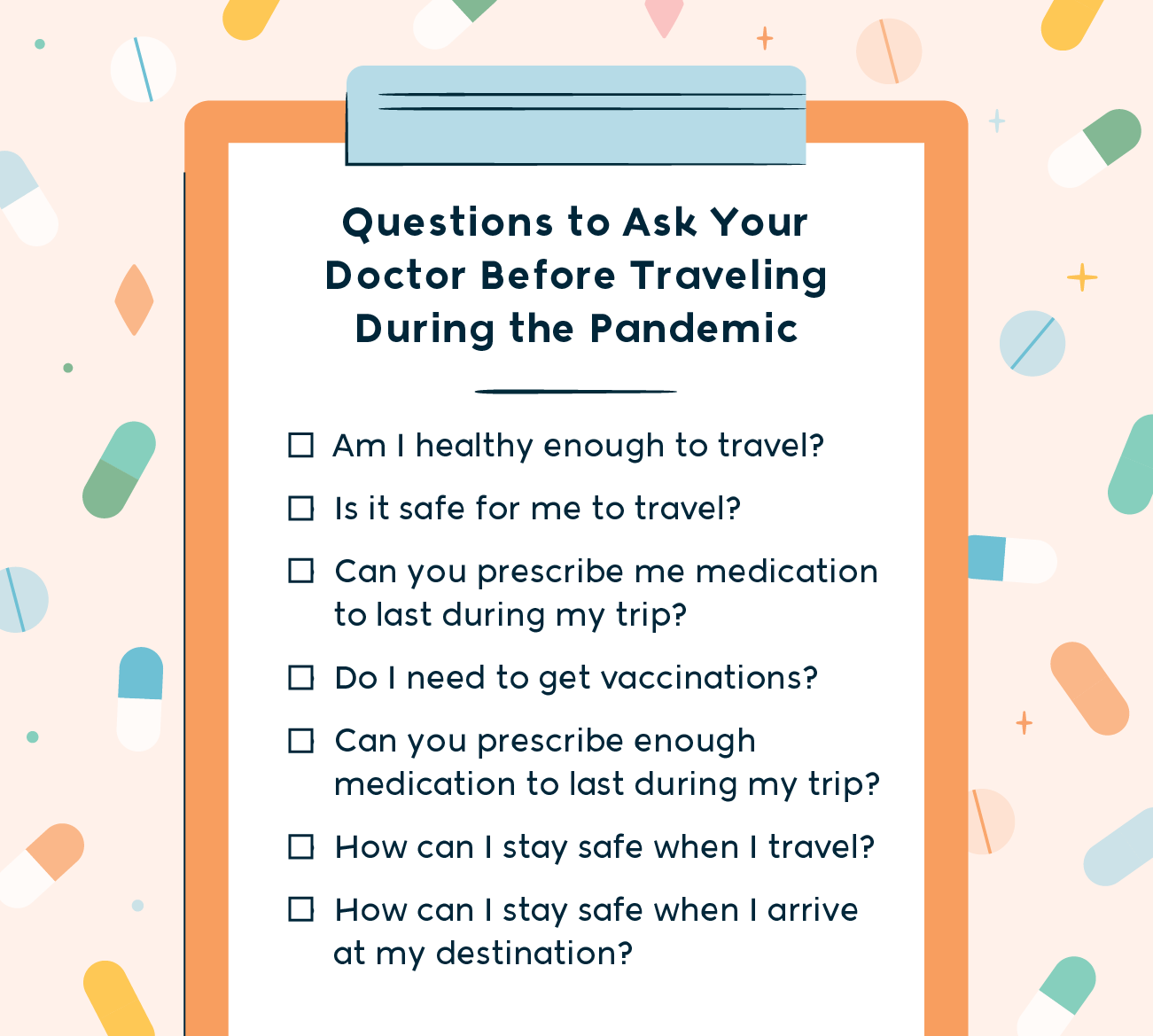 See What Your Insurance Covers
Emergencies happen and you may need medical care in another country. Check with your health insurance to see what scenarios are covered. You should also consider travel insurance that covers both travel-related expenses and health-related expenses. Research nearby medical facilities to get an idea of where you can go for help.
Medical evacuation insurance is something else to consider if you're traveling to a remote or poor area and want to be transported to a high-quality hospital in an emergency. The Department of State has a list of recommended insurance providers to consider.
Confirm Accommodations Again
Call your lodging and transportation provider ahead of time to reconfirm special accommodations. Go through your list of accommodations you've previously confirmed and keep a list of questions handy to double-check everything is set.
When You're Traveling
The bulk of the work is done once you're done researching and confirming your trip accommodations. However, you'll typically run into a few difficulties while you're making your way through the station or terminal. Here are some tips to get help while you're traveling during the pandemic.
COVID-19 Protection
The CDC recommends social distancing from others not in your household, wearing a face mask, and washing your hands often to avoid infection and contamination. Keep your PPE easily accessible at all times.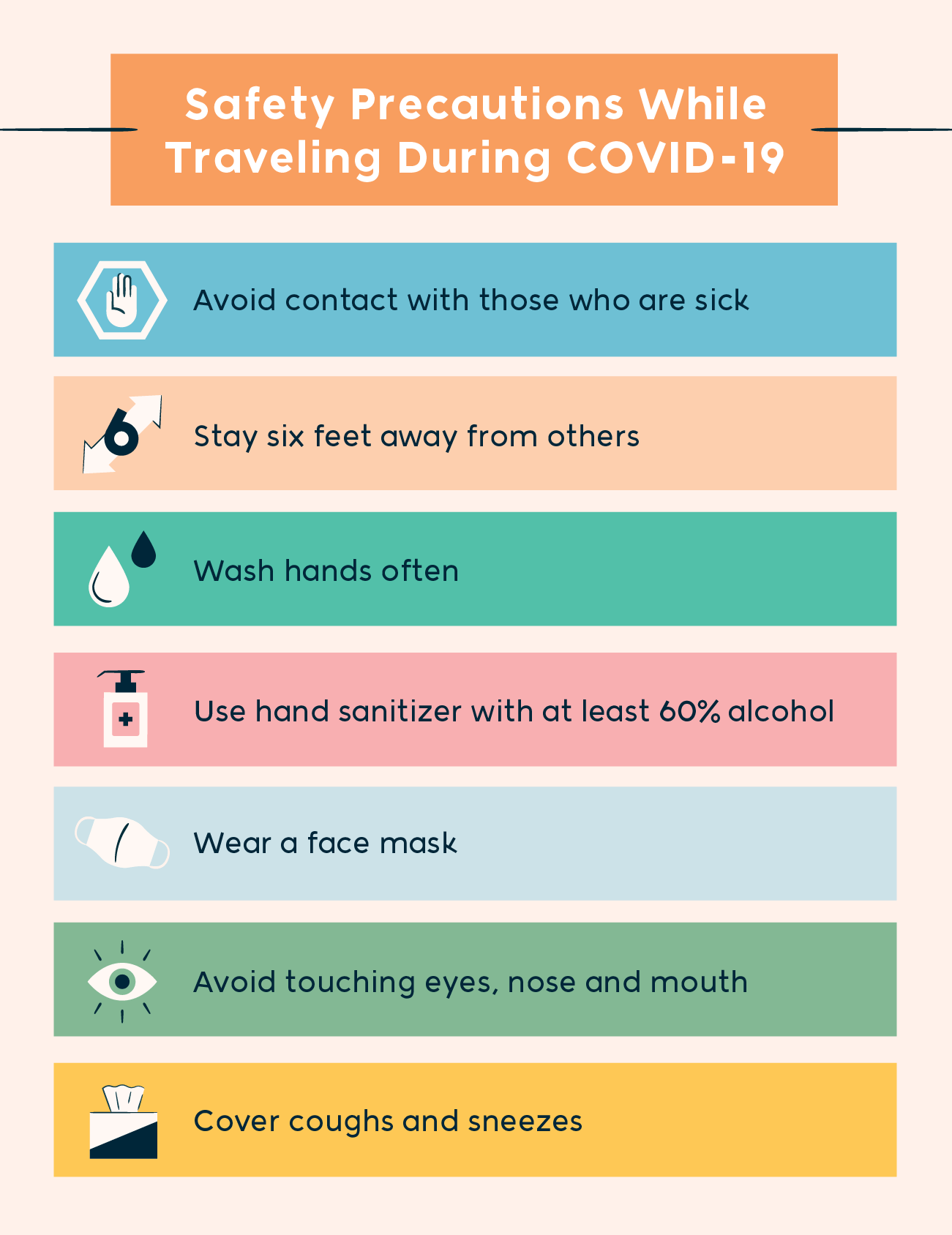 You'll likely spend some time around others while you're waiting in the security line, waiting for your flight, train, or bus to arrive, and while you're traveling on the plane, train, or bus. Many transportation providers have reduced occupancy and social distancing guidelines in place to combat crowds, but you should also make an effort to keep your distance.
Double-Check Your Essentials
It never hurts to double and triple check your luggage. Essentials like medication, boarding passes, assistive devices, and other things can cause big problems if they're left behind. Keep essentials along with PPE easily accessible in your carry-on.
Arrive Early
With COVID-19 precautions in place, it's especially important to arrive early to get through security, any additional checks, and transfers. Building in extra time to your schedule is also crucial when you run into issues. For example, an airline might not have your accommodations ready for you when you arrive, so this may add to your wait time.
When you arrive, alert the staff right away that you're a person with a disability who needs accommodations so you can quickly get through security and boarding. You should also inform them if you prefer your companion or caregiver to assist you.
Separate Items That Need to Be Scanned
Going through security requires some contact with others. To minimize contact, keep things that need to be scanned like food and liquids separate from your carry-on bag to lessen the need to open and go through your bag. You should also put personal items like wallets and keys in carry-on bags instead of bins to limit the number of people touching them.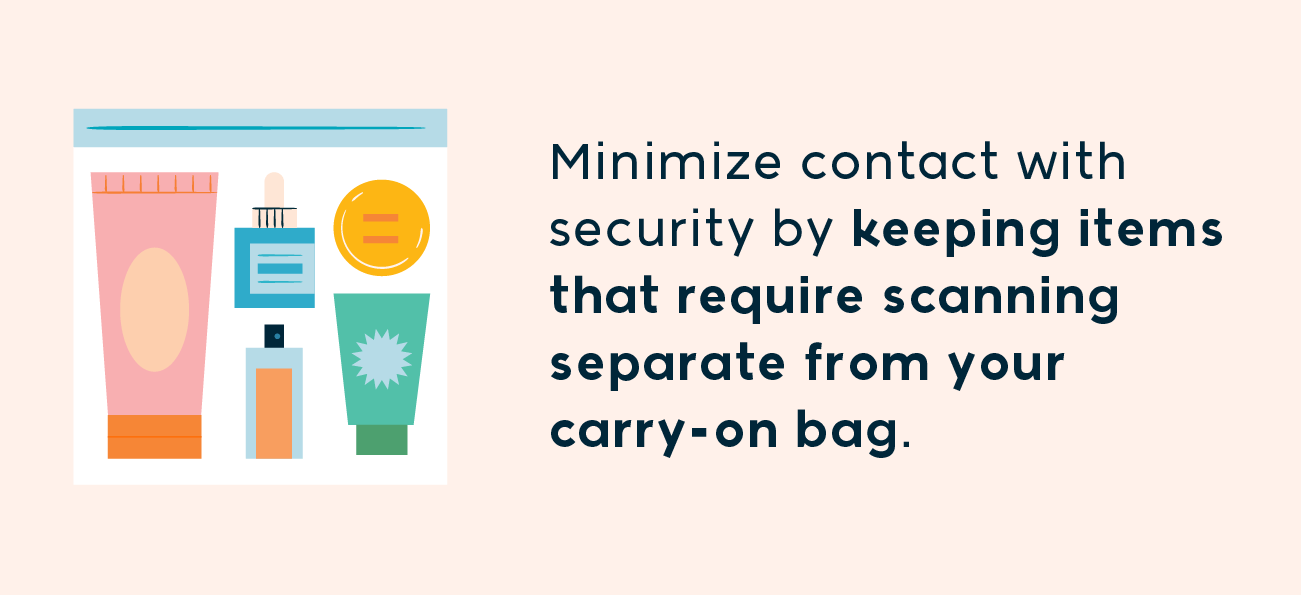 After You Travel
You may have been exposed to COVID-19, even if you don't have any symptoms. The CDC recommends that you should keep your distance from others, wear a mask, wash your hands often, and keep an eye out for COVID-19 symptoms. Follow state, territorial, tribal and local recommendations or requirements when you return from your trip.
If you participated in high-risk activities, like gathering with a large group indoors while you traveled, the CDC recommends taking extra precautions to keep those around you safe. They recommend staying home as much as possible, avoiding high-risk people, and getting tested.
Travel Tips for Caregivers and Companions
Caregivers and companions have lots to do to make sure travelers have a comfortable and enjoyable stay on their trip. These are just a few things to consider when traveling with companions or caregivers.
Solidify costs: Establish upfront if everyone is paying for themselves as well as who is in charge of managing costs for the trip. This is especially important if the caregiver is paid to accompany the traveler.
Plan accommodations: Communicate what level of assistance is needed prior to the trip. This dictates whether a caregiver needs to stay in a shared or adjoining room or should stay in a separate room.
Schedule your time: Travel plans should also take companions into account based on their limitations. Travelers and companions should know ahead of time if they're spending the full trip together or if they will have some time spent apart.
Additional Resources for Traveling During the Pandemic With a Disability
There are many other resources available for traveling with disabilities and traveling during the COVID-19 pandemic. Take a look at some of these sites below for more travel tips and information.
Follow CDC and other official guidelines when traveling during the pandemic to keep you and your loved ones safe. You should also stay on top of travel restrictions and accessibility accommodations to ensure that you have everything you need for your trip. Whether you're taking a beach vacation or a city getaway, the most important things are to be safe and enjoy!
Sources: Center for Disease Control 1, 2, 3 | Department of Transportation | Department of State 1, 2 | Mayo Clinic
Disclaimer: FloridaPanhandle.com does not provide legal or medical advice. This post has been prepared for informational purposes only. All users are advised to check all applicable local, state, and federal laws and consult legal and medical counsel should questions arise.