There's nothing better than enjoying good food in a beautiful location.
If planned correctly, a beach picnic can provide you with this simple pleasure. If thrown together last minute, you may end up with soggy sandwiches and sand between your teeth.
To help you plan the perfect day at the beach, we have 12 tips for a successful beach picnic and examples for setting one up. Read through to be sure you're preparing correctly so that once you hit the sand, you can sit back, relax, and enjoy your meal in a beautiful location.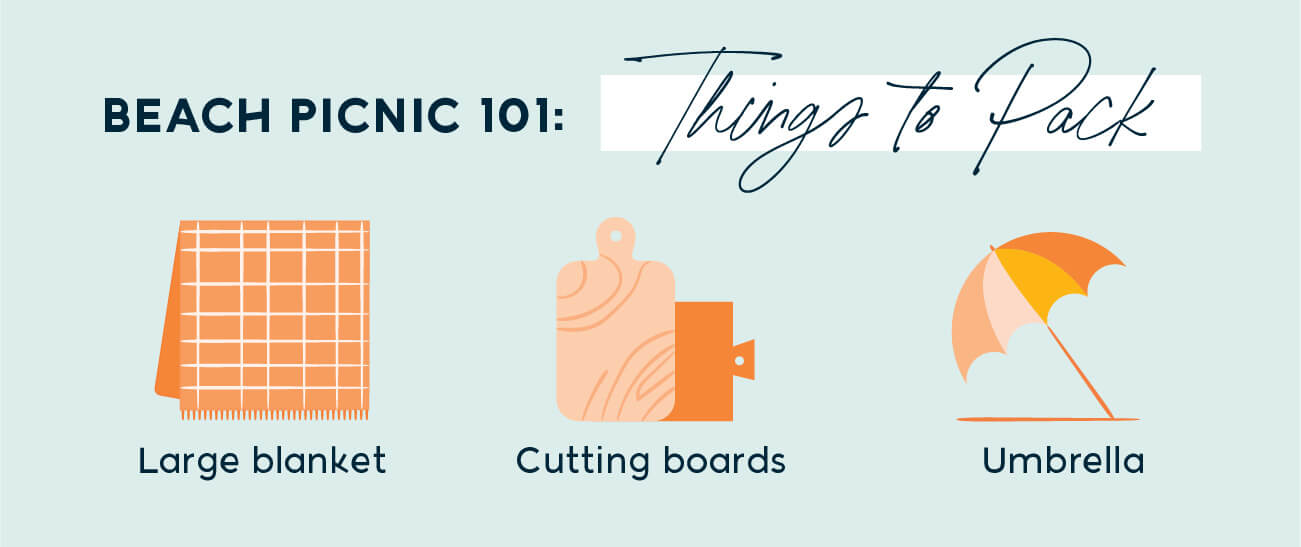 1. Bring a Large Blanket or Tablecloth
While a towel is great to lie out on, it's not ideal for a beach picnic setting. Towels tend to be on the smaller side with corners that will fly up and get sand all over your food spread. Instead, bring a large blanket, quilt, or tablecloth to sit on. This way, you have plenty of space to lounge and it will be easy to toss in the washer if there are any spills.
2. Pack Some Cutting Boards
Cutting boards are great for displaying the beach picnic food you brought. The sand can be uneven, causing items to topple over if they are set down incorrectly. A cutting board is an even, hard surface that any item can rest on. If you have a large one, bring it. If not, consider using a few smaller boards to display the food.
3. Bring an Umbrella or Tent for Shade
As much as we'd love to soak up as much vitamin D as possible, it's nice to have the option of shade. After hours of roasting in the sun, you'll be glad you brought an umbrella or tent. Even if you aren't using the umbrella, you can put the beach picnic food or cooler in the shade to keep it from overheating.
Sometimes, it's hard to dig a hole deep enough to keep your umbrella upright. If you foresee this being an issue, consider packing a small shovel to make for one easy beach picnic setup.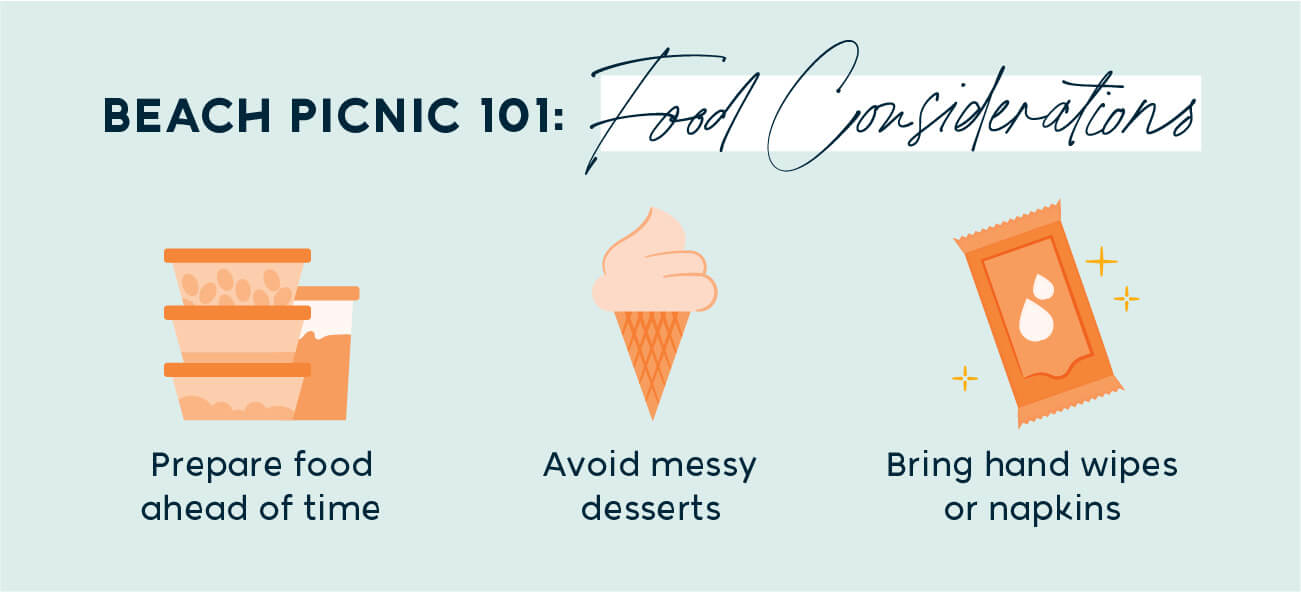 4. Prep the Food as Much as Possible
Preparing your food is key. You don't want to arrive at the beach and have to frantically assemble the meal. Instead, do all the chopping, mixing, and packaging ahead of time.
Some of the best food for a beach picnic:
Cut up any veggies or fruit
Pre-make sandwiches
Pre-mix salads (but leave the dressing off)
When the food is prepped, pack it in tupperware rather than plastic bags. This will ensure that it doesn't get crushed and will be easier to lay out picnic-style. It will also help you avoid a fly-away bag situation.
5. Pack Dessert That's Not Messy
What's a picnic without a sweet treat? When planning a dessert, be sure to pick something that's not too messy. Chocolate and ice cream, although favored by many, are both quick to melt and could get on everything. Instead, opt for cookies, brownies, or some fruit. These are absolute beach picnic essentials.
6. Hand Wipes or Napkins Are Essential
If you can snack at a picnic without getting your hands dirty, you're probably the only one. The rest of us will need hand wipes or napkins to clean up any spilled crumbs or sticky situations. If you'd like to keep your picnic more eco-conscious, bring cloth napkins. Reusable napkins can easily be washed at the end of the day and won't end up left in the sand or sent to a landfill.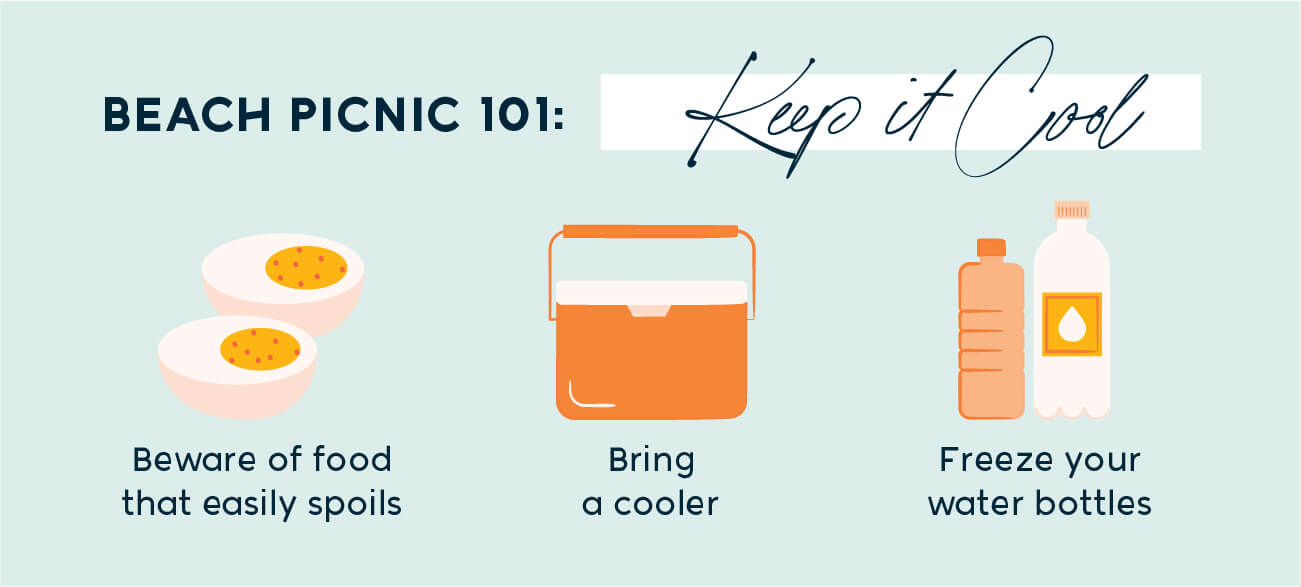 7. Foods to avoid
For a long beach day picnic, you'll want to avoid certain foods that go bad in the sunshine. A cooler will help, but it's safest to steer clear of these items:
Mayonnaise – it goes bad quickly when hot
Hard cheese – you'll need a sharp knife to cut
Sushi or fish – they will quickly spoil in the heat
Meats – they will spoil if not refrigerated
Ice cream – it will melt quickly or be squished in the cooler
Sodas – they are sticky and attract bugs
8. Keep Everything Cool
A day spent in the sun will require a cooler. When packing your cooler bag, the ice packs take up a lot of space. Cubed ice melts quickly and will soak everything when the cooler becomes filled with water.
Instead, freeze some of your water bottles the night before. They'll serve as ice packs and once they melt, you can enjoy a refreshingly chilled beverage.
9. Bring Water
Water is one of the most important items to pack for a picnic. The savory snacks and sunshine will have you craving a refreshing sip of water. If your hands get sticky, it can also be used to rinse them. Be sure to pack enough water for the whole day.
As mentioned above, to keep your water cool, freeze it the night before. If it's not as hot outside, only fill the bottle halfway with water before freezing it. You'll also want to bring lots of water if you plan to bring your pup to the beach.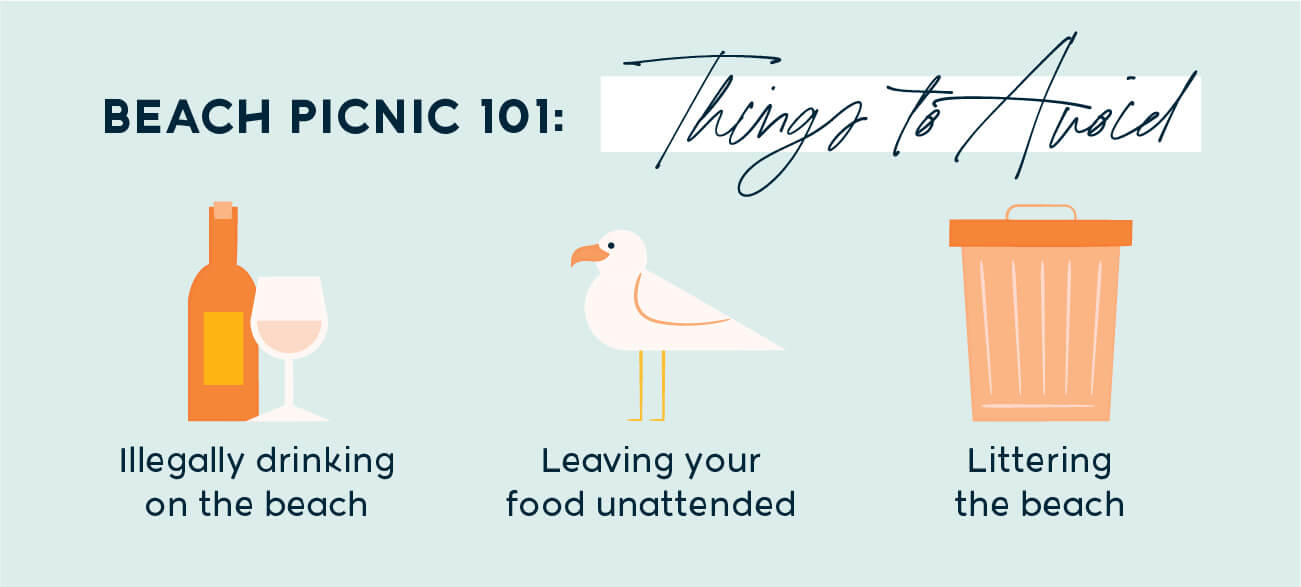 10. Check if Your Beach Allows Alcohol
Many pair their picnic with a bottle of wine or a fun cocktail. If this is your plan, be sure to check if alcohol is allowed at the beach you'll be visiting. A ticket for illegal alcohol would ruin your carefree picnic.
If alcohol is allowed, bring accessories such as bottle openers, corkscrews, and glasses. You also might want to consider bottles that have a twist top. These are easier to save in the cooler if you don't finish them.
For beaches that prohibit alcohol, try mixing a fun mocktail. Rather than bringing the supplies, mix these ahead of time. For a slushie texture, freeze them the night before and let them melt a little during your beach picnic.
In addition to freezing them the night before, you might consider bringing insulated cups. This will keep your tropical drink nice and cool.
11. Don't Leave Your Food Unattended
While it's tempting to leave the picnic blanket to cool off in the ocean waves, first be sure your beach picnic food is all put away. Seagulls are notorious for preying on picnics and your delicious spread will be gone in a matter of minutes.
12. Take Your Trash With You
Lastly, leave nothing but footprints behind at the beach. Pack up any trash and dispose of it in a nearby trash or recycling bin. If you see someone else has left some trash, bring that with you as well. It's important to keep our beaches clean so everyone can enjoy them for years to come.
Now that you know these 12 tips for a stress-free beach picnic, here's some inspiration to help you plan your own. Whether you're planning a romantic beach picnic getaway or a day of carefree fun in the sun with the family, these mood boards will give you some creative ideas.
Romantic Beach Picnic Ideas for Two
It can be difficult to come up with unique date night activities. If you're tired of the traditional restaurant dinner date, try planning a more personal beach picnic instead.

Girls' Day Beach Picnic Ideas
Are you having a girls' weekend getaway? A beach picnic is the perfect relaxing activity to add to your itinerary.

Family Beach Picnic Ideas
Whether you're already planning a family beach camping trip or you want to get outside for the day, setting up a picnic on the beach is a great way to keep the kiddos fed and happy in between their time splashing in the water and digging for treasure. Look for beaches in family-friendly neighborhoods to ensure you're taking your loved ones to a fun, clean, and safe area.
Need an activity to keep the kids entertained while you set up the picnic? Try having a seashell scavenger hunt or recruit them to help dig a hole for the umbrella. You should also familiarize yourself with a few senior beach safety tips if you plan to bring grandma or grandpa with you!

Solo Beach Picnic Ideas
Nothing says self-care like taking a day for yourself at the beach. Press pause on your busy life and indulge in your favorite snacks by the seaside.

Now that you know how to plan a successful beach picnic, you can get started organizing yours. If you aren't close to the ocean, plan a beach getaway with your loved one, family, friends, or even just yourself. No matter the company, you deserve to indulge in a relaxing beach day picnic.