30A is the local name for a scenic stretch of Florida's Panhandle that runs along Highway 30A. Also known as the Emerald Coast, this part of Florida is well-known for its gorgeous beaches, charming communities, and array of outdoor activities — many of which include the Gulf of Mexico but not all. After all, people come to this part of Florida for those beaches, but 30A is one of those places that has something for just about everyone, including families looking to tire out young children. As what better way to get the energy out of toddlers and primary school kids than to send them out running on fun playground equipment?
Take a look at some of our favorite playgrounds in this area that kids will love to play in and parents will enjoy relaxing at:
Alys Beach Playground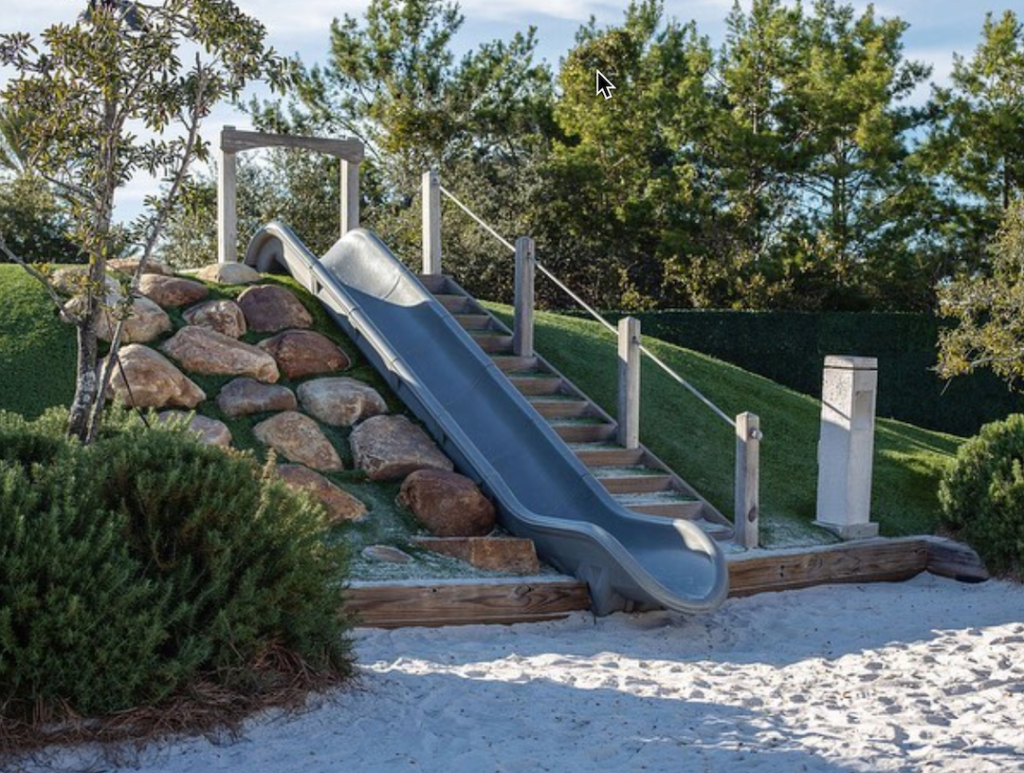 Alys Beach Playground, also known as Fonville Park, is a beloved spot for kids and adults. You'll find this playground located just off of where 30A intersects with N. Charles Street. We will note that this is probably one of the simplest parks and playgrounds on our list, but for many, it's that very simplicity that makes it so desirable.
This playground and park features a moderately steep grass hill with a gentle winding pathway. When you get to the top, you'll find a fantastic view of the community and the park and playground itself. Fun kid-friendly activities here include kid-sized grass stairs, a smooth, straight slide, a rock obstacle course, hiding logs, playground-sized musical instruments, and several benches and swinging chairs for both children and adults to relax upon.
Padgett Park
Padgett Park is a large community park that is located on the outskirts of Santa Rosa Beach on J D Miller Road (you'll turn north on that road from 30A and travel just a few miles until you see this large park on your right). This 30A park and playground is a very popular locale for community residents as it features football fields, soccer fields, other multi-purpose fields, and a multi-use community center complete with a kitchenette for both organized sports groups to use and for community members to rent out.
This Florida park also features a fantastic playground area that boasts a lot of newer equipment. The playground at Padgett Park is geared toward younger children and features two big slides, a jungle gym, a youth-oriented climbing wall, and more. But the most popular feature of Padgett Park is the Splash Pad that sits right next door to the playground. This Splash Pad regular features cool fountain water that sprays out throughout the warm-weather months (May 1 to October 1), making for an ideal place for kids to play even during those hot summer days).
Helen McCall Park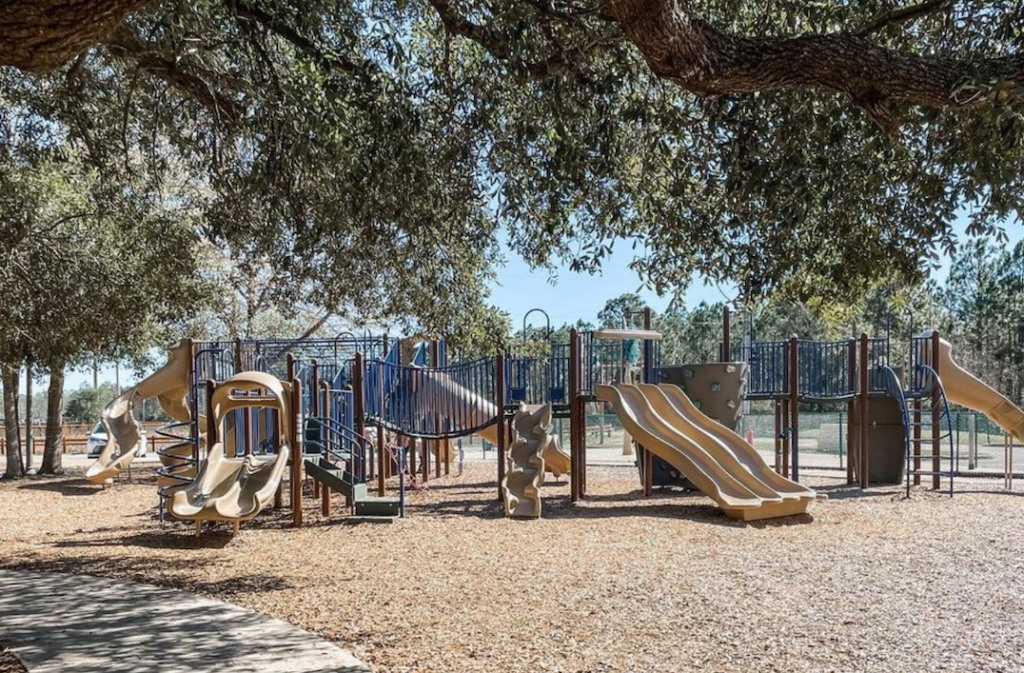 Helen McCall Park is another fantastic multi-faceted park located along 30A. You'll find this one also within Santa Rosa Beach's city limits, but on the southern side of 30A, off of Moll Drive. Here, community residents often play local league sports on the park's football, baseball, and soccer fields. They even have batting cages for locals to use and practice within.
For the younger kids, the playground at Helen McCall Park offers plenty of activities. Here, you will find a multitude of plastic slides, and climbing areas that include a rope net, swing set, see-saws, and much more. Like Padget Park, Helen McCall Park boasts its own Splash Pad that offers some cool-down fun in clean fountaining water. Parents will appreciate that the perimeter around Padgett Park features plenty of shaded spots to sit and watch the fun. The park itself also has several picnic areas complete with pavilions and BBQ grills.
Rosemary Beach Children's Playground
This is a brand-new playground that was built up and so you won't find much information on it online, but we really recommend it for those seeking a more low-key and local kind of vibe. You'll find the Rosemary Beach Children's Playground tucked in a quiet pocket on Windward Lane just a short walk from Rosemary Beach's bustling Main Street.
What's interesting about Rosemary Beach Children's Playground is that they opted to keep the more traditional wooden look and feel of classic playgrounds. This place thus has a more classical playground feel with a full wooden playground frame that features slides, climbing walls, swingsets, and more. Much of the park features shaded areas, making it likewise a cool place to escape the hot sand and have the kids get the energy out away from the beach.
Baytowne Adventure Land Playground
This 30A playground and park is perfect for those families who want a one-stop location where you can also easily grab a bite to eat and enjoy some shopping. That's because Bayotowne Adventure Land Playground is conveniently located in the heart of Baytowne in Miramar Beach. This is a big shopping district located just off the beach with plenty of restaurants, shops, and other family-friendly activities.
Of course, you might find that the kids don't want to stray too far from Baytowne Adventure Land Playground as this is one of the largest playgrounds along 30A. Baytowne Adventure Land Playground lives up to its name with lots of slides, bridges, tunnels, swing set areas, towers, ladders, and even more for kids to climb up, jump off, and generally explore. So go grab some good nearby snacks to go and let the kids go wild at this 30A playground!
Learn More About 30A and All of Its Family-Friendly Activities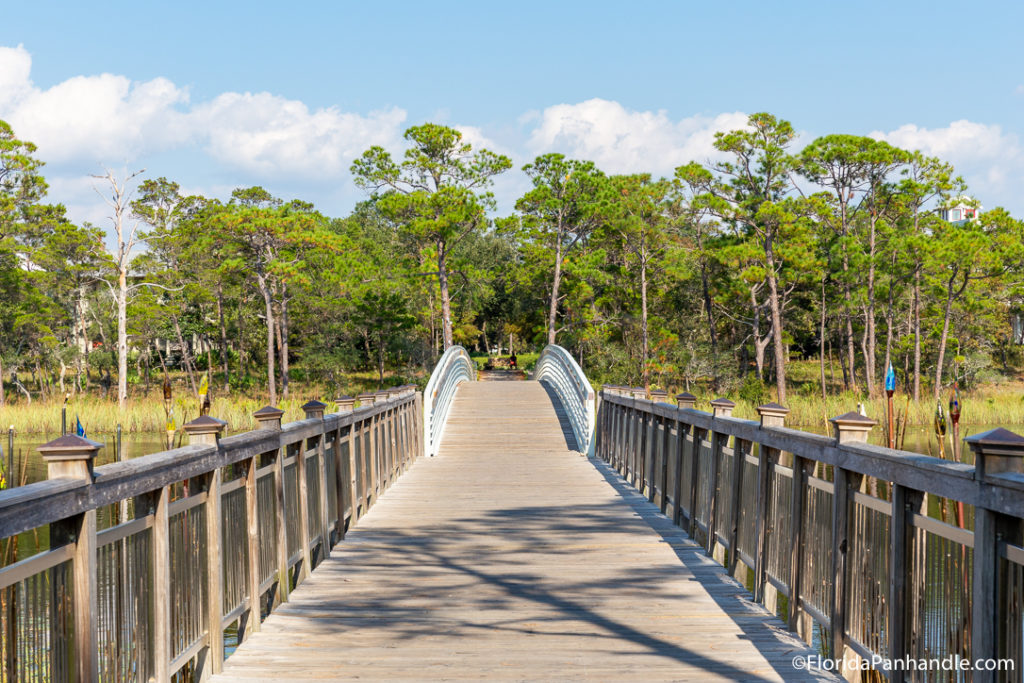 Of course, you didn't come all the way to 30A just for playground equipment similar to what you probably have in your own home neighborhood! While the above are certainly great places to tire young children out, this stretch of Florida has plenty of other exciting activities to offer. Activities that you can't readily find just anywhere. Be sure to check out our other pages to learn more about 30A, its many communities, and other great activities for families with kids of every age.